Global Manager Group (GMG) – one of the largest business management consulting and training company, which focuses primarily on offering a full range of consulting services, is celebrating its 25th year of foundation – its Silver Jubilee – on 5th March, 2020.
Founded by Mr. Devang Jhaveri on 5th March 1996 company has stood the test of time and has provided consultancy and management solutions for startups, SMEs and large organizations, including government organizations, to move forward on their journey of growth by establishing and implementing better management systems in their organizations. Today the Global Manager Group of companies has many vertical including ISO consultancy for more than 70 standards; instrument calibration; online auditor certification courses and classroom training programs.
Since its inception in 1996, as a small start-up business, GMG has achieved a number of milestones in the field of ISO and other management system consultancy, total documentation solutions, and equipment calibration
In the post-globalization era, Global Manager Group of companies is a shining example of the success of management consultancy services. It is a company that has always strived to exceed its client's expectations, by providing them high quality and time-bound customized consultancy services catering to their needs.
In its successful journey of 25 years, GMG group of companies has established itself as a leading consultancy firm in India having both off-shore and on-shore clients. Within few years of its inception, group reached the benchmark of 100 clients who achieved various kinds of ISO certification. It also started to offer all ISO series consultancy, including consultancy for documentation and certification/accreditation for International Standards like ISO/IEC 17025, ISO 22000, ISO 27001, CE Mark, BRC food safety, HACCP and ISO 50001 etc.
In the year 2004, Global Manager Group started consultancy for various management areas. Within a decade of its journey, the company started selling ready-to-use editable training presentation and documentation kits for more than 70 ISO standards and other management areas. In US market itself, GMG has sold more than 1000 training and document kits and has got many appreciations from customers. So far it has more than 2700 satisfied customers in certification solution and management areas in more than 27 countries world-wide. The company has a branded image of timely completion of work with billing rates almost 40 percent lower than the industry rate. The company has been able to deliver services in a time as short as 12 to 24 hours of receiving client's consent for services.
To cater to the needs of all types of industries, Global Manager Group of companies has set-up a permanent facility at Ahmedabad, Gujarat. for calibration of equipment. As a sister concern of GMG, National Centre for Quality Calibration(NCQC) started functioning in 1998, which is a ISO/IEC 17025 (NABL) accredited Calibration Laboratory for all type of instruments.
Global Manager Group added another feather in its cap when Punyam Academy was launched in 2018. Punyam Academy offers classroom training programs as well as online courses on various ISO and management systems. Within less than a year, this company has achieved NBQP accreditation for providing certified classroom training on "Laboratory Management System & Internal Audit as per ISO/IEC 17025:2017". Punyam Academy's online certification courses are popular worldwide among ISO consultants, ISO auditors as well as management personnel.
Over the years, GMG has continued to increase its operations and support services as well as its overall capacity. With humble beginnings with 5 employees, now the company has increased its staff strength to 70 employees. Also, it has brought specialists as associate consultants to be able to manage larger projects. Global Manager Group's services have expanded in recent years to develop business systems and solutions for start-ups who are in need of customers.
Keeping up with its track record of last 25 years, Global Manager Group looks forward to achieve many more milestones and celebrate many more anniversaries in the future as its footprint continues to grow as a leader in innovative and creative solutions for ISO certifications and various management areas.
For the implementation of HR management system in accordance with the ISO 30405, ISO 30408, and ISO 30409 standard requirements, Global manager group – a leading ISO documentation consultancy company has launched its new product in documentation category named D162 – HR Management System Documentation kit for establishing an effective HR management system.
A new documentation kit added to Global Manager Group's Eshop – The Sample HR Management System Documents based on ISO 30405, ISO 30408, and ISO 30409 international standards is very much helpful for company's arsenal for saving time, money and manpower. This HR Management System documentation package is released by GMG and is covered all necessary requirements of standard and complete the documentation task in minimum time without much effort.
GMG's this newly launched product – HR Management system documentation kit is the complete resource for all implementers as it provides a complete set of mandatory and supporting documentation, guidance on the documents for HR management system and readymade templates to support implementation of the HR management system.
The readymade templates for sample ISO 30405, ISO 30408 and ISO 30409 documents is given by GMG under this product for implementation process for HR management system. So, Mainly HR management system documentation kit contains a set of total 110 editable word files are divide in following directories,
HR Manual
Procedures
Policies
Standard Operating Procedures
Blank sample formats
Job Description
HR management system audit checklist
HR management system compliance matrix
As per said the director of Global Manager Group – Mr. Devang Jhaveri: "To help organizations implemented these ISO 30405, ISO 30408, and ISO 30409 standards, GMG launched this HR Management system documentation package and it is available at globalmanagergroup.com. It provides a complete ready-to-use set of mandatory and supporting pre-written HR management system documentation templates to reduce the time spent developing documentation."
The Newly ready-to-use product of HR Management Documentation kit is offered online with very competitive rate of just 899 USD. GMG also provides facility to download Free Demo that helps to learn each document in details with its clause wise requirements.
The principle standard used by the International Accreditation Service (IAS) to obtain the authority of Inspection Bodies is ISO/IEC 17020. This international standard was recently updated from the 1998 version to the ISO/IEC 17020: 2012, conformity Assessment – Requirements work different types of bodies presenting tests.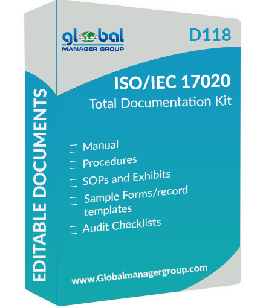 Accreditation of inspection agencies is done through the implementation and implementation of ISO/IEC 17020: 2012 Certification – General requirements for the operation of various types of bodies that make up the check. This includes the ability of the certifying Body Test to capture the quality management system and the ability to perform competent tests.
The second edition of the ISO/IEC 17020 was published in March 2012. This effective version includes some changes the Inspection Bodies (IBs) will need to incorporate into your management system in order to maintain it. The ISO 17020 certification audit is conducted by the accredited certifying body auditors.
Global Manager Group offers ISO 17020 Documents which is required for ISO 17020 Accreditation – Conformity Assessment for inspection agency. The ISO 17020 Documentation kit includes ISO 17020 Quality manual, procedures, as well as ready-to-use iso 17020 audit checklists are the most important part of this ISO 17020 accreditation kit and the best part of this documentation kit with using this user can create their effective conformity assessment documents for their own inspection agency on the basis of their organization's working system.
Benefits of ISO/IEC 17020:2012 System
Improved efficiency, productivity and efficiency in the performance of inspection bodies as a whole,
Improved level of motivation, collaboration, work and quality awareness include competence,
Increased reliability of inspection and performance information by staff. Extensive control of processes and activities across all assessment bodies. Time and cost savings due to reduced or eliminated need for re-testing / re-operation, etc.
Provide tips for data analysis and complete record keeping.
Provide better guidelines and controls for equipment repairs, maintenance of inspection records, etc.
Establish customer management confidence with results and reports and increase customer trust and market share.
Better images of test themes like quality test themes in the global market.
International recognition and honesty.
ISO 17020:2012 The adopted accredited inspection body has a more direct edge over competitors.
Basically, the standard for IFS Food is for the auditing of companies that process food or companies that pack loose food products. Based on latest IFS Food Version 6.1 standard and fulfill requirements of Version 6.1, Global Manager Group – A Global ISO Consultancy and Training Company, is now launching its new product D172 – International Featured Standards (IFS) Food, Version 6.1 Documentation Kit with editable templates like IFS manual, Policy, procedures, SOPs, and checklist that can be used as a ready reference tool to make own documentation for organization .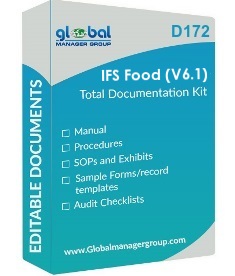 Global Manager Group has been designed this ready-to-use IFS Food version 6.1 Documents with 190 editable MS-Word files and make it available online for Many organizations and Food safety consultants with provides facility to accelerate the documentation process for International Featured Standards (IFS) Food Certification and to understand this subject well to easy learning and minimizing excessive work.
For user convenience to get quick IFS Food Version 6.1 certification, here the readymade International Featured Standards (IFS) Food, Version 6.1 Documentation Kit which is built from the necessary IFS Food Safety Manual, IFS Procedures, Readymade Formats/ Templates, Standard Operating Procedures, Exhibits, Process Approach, HACCP Documents, IFS Food Audit Checklist, IFS Document Compliance matrix etc. that helps the food organization to ensure micro-level system.
GMG offers this IFS Food version 6.1 Documents which are editable and to minimize the time and cost involved the compliance with IFS Food by implementing this standard in organization. To browse Global Manager Group's E-shop, anyone can buy this IFS Food Version 6.1 Documentation Kit.
Just go & visit Global Manager Group's E-shop where this new product – IFS Food Version 6.1 Documentation Kit is available at very competitive rate of just $699 with Free Demo that helps to understand each document in detail. For further details visit at: https://www.globalmanagergroup.com/Products/ifs-food-manual-procedures-documents.htm or can directly contact us at manager@globalmanagergroup.com