June 9 is World Accreditation Day as a global initiative jointly established by the International Accreditation Forum (IAF) and the International Laboratory Accreditation Cooperation (ILAC) to raise awareness about the importance of accreditation.
Global Manager Group, one of the leading accreditation consultants of the world, celebrates this day every year with invited experts to the meet and communicates online on various accreditation standards and get benefit by sharing knowledge of accreditation. In 2019, Global Manager Group has announced special discount offers on online purchase of any documents/training kits or E-learning courses for the global clients around the world.
Discount Code:

WAD2019p10
Global Manager Group is leading accreditation consultant in the globe, who are selling various ready to use accreditation documentation kits as well as awareness and auditor training kits creating awareness on particular ISO accreditation standards and its requirements. For more detail visit: Global Manager Group – Eshop.
Global Manager Group is also associated with World's leading online ISO training provider, Punyam Academy. Punyam Academy offers various E-learning certified courses on ISO/IEC 17025:2017 as well as other ISO standards. For more detail visit: https://www.punyamacademy.com/Eshop
To celebrate this year's World Accreditation Day- 2019 in a special way, Global Manager Group announce 10% Flat Discount on each product within both the websites. This special offer can be redeemed with Discount Code and valid from 1st June 2019 to 9th June 2019.
Discount Code:

WAD2019p10
The owner of the company Mr. Devang Jhaveri explains and discuss in brief about widely used 9 international standards which are used for accreditation for laboratories, personnel certification bodies; PT providers; CRM manufacturers; Inspection agency; product or process certifying body; system certifying body, etc. The focus of this discussion on the global data of accreditation for all these various schemes is to share experience and challenges with the world that the customer faced during accreditation projects from process approach to the competence of people for various ISO accreditation as well as a need for establishing management system documentation. Considering this fact in mind we are trying to provide E-learning courses to improve understanding and knowledge of these accreditation standards as well as to provide ready to use editable templates to establish a good system with practical approach and quick solution to various accreditations.
What are the benefits of Accreditation?
Global Acceptance and recognition
System approach helps to build the system
Institutionalize the processes throughout the organization
Improve technical knowledge and competency
Help to increase market share in a competitive environment.
The reader of this press release can share their experience or send us any query related to any of the below 9 accreditation standard and enjoy global accreditation day.
There is various kind of accreditation standard and its technical requirements are covered in this event. For all these standards editable documents are provided by Global Manager Group, so any consultants and auditors can visit the website and download free DEMO to understand requirements of documentation for any of the following standards.
ISO/IEC 17020– inspection agency accreditation
ISO/IEC 17025 – test/calibration Laboratory accreditation
ISO/IEC 17021 – System certifying body accreditation
ISO 17024- Personal certification body accreditation
ISO 17043 – Proficiency testing provider accreditation
ISO 17034- CRM manufacturer accreditation
ISO 17065- Process and product certifying body accreditation
ISO 15189 – Medical laboratory accreditation.
For more detail, Write to us at sales@globalmanagergroup.com.
With the new release of ISO 45001, the internationally recognized standard that replaces OHSAS 18001, we now have a greater assurance of what the requirements for documented information will be. Many people consider documentation to be the hardest step in the process of implementing occupational health & safety management system according to ISO 45001:2018. It isn't the hardest part, because it can be done in a fairly straightforward way by using a structured approach.
ISO 45001 Documentation Structure
One of the main reasons why the documentation doesn't work to the company's advantage is that the documentation authors don't have a clear picture of the purpose of each type of document, and where it belongs in the documentation structure. There are several types of ISO 45001 documents used to establish an OH&SMS: ISO 45001 manual, procedures, policy, objectives, work instructions or SOPs, and records and forms. Each of them has its place and role in the OH&SMS. The documentation for an Occupational Health & Safety Management System should be structured as follows:
1. ISO 45001 Manual: A ISO 45001 manual presents information communicated by top management to provide the basis of the OH&S Management System. Since it is a very common document, it is usually the first document that a certification body wants to see to get familiar with the system.
2. Procedures: OH&S procedures can have different formats and structures. Procedures documents will include what actions are to be taken to eliminate or mitigate the risks and leverage the opportunities. It should include title, purpose, scope, responsibilities and authorities, description of activities, and reference to relevant work instructions, SOPs, and records.
3. Work Instruction or SOPs: The most common reason for creating a work instruction is to avoid nonconformities. Work instructions can be part of a procedure, or they can be referenced in a procedure. Generally, work instructions have a similar structure to the procedures and cover the same elements; however, the work instructions include details of activities that need to be realized, focusing on the sequencing of the steps, tools, and methods to be used and required accuracy.
4. Records and Forms: This documentation consists of the records generated as outputs of the planned actions discussed above. Most of these result from the various performance evaluation processes that are undertaken to monitor the system's performance, such as monitoring and measurement of operational controls, compliance with legal and other requirements, achievement of OH&S objectives, and internal audits, as well as records of incidents, nonconformities, and actions taken.
In today's world, an integrated management system (IMS) is a must have in any business. An integrated management system refers to the seamless integration of several different standards into a common system that meets the requirements of each of the standards. This allows the organisation to work as a single unit with unified objectives.
The initial implementation of an IMS will require a significant amount of resources such as time and effort in preparation of documentation. With that in mind, Global Manager Group has developed IMS EQHSMS Documentation Kit as per ISO 9001:2015, ISO 14001:2015 and ISO 45001:2018 requirements.
Which IMS documents are covered in this documentation Kit?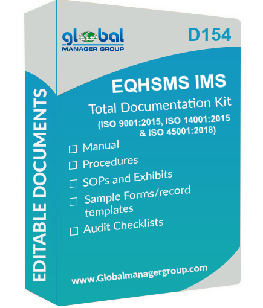 IMS Manual
IMS Procedures
Process Flow Charts
Standard Operating Procedures
Exhibits
Blank Formats
HSE plan
OHS policies
Sample filled Aspect/ Impacts
Sample filled HIRA
IMS audit checklist
The IMS documentation kit can also help you understand the management system requirements and make proactive changes to any workflows. By saving time, toolkits allows you to focus more on ensuring that the necessary processes and procedures are performed and disseminated throughout the organization.
Global Manager Group is involved in documentation selling since 1995; IMS documentation kit is one of the most selling document products of the company. The aim and purpose of providing readymade IMS documents is to help organization in integration of Quality Management System (QMS), Environment Management System (EMS), Occupational Health and Safety Management System (OHS&MS) into one system for easier management and operations.
IMS documentation kit developed by Global Manager Group is consistent in its appearance, and is written and reviewed by recognized authorities in the area. You can also receive support and guidance on using the toolkit.
The Global Manager Group, leading ISO documents and ISO training presentation kit Seller Company has updated its product C117, named as ISO 50001:2018 awareness & auditor training presentation kit for setting up and managing an effective Energy Management System (EnMS).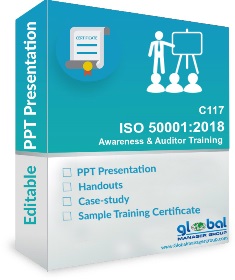 International Organization for Standardization (ISO) has published new ISO 50001:2018 standard on 21st August, 2018 and replaces the current standard ISO 50001:2011 that brings in a much stronger focus on continual improvement in energy performance with greater involvement of leadership and employees. Many new changes are added in this revised ISO 50001 auditor training presentation kit. It helps to establish a much better understanding of the ISO 50001:2018 awareness and internal auditing.
The newly revised ISO 50001 training ppt presentation kit provides more clarity and includes 6 items. ISO 50001 awareness training kit includes more than 180 editable ppt presentation slides on 7 modules including overview, objectives and energy management plan, requirements, steps, documented information, internal audit etc. It also includes handouts, workshops and case study, more than 500 audit questions, audit record templates and sample auditor training certificate as per ISO 50001:2018.
Global Manager Group provides ISO 50001:2018 auditor training presentation kit at very compatible cost of USD 450, and prepared in MS PowerPoint and Word documents and written in simple English. This ppt presentation kit is an editable document so any user can modify it as per their requirement, and use it as internal auditing for their organization.
For further details on training presentation kit and access Free Demo, visit our website: www.globalmanagergroup.com