Archive for the 'Global Manager Group' Category
8-Feb 2018 – NCQC – Global Manager Group is taking participate as exhibitor to world's largest Plastic Industry exhibition, PlastIndia2018. Plast India 2018, world's third largest plastic industry exhibition starts at Gandhinagar Exhibition Center – India, from 7 to 12 February 2018. Global Manager Group aims to associate with more plastic & packaging industry, which are looking for Quality certification as well as NABL accredited instrument calibration facilities.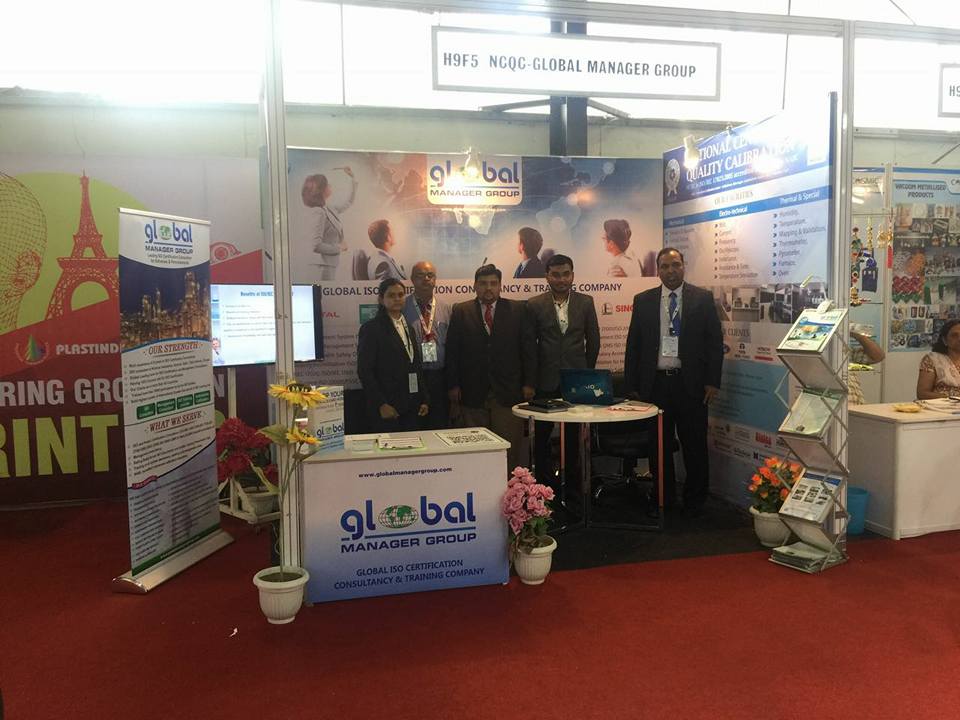 Mr. Devang Jhaveri, owner of Global Manager Group will be available at Plast India Exhibition at stall no. H9F5 on 9 & 10 February 2018. He will be there to share his experience working with industrial, R & D, Petrochemicals and Refineries as well as Laboratories as an ISO Consultant. The six-day exhibition is going to be world's third largest exhibition organized till date for Plastic industries. Global Manager Group aims to take participate in this event to offer a floor for all delegates to interact with experts in instrumentation, plastics, petrochemical, and packaging industries. GMG Also provides platform to all exhibitors from plastic manufacturers, instrument manufactures, packaging material manufacturers etc., to get in touch for their instruments calibration requirements by National Centre for Quality Calibration, leading NABL accredited calibration laboratory in India.
Global Manager Group has been providing management consultancy services and training since 1991 and has more than 2700 clients in more than 45 countries. The industry leader in ISO consultancy has over 20 years of experience, working with industrial, R & D, and Laboratories as well as management systems consultancy. The company has own Instrument calibration laboratory at Ahmedabad, as name of National Centre for Quality Calibration. The company has international reputation for ISO/IEC 17025 accreditation consultancy. So far the Company has conducted more than 100 courses on ISO internal auditor training and ISO system awareness training. Many laboratories have got ISO/IEC 17025 under his project management in GCC countries including Saudi ARAMCO, Yanbu Refinery, Gulf Laboratory, NAP Laboratory, Riyadh Refinery, Al-Hoti, Q Chem., Geotechnical lab, International Laboratory, aDoha Technical Lab, Qatar Engineering Lab, Qatar Industrial Lab, Jeddah refinery laboratory, technical laboratory etc.
More News and Updates about Global Manager Group visit blog.globalmanagergroup.com
30 Jan 2018, Alkhobar, KSA – Future Development Services Co. (FDS) and Global Manager Group are jointly announcing the one day training program on "ISO/IEC 17025:2017 Changes and Transition" at Al Khobar and Jubail, Kingdom of Saudi Arabia on 5th and 6th February, 2018. The ISO 17025-2017 training program will be helpful and beneficial for participants from ISO/IEC 17025 accredited laboratories in Saudi Arabia.
As FDS confirmed Mr. Devang Jhaveri will be delivering one day training program on recently released ISO/IEC 17025:2017 standard. The course will guide participants with knowledge of key changes and requirements in transition to ISO/IEC 17025:2017 accreditation. The trainer has rich experience of more than 100 laboratories ISO/IEC 17025 consultancy, this course will help participants to gain an understanding of transition for laboratory conformity assessment activities to make their own system and prepare for transition to ISO/IEC 17025:2017 and prepare the documents.
The ISO/IEC 17025 Changes and Transition – 1 day training is organized at Al Khobar, KSA on 5th Feb 2018 and at Jubail, KSA 6th Feb 2018. Organizations and laboratories of Saudi Arabia, which wants to train their laboratory employees to understand ISO 17025:2017 transition requirements can participate in this event, it will be the best opportunity for such laboratories. After completion of this course, all participants will receive a training  certificate for ISO/IEC 17025- 2017 training.
Highlight of the ISO/IEC 17025:2017 Changes and Transition Training
Course Introduction
Overview of ISO standard update process and structure of ISO/IEC 17025:2017
Requirements of ISO/IEC 17025:2017 Standard – Major changes in the standard
Guidelines for Documentation as per ISO/IEC 17025:2017
Steps for accreditation and transition to ISO/IEC 17025-2017
For More Detail Click Here
Trainer Profile:  Mr. Devang Jhaveri
Mr. Devang Jhaveri is owner of Global manager group, has been providing management training and consultancy since 1991 and has more than 2700 clients in more than 45 countries. Devang had the experience of more than 30 years in providing ISO certification consultancy and management consultancy and globally more than 100 laboratory consultancy and many public training courses. So far he has conducted more than 70 courses on ISO/IEC 17025 and many laboratories have got accreditation for ISO/IEC 17025 under his project management in GCC including leading refineries, Gulf Laboratory, Buzwair, Al-Hoti, Ministry of Works (Bahrain), Q Chem., International Laboratory, Doha Technical Lab, Qatar Engineering Lab etc.
VENUE & DATE: 5-Feb 2018, TBA – Al Khobar, KSA and 6-Feb 2018, TBA – Jubail, KSA.
DELEGATE FEE: SAR 900 per Participant (Single Individual)
Registration
Future Development Services Co.
P.O. Box: 461, Al Khobar – 31952, Kingdom of Saudi Arabia
Phone:  +966 (0) 565368040, +966 (13) 8828813
Website: www.fdscompany.com.sa
Global Manager Group
+91-79-26565405, +91-9825031523
Email: sales@globalmanagergroup.com
Website: www.Globalmanagergroup.com
June 9 is World Accreditation Day as a global initiative jointly established by the International Accreditation Forum (IAF) and the International Laboratory Accreditation Cooperation (ILAC) to raise awareness about the importance of accreditation. Global Manager Group, one of the leading accreditation consultant of the world has celebrates the day with invited experts to the meet and communicate online on various accreditation standards and get benefit by sharing knowledge of accreditation.
World Accreditation Day Celebration by Global Manager Group
The owner of the company Mr. Devang Jhaveri explains the difference between accreditation and certification as well as discuss in brief about widely used 9 international standards which are used for accreditation in testing laboratory, medical laboratory, calibration laboratory, refineries worldwide. The focus of this discussion on the global data of Laboratory accreditation is to share experience and challenges with the world that we faced during accreditation projects from process approach to competence in various laboratories accreditation for testing, medical and calibration field. In this industry various ISO accreditation consultancy providers, who have expertise in the field can come together and make this event more successful for the trust and believe of laboratory owners in accreditation process, which delivers confidence in reliability and global acceptance. The reader of this press release can share their experience or send us any query related to any of the below 9 accreditation standard and enjoy global accreditation day.
Global Manager Group is leading accreditation consultant in the globe, who selling various ready to use sample accreditation documentation kit and awareness and auditor training kits creating awareness on all this ISO series accreditation standards.
There is various kind of accreditation standard and its technical requirements are covered in this event. For all these standards editable documents are provided by Global Manager Group, so any consultants and auditors can visit website and download free DEMO to understand requirements of documentation for any of following standards.
List of Accreditation Standards
• ISO/IEC 17020 – inspection agency accreditation
• ISO/IEC 17025 – test/calibration Laboratory accreditation
• NABH – Hospital accreditation
• ISO/IEC 17021 – System certifying body accreditation
• ISO 17024- Personal certification body accreditation
• ISO 17043 – Proficiency testing provider accreditation
• ISO 17034- CRM manufacturer accreditation
• ISO 17065- Process and product certifying body accreditation
• ISO 15189 – Medical laboratory accreditation
Global Manager Group, leading ISO Certification Consultancy Company has released AS9100 rev D documentation kit for Aviation, Space and Defense Organizations to prepare quick documentation and hence certification process. In the AS9100 document kit GMG provides quality manual, mandatory procedures, SOPs – standard operating procedures, quality policy and work instructions, sample forms as well as ready to use templates in .doc formats.
The AS9100 standard was revised in 2016 as AS9100 rev D, with this document launching, Global Manager Group becomes the first organization that has published and provides ready-to-use documents online. This product will help aerospace industry in preparing documents for AS9100D certification in quick time. With releasing AS9100 D documents, GMG has committed to share knowledge and experience in the field of implementing Quality management systems and certification worldwide. Also, take care of key objective that using GMG's readymade documents any organization can quickly completes documentation process for their organizations.
Mr. Devang Jhaveri, Director of Global Manager Group says – "This AS9100 rev D document kit is introduced by GMG, prepared by team of expert Quality consultants to help Aviation, Space and Defense Organizations for achieving AS9100 accreditation as per revision D. As all ISO and other documents are popular in ISO lead auditors as well as leading organizations around the world, we are very sure that they will use, get benefits and recommend AS9100 document to their clients."
The key feature of this product is its user friendly templates in documentation kit for AS9100. Global Manager Group has taken initiative and prepared the complete set of AS9100D documents, which includes AS9100 manual, AS9100 procedures, process approach as well as policy, formats, audit checklists etc. to help Aviation, Space and Defense Organizations to update and accredit their system in quick time. The AS9100 total documents are written in plain English and it covers all the requirements of clauses and sub clauses defined in AS 9100 revision D standard.
The readymade documentation product helps user to save time in searching documentation that minimize revision, reducing cost and time that results quick certification.
FOR FURTHER INFORMATION
Global Manager Group
World's leading Certification Consultancy & Documentation Seller
+91 (079) 2979 5322
sales@globalmanagergroup.com
Stay Connected with Global Manager Group
https://www.facebook.com/Globalmanagergroup
https://twitter.com/ISO_9001_14001
http://www.linkedin.com/in/globalmanagergroup