Archive for the 'ISO 45001' Category
Global Manager Group, leading name in selling ISO documentation and training kits proudly announces its new product C123 – IMS Awareness & Auditor Training Presentation Kit designed by experienced team of ISO auditors and consultants, which covered requirements of each clause and sub clauses in detail.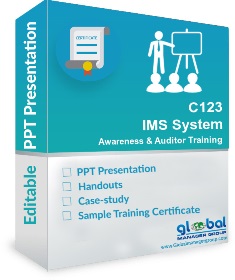 Global Manager Group introduced readymade IMS auditor training kit is complete guide in ppt presentation and gap analysis kit to understand Integrated Management System (IMS) as per latest ISO 9001:2015, ISO 14001:2015 & ISO 45001:2018 standards requirements. It is useful for those organizations that want to quickly and efficiently learn how to implement and successfully clear the audit for IMS Certification. IMS training presentation kit saves precious time while preparing the IMS awareness training course materials for in-house training programs. This IMS training presentation slides are aim to prepare the organizations employees for how to face ISO audits on integrated management system.
The IMS training – ready to use ppt presentation described in 13 main modules comprises of more than 510 editable ppt slides and MS- word documents like audit forms, checklists and more that help you to customize your own audit checklist. The training kit also comes with the case studies and workshops.
This presentation kit of IMS training available at very exciting rate of just 450 USD with Free Demo and will offer full value for the money spent by the customers globally. Moreover, the information can be edited so that you can craft your presentation quite easily as well as prepare the entire training presentation fast which saves your valuable time.
The Global Manager Group is a leading name in selling ISO documents and ISO training kits word wide. Since 1991, we have achieved 100% success rate for successful ISO certification consultancy. The management team at Global Manager Group proudly announces its new product launch i.e. D152 – BS ISO 45001:2018 Documentation Kit with editable templates, manual, procedures, audit checklists and more for Occupational, health, safety management system certification.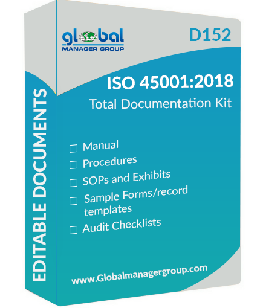 The ISO has introduced long awaited standard BS ISO 45001:2018 on 12th March 2018, which represents for Occupational, health and safety management system of the organization. The new product is designed to learn OH&S management system documenting requirements and concepts with the help of given forms and templates. The ISO 45001 documents are intended towards those corporate professionals who are interested to establish a good OHS system in their organization based on latest ISO standard.
The Team of OHS consultants of Global Manager Group has involved since releasing of first draft copy. More than 2000 hours are spent in the preparation of this documentation kit. It is developed under the guidance of experienced OH&S certification experts having rich experience of more than 20 years in the system implementation and certification.
The ISO 45001:2018 Documentation kit is categorized in 11 directories like manual, procedures, SOP, filled and blank formats, OHS policy, audit checklist, hazard and risk templates etc. comprises of more than 160 editable MS- word documents that help you to customize your own documentation. The ready-to-use ISO 45001 document kit also comes with the compliance matrix, which is Requirements-wise reference documented information. Over and above, it comprises audit questionnaire of nearly 500 audit checklists. These ISO 45001 checklists help an organization to devise their own customized internal audit checklist.
The contents of ISO 45001:2018 Documentation kit is evaluated and verified at various levels during preparation. The Document kit is launched to sell online at rate of just 499USD, which is very competitive price as compare to other products of Global Manager Group.
For further details on documentation kit and access FREE DEMO, visit our website: https://www.globalmanagergroup.com/