Archive for the 'ISO consultant' Category
8-Feb 2018 – NCQC – Global Manager Group is taking participate as exhibitor to world's largest Plastic Industry exhibition, PlastIndia2018. Plast India 2018, world's third largest plastic industry exhibition starts at Gandhinagar Exhibition Center – India, from 7 to 12 February 2018. Global Manager Group aims to associate with more plastic & packaging industry, which are looking for Quality certification as well as NABL accredited instrument calibration facilities.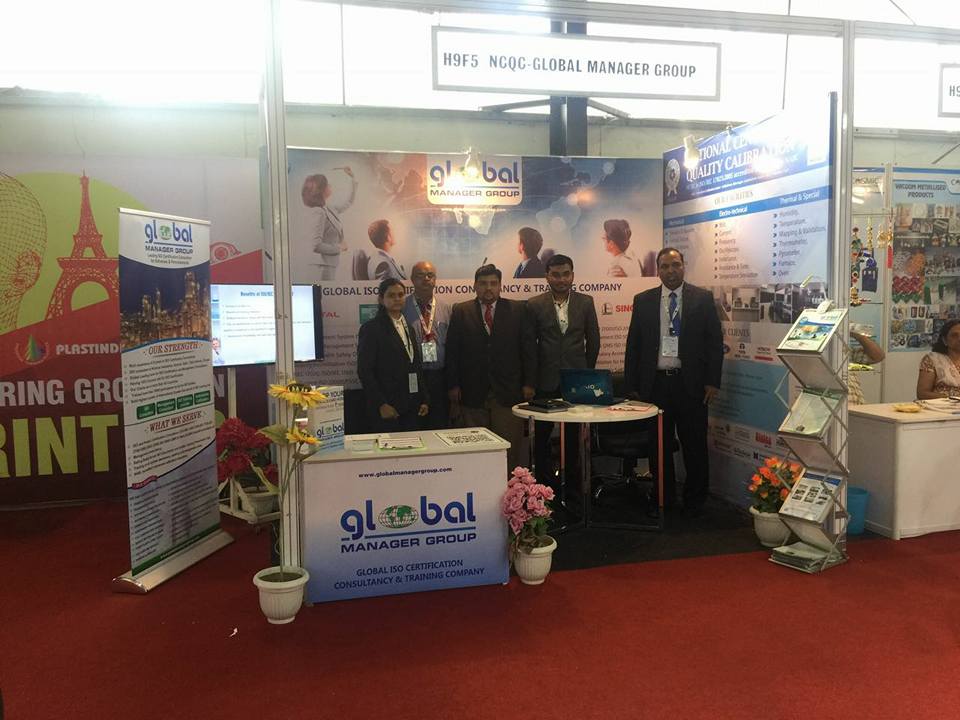 Mr. Devang Jhaveri, owner of Global Manager Group will be available at Plast India Exhibition at stall no. H9F5 on 9 & 10 February 2018. He will be there to share his experience working with industrial, R & D, Petrochemicals and Refineries as well as Laboratories as an ISO Consultant. The six-day exhibition is going to be world's third largest exhibition organized till date for Plastic industries. Global Manager Group aims to take participate in this event to offer a floor for all delegates to interact with experts in instrumentation, plastics, petrochemical, and packaging industries. GMG Also provides platform to all exhibitors from plastic manufacturers, instrument manufactures, packaging material manufacturers etc., to get in touch for their instruments calibration requirements by National Centre for Quality Calibration, leading NABL accredited calibration laboratory in India.
Global Manager Group has been providing management consultancy services and training since 1991 and has more than 2700 clients in more than 45 countries. The industry leader in ISO consultancy has over 20 years of experience, working with industrial, R & D, and Laboratories as well as management systems consultancy. The company has own Instrument calibration laboratory at Ahmedabad, as name of National Centre for Quality Calibration. The company has international reputation for ISO/IEC 17025 accreditation consultancy. So far the Company has conducted more than 100 courses on ISO internal auditor training and ISO system awareness training. Many laboratories have got ISO/IEC 17025 under his project management in GCC countries including Saudi ARAMCO, Yanbu Refinery, Gulf Laboratory, NAP Laboratory, Riyadh Refinery, Al-Hoti, Q Chem., Geotechnical lab, International Laboratory, aDoha Technical Lab, Qatar Engineering Lab, Qatar Industrial Lab, Jeddah refinery laboratory, technical laboratory etc.
More News and Updates about Global Manager Group visit blog.globalmanagergroup.com
Aug 09, 2017 – ISO/IEC 17025:2017 is coming soon, as its final draft copy is already released by ISO. It's substantially different from the current version: new structure and new requirements will be released in FDIS ISO 17025. Global Manager Group is proudly announced that they are working on the documentation requirements of ISO/IEC 17025:2017 from last 2 months and as soon as the final standard is released, the updated products D109 and D110 for testing and calibration laboratories accreditation will be available on www.globalmanagergroupo.com for online sell to the global market.
The lead quality consultancy and internal auditors team of Global Manager Group has been worked on this ISO 17025 documentation kits since the first draft released and is now committed to deliver best QMS documentation for ISO/IEC 17025:2017 soon. Also they had commented with suggestions on many points in various ISO forums during first and second drafts preparation of the standard.
Mr. Devang Jhaveri and his technical consultancy team of Global Manager Group have said that these ISO 17025 documentation kits for testing and calibration laboratory accreditation shall provide organizations with information regarding detailed requirements of the upcoming changes to ISO/IEC 17025. The company has reviewed the changes in the recently released Final Draft International Standard (FDIS) of ISO/IEC 17025:2017, the reasons for them, and how the changes affect current requirements for documentation process. Accordingly, GMG is working on designing the updated documentation kits which will give users a chance to learn what changes are planned, how to create manual, and what the new structure will require documentation. It will give your organization a jump start on upgrading its quality management system with quick documenting process.
Global Manager Group is on final stage of completing ISO/IEC 17025:2017 documentation kit – D109 & D110, for both testing laboratory and calibration laboratory. The FDIS represents the nearest final copy of the standard, subject to minor editorial changes; So GMG is planning to deliver the final document product with the release of updated ISO 17025 standard by ISO for Laboratory accreditation – Quality Management System.
June 9 is World Accreditation Day as a global initiative jointly established by the International Accreditation Forum (IAF) and the International Laboratory Accreditation Cooperation (ILAC) to raise awareness about the importance of accreditation. Global Manager Group, one of the leading accreditation consultant of the world has celebrates the day with invited experts to the meet and communicate online on various accreditation standards and get benefit by sharing knowledge of accreditation.
World Accreditation Day Celebration by Global Manager Group
The owner of the company Mr. Devang Jhaveri explains the difference between accreditation and certification as well as discuss in brief about widely used 9 international standards which are used for accreditation in testing laboratory, medical laboratory, calibration laboratory, refineries worldwide. The focus of this discussion on the global data of Laboratory accreditation is to share experience and challenges with the world that we faced during accreditation projects from process approach to competence in various laboratories accreditation for testing, medical and calibration field. In this industry various ISO accreditation consultancy providers, who have expertise in the field can come together and make this event more successful for the trust and believe of laboratory owners in accreditation process, which delivers confidence in reliability and global acceptance. The reader of this press release can share their experience or send us any query related to any of the below 9 accreditation standard and enjoy global accreditation day.
Global Manager Group is leading accreditation consultant in the globe, who selling various ready to use sample accreditation documentation kit and awareness and auditor training kits creating awareness on all this ISO series accreditation standards.
There is various kind of accreditation standard and its technical requirements are covered in this event. For all these standards editable documents are provided by Global Manager Group, so any consultants and auditors can visit website and download free DEMO to understand requirements of documentation for any of following standards.
List of Accreditation Standards
• ISO/IEC 17020 – inspection agency accreditation
• ISO/IEC 17025 – test/calibration Laboratory accreditation
• NABH – Hospital accreditation
• ISO/IEC 17021 – System certifying body accreditation
• ISO 17024- Personal certification body accreditation
• ISO 17043 – Proficiency testing provider accreditation
• ISO 17034- CRM manufacturer accreditation
• ISO 17065- Process and product certifying body accreditation
• ISO 15189 – Medical laboratory accreditation
Houston, TX, USA, Dec. 05, 2016 – Principle Information Technology, the leading platform for solutions and services that span the range of Cloud, IoT, BPM, ERP (SAP, Oracle etc.), Project Management and mobility, announced that it has awarded compliance to ISO 9001:2015, ISO/IEC 27001:2013 and ISO 20000:2011 certification for quality management system (QMS), information security management system (ISMS) and IT service management system (ITSMS) with the help of Global Manager Group's consultancy services. The certifications are granted by ISOQAR – UKAS, UK based widely recognized and prestigious certifying body after successfully audited the implemented all 3  systems with hard work of more than 4 months of system establishment by Principle Information Technology company. This is the big achievement for the company to get all the 3 certificated from globally reputed company ISOQAR by implementing integrated systems for QMS, ISMS and ITSMS.
Global Manager Group has completed ISO 9001, ISO 27001 and ISO 20000 certification consultancy projects within time limits by implementing effective QMS, ISMS and ITSMS within Principle InfoTech process areas at Houston, United States. ISO 9001 helps organization to achieve quality requirements in all departments, which results in continuous improvements. ISO 27001 helps organizations manage the security of information assets, including financial and third-party information, and helps ensure that risk, governance, and compliance practices meet the most rigid standards. ISO 20000 helps organization to control for providing software support services related to ERP which includes SAP, ORACLE, BPM-tools, HANA & Luxon etc., to their clients. ISO QAR, UKAS accredited certifying body has awarded Principle Information Technology Company the certification after completion of a rigorous third-party audit of its QMS, ISMS, ITSMS and related business processes. Principle InfoTech's ISO 9001 audit, ISO 27001 audit and ISO 20000 final audit follows successful recommendation and completion of Global Manager Group's ISO Consultancy project at USA.
During this highly technical consultancy project, Global Manager Group has helped Principle InfoTech to understand requirements via online ISO training programs on ISO 9001, ISO 27001 and ISO 20000 system awareness, gap analysis, work management, ISO documentation preparation, auditor trainings, internal audit as well as final assessment audit, done by UKAS accredited certifying body auditors from 3rd to 8th November 2016. The ISO/IEC 20000 is given by ISOQAR certifying body with accreditation of reputed company APMG international.
Global Manager Group helps Software solution provide company to aware of the requirements of quality management system as well as need to maintain the highest standard for securing the data of customers as well as service management systems. With this achievement of ISO 9001, ISO 27001, ISO 20000 certifications – Principle InfoTech has assured that customers have confidence in their commitment to quality process as well as secure and protect their data and that of their suppliers.