Archive for the 'ISO Documents' Category
8-Feb 2018 – NCQC – Global Manager Group is taking participate as exhibitor to world's largest Plastic Industry exhibition, PlastIndia2018. Plast India 2018, world's third largest plastic industry exhibition starts at Gandhinagar Exhibition Center – India, from 7 to 12 February 2018. Global Manager Group aims to associate with more plastic & packaging industry, which are looking for Quality certification as well as NABL accredited instrument calibration facilities.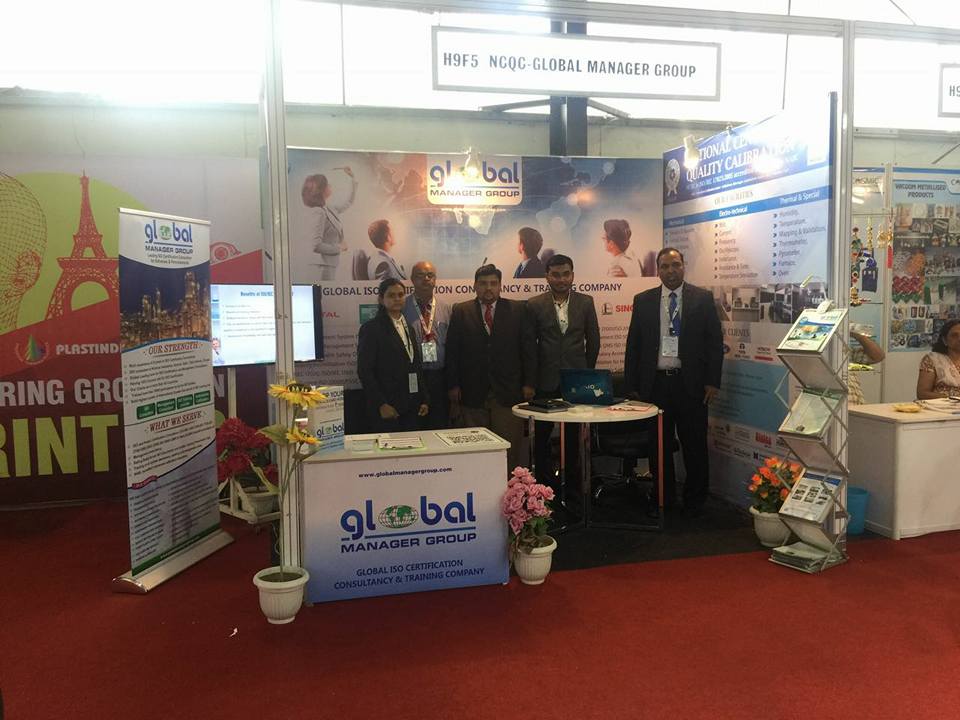 Mr. Devang Jhaveri, owner of Global Manager Group will be available at Plast India Exhibition at stall no. H9F5 on 9 & 10 February 2018. He will be there to share his experience working with industrial, R & D, Petrochemicals and Refineries as well as Laboratories as an ISO Consultant. The six-day exhibition is going to be world's third largest exhibition organized till date for Plastic industries. Global Manager Group aims to take participate in this event to offer a floor for all delegates to interact with experts in instrumentation, plastics, petrochemical, and packaging industries. GMG Also provides platform to all exhibitors from plastic manufacturers, instrument manufactures, packaging material manufacturers etc., to get in touch for their instruments calibration requirements by National Centre for Quality Calibration, leading NABL accredited calibration laboratory in India.
Global Manager Group has been providing management consultancy services and training since 1991 and has more than 2700 clients in more than 45 countries. The industry leader in ISO consultancy has over 20 years of experience, working with industrial, R & D, and Laboratories as well as management systems consultancy. The company has own Instrument calibration laboratory at Ahmedabad, as name of National Centre for Quality Calibration. The company has international reputation for ISO/IEC 17025 accreditation consultancy. So far the Company has conducted more than 100 courses on ISO internal auditor training and ISO system awareness training. Many laboratories have got ISO/IEC 17025 under his project management in GCC countries including Saudi ARAMCO, Yanbu Refinery, Gulf Laboratory, NAP Laboratory, Riyadh Refinery, Al-Hoti, Q Chem., Geotechnical lab, International Laboratory, aDoha Technical Lab, Qatar Engineering Lab, Qatar Industrial Lab, Jeddah refinery laboratory, technical laboratory etc.
More News and Updates about Global Manager Group visit blog.globalmanagergroup.com
Global Manager Group is industry leader for online documents selling for various international system certification, has released the new product online under documentation category named as D141 – ISO 15378:2015 Documentation kit for medicinal products packaging materials manufacturer's certification. The ISO 15378 – Primary Packaging Materials for Medicinal standard was developed in the pharmaceutical sector to provide a Quality Management System (QMS) for suppliers of materials intended to be used as Good Manufacturing Practice – GMP in packaging for medicinal products. This documentation released by GMG is covered all requirements of ISO 15378:2015 certification.
List of readymade templates given by GMG under this product for ISO 15378 Certification for primary packaging material for medicinal products with reference to quality management system and GMP contains a set of total 150 editable word files are divide in 7 directories like manual, procedures, exhibits, forms, process approach, SOPs and audit checklists etc.
Global Manager Group provides readymade ISO 15378 documents that can be easily customized to meet the specific needs of your organization. GMG provides documents like ISO 15378 manual, procedures, exhibits, SOPs, forms and audit checklists etc. as per the ISO 15378 Documentation requirements. All the documents are designed under guidance of experienced ISO consultants and QMS auditors. The ISO 15378:2015 documentation kit is the complete resource for all implementer as it provides the necessary tools for the major phases of the implementation of the ISO 15378 standard.
The complete sets of ISO 15378 documents designed to minimize the time and cost involved in certification as well as provides better control over implemented QMS system. The ready to use sample templates are written in simple English and easily editable format. The user can update total documentation templates as per organization working system and create own documents for their company.
This product, ISO 15378:2015 Documentation is offered online by Global Manager Group at very competitive rate of just $899 with free Demo that help to understand each document in details with its clause wise requirements on company's web portal www.globalmanagergroup.com.
Global Manager Group, a leading ISO documentation consultancy company has launched new product in documentation category named as CE Mark Documentation kit for Steel Structure which is developed for steel structure manufacturing companies. CE Marking for all construction products, covered by a harmonised European standard or conforming to a European Technical Assessment is become mandatory on 1st July 2014 for fabricated structural steelwork. This CE documentation released by GMG is covered all the requirements of DIN EN 1090-2 and ISO 3834-2 standards.
The product D137- CE Mark Documentation kit for steel structure offered by Global Manager Group is available at very competitive rate of just $450 on company's web portal www.globalmanagergroup.com.
Global Manager Group developed CE Mark Documents as per DIN EN 1090, part 2 and ISO 3834, part 2 requirements. The DIN EN 1090, part-2 defines technical requirements for Steel Structural and ISO 3834, part-2 defines quality requirements for fusion welding of metallic materials – comprehensive quality requirements. CE Marking for structural steel with compliance of DIN EN 1090 and ISO 3834 will become mandatory for products sold on the EU construction market.
Global Manager Group, leading ISO Certification Consultancy Company has released AS9100 rev D documentation kit for Aviation, Space and Defense Organizations to prepare quick documentation and hence certification process. In the AS9100 document kit GMG provides quality manual, mandatory procedures, SOPs – standard operating procedures, quality policy and work instructions, sample forms as well as ready to use templates in .doc formats.
The AS9100 standard was revised in 2016 as AS9100 rev D, with this document launching, Global Manager Group becomes the first organization that has published and provides ready-to-use documents online. This product will help aerospace industry in preparing documents for AS9100D certification in quick time. With releasing AS9100 D documents, GMG has committed to share knowledge and experience in the field of implementing Quality management systems and certification worldwide. Also, take care of key objective that using GMG's readymade documents any organization can quickly completes documentation process for their organizations.
Mr. Devang Jhaveri, Director of Global Manager Group says – "This AS9100 rev D document kit is introduced by GMG, prepared by team of expert Quality consultants to help Aviation, Space and Defense Organizations for achieving AS9100 accreditation as per revision D. As all ISO and other documents are popular in ISO lead auditors as well as leading organizations around the world, we are very sure that they will use, get benefits and recommend AS9100 document to their clients."
The key feature of this product is its user friendly templates in documentation kit for AS9100. Global Manager Group has taken initiative and prepared the complete set of AS9100D documents, which includes AS9100 manual, AS9100 procedures, process approach as well as policy, formats, audit checklists etc. to help Aviation, Space and Defense Organizations to update and accredit their system in quick time. The AS9100 total documents are written in plain English and it covers all the requirements of clauses and sub clauses defined in AS 9100 revision D standard.
The readymade documentation product helps user to save time in searching documentation that minimize revision, reducing cost and time that results quick certification.
FOR FURTHER INFORMATION
Global Manager Group
World's leading Certification Consultancy & Documentation Seller
+91 (079) 2979 5322
sales@globalmanagergroup.com
Stay Connected with Global Manager Group
https://www.facebook.com/Globalmanagergroup
https://twitter.com/ISO_9001_14001
http://www.linkedin.com/in/globalmanagergroup