Archive for the 'ISO training' Category
Global Manager Group, leading name in selling ISO documentation and training kits proudly announces its new product C123 – IMS Awareness & Auditor Training Presentation Kit designed by experienced team of ISO auditors and consultants, which covered requirements of each clause and sub clauses in detail.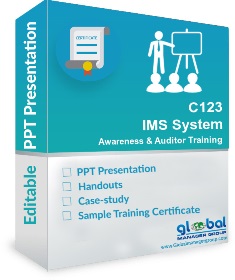 Global Manager Group introduced readymade IMS auditor training kit is complete guide in ppt presentation and gap analysis kit to understand Integrated Management System (IMS) as per latest ISO 9001:2015, ISO 14001:2015 & ISO 45001:2018 standards requirements. It is useful for those organizations that want to quickly and efficiently learn how to implement and successfully clear the audit for IMS Certification. IMS training presentation kit saves precious time while preparing the IMS awareness training course materials for in-house training programs. This IMS training presentation slides are aim to prepare the organizations employees for how to face ISO audits on integrated management system.
The IMS training – ready to use ppt presentation described in 13 main modules comprises of more than 510 editable ppt slides and MS- word documents like audit forms, checklists and more that help you to customize your own audit checklist. The training kit also comes with the case studies and workshops.
This presentation kit of IMS training available at very exciting rate of just 450 USD with Free Demo and will offer full value for the money spent by the customers globally. Moreover, the information can be edited so that you can craft your presentation quite easily as well as prepare the entire training presentation fast which saves your valuable time.
30 Jan 2018, Alkhobar, KSA – Future Development Services Co. (FDS) and Global Manager Group are jointly announcing the one day training program on "ISO/IEC 17025:2017 Changes and Transition" at Al Khobar and Jubail, Kingdom of Saudi Arabia on 5th and 6th February, 2018. The ISO 17025-2017 training program will be helpful and beneficial for participants from ISO/IEC 17025 accredited laboratories in Saudi Arabia.
As FDS confirmed Mr. Devang Jhaveri will be delivering one day training program on recently released ISO/IEC 17025:2017 standard. The course will guide participants with knowledge of key changes and requirements in transition to ISO/IEC 17025:2017 accreditation. The trainer has rich experience of more than 100 laboratories ISO/IEC 17025 consultancy, this course will help participants to gain an understanding of transition for laboratory conformity assessment activities to make their own system and prepare for transition to ISO/IEC 17025:2017 and prepare the documents.
The ISO/IEC 17025 Changes and Transition – 1 day training is organized at Al Khobar, KSA on 5th Feb 2018 and at Jubail, KSA 6th Feb 2018. Organizations and laboratories of Saudi Arabia, which wants to train their laboratory employees to understand ISO 17025:2017 transition requirements can participate in this event, it will be the best opportunity for such laboratories. After completion of this course, all participants will receive a training  certificate for ISO/IEC 17025:2017 training.
Highlight of the ISO/IEC 17025:2017 Changes and Transition Training
Course Introduction
Overview of ISO standard update process and structure of ISO/IEC 17025:2017
Requirements of ISO/IEC 17025:2017 Standard – Major changes in the standard
Guidelines for Documentation as per ISO/IEC 17025:2017
Steps for accreditation and transition to ISO/IEC 17025-2017
For More Detail Click Here
Trainer Profile:  Mr. Devang Jhaveri
Mr. Devang Jhaveri is owner of Global manager group, has been providing management training and consultancy since 1991 and has more than 2700 clients in more than 45 countries. Devang had the experience of more than 30 years in providing ISO certification consultancy and management consultancy and globally more than 100 laboratory consultancy and many public training courses. So far he has conducted more than 70 courses on ISO/IEC 17025 and many laboratories have got accreditation for ISO/IEC 17025 under his project management in GCC including leading refineries, Gulf Laboratory, Buzwair, Al-Hoti, Ministry of Works (Bahrain), Q Chem., International Laboratory, Doha Technical Lab, Qatar Engineering Lab etc.
VENUE & DATE: 5-Feb 2018, TBA – Al Khobar, KSA and 6-Feb 2018, TBA – Jubail, KSA.
DELEGATE FEE: SAR 900 per Participant (Single Individual)
Registration
Future Development Services Co.
P.O. Box: 461, Al Khobar – 31952, Kingdom of Saudi Arabia
Phone:  +966 (0) 565368040, +966 (13) 8828813
Website: www.fdscompany.com.sa
Global Manager Group
+91-79-26565405, +91-9825031523
Email: sales@globalmanagergroup.com
Website: www.Globalmanagergroup.com
Global Manager Group has introduced its new product C119, named as ISO 22301 Awareness & Auditor Training kit for setting up and managing an effective Business Continuity Management System (BCMS). This ISO 22301 Training presentation kit for Business Continuity Management System is designed by experienced team of ISO auditors and consultants, which covered requirements of each clause and sub clauses in detail.
Global Manager Group's management leader has confirmed this news and said that the training presentation kit to save precious time while preparing the ISO 22301 awareness training course materials for in-house training programs.
What to Cover in ISO 22301 Training PPT
This topic wise training kit for ISO 22301 contains following content that buyer can download online.
Topic wise PowerPoint presentation and more than 280 ISO 22301 ppt editable slides
A trainer's guide and hand outs in word and editable form to learn ISO 22301 business continuity management system requirements.
Work-shops and case studies to evaluate effectiveness of training.
A question bank of more than 500 ISO 22301 audit questions on business continuity management system and risk assessment as well as clause wise requirements.
Global Manager Group has introduced this product with free to download DEMO, which is available – Click Here
Global Manager Group leading Certification Documentation and System auditor training presentation kits selling company has launched upgrade to product C102 as EMS 14001 Awareness and Auditor training presentation kit versions 2015 from 2004. ISO 14001:2015 – Environmental Management Systems- requirements standard was published and all the existing certified companies needs to upgrade their system as per ISO 14001-2015 before September 2018 standard. Many new changes are added in this revised ISO 14001-2015 standard and focus on documents and records are reduced and now it is very much helpful to organization to improve their environment, sustainability and operational performance.
The newly revised awareness and auditor training kit on ISO 14001:2015 provides more clarity and includes 6 items with our training kit. Our training kit includes more than 300 editable ppt presentation slides on 11 modules including overview, requirements, steps, documented information, objectives, awareness to vendors, environmental aspects etc. It also includes handouts, sample auditor training certificate, workshops and case study, audit record templates and more than 400 audit questions as per ISO 14001-2015. This helps any organization to make best EMS system with establishing good culture and awareness on EMS and can make it relevant to the needs of your own organization to achieve sustainable business improvements.
Mr. Devang Jhaveri, Owner of Global Manager Group said that we are very happy to re-launch the product C102 EMS 14001-2015 Awareness and Auditor training kit ppt presentation, which is designed to help all world organizations and consultants to understand the requirements of ISO 14001:2015, on environmental management system. Our company has worked hard on the preparation of the ppt presentation on ISO 14001:2015, which making us the first organization that launched such training materials in a minimum time of ISO 14001-2015 EMS released. We ensure that our product C102 will help users to study the standard update and communicate clearly the message of continuous improvement with the effective Environment management system and give full value for money to user.
The company associate quoted that it will be beneficial for consultants and internal auditors to improve or implement environmental management system in small and big size organizations. Ready to use EMS 14001:2015 training kit, which includes with more than 300 ppt presentation slides based on the Environment management. The full presentation kit is on sell at very compatible cost of just USD 270, and prepared in MS PowerPoint and Word documents, written in simple English, which is given with all the editing and reuse rights for any organization.
Download FREE DEMO of C102 – EMS 14001:2015 Auditor Training Kit.