Archive for the 'ISO 14001' Category
Global Manager Group achieves a new project under its Online Consultancy services to upgrade documentation for EQMS certification of leading IT Company in Abu Dhabi. The IT organization that certified to ISO 9001:2008 and ISO 14001:2004 was looking to upgrade their documents and having a requirements of  upgrading documentation that accomplish ISO 9001:2015 and ISO 14001:2015 requirements to upgrade their existing certificate to 2015 version of ISO 9001 and ISO 14001. As company is seeking for Online ISO Consultancy, which saves their time and cost, they outsourced to Global Manager Group, which is leading name in readymade documentation provider for more than thirty international system certification. Globally all tech certified companies are taking services of Global manager group to modify their existing ISO 9001-2008 and ISO 14001-2004 documents to ISO 9001-2015 and ISO 14001-2015 requirements.
With the help of Global Manager Group, the IT Company in Abu Dhabi had made their all the documents to meet latest standard requirements including preparation of risk sheet and context of the organization. They will soon be ready to apply for EQMS up-gradation audit, which will result them in successfully ISO 9001:2015 and ISO 14001:2015 certification. They gave their existing documents to modify it to need of new requirements.  The cost of the outsourced project is less than an employee's salary that occupied and spent time in searching, preparing and maintaining records for EQMS documentation of their company. By taking such services they could get professional services and made dynamic objectives to make efficient, effective and vibrant work culture. Also they analyzed the organization and stake holders need in context of the organization and detail risk analysis and mitigation strategy was given at cost lower than 1500 USD. This was even less than 1 employees 10 days salary
In this distance ISO consulting project, Global Manager Group has provided all help for establishing and development of quality management system and environmental management system in terms of system up gradation documents requirements. There are following list of documentation for ISO 9001:2015 and ISO 14001:2015 are prepared by GMG's EQMS consulting team.
ISO EQMS  Manual
QMS and EMS procedures
Standard operational procedures and work instruction
Process flow charts
Exhibits
Formats that maintain records
Environmental management plan
Aspect Impact identification document
EQMS risk templates
QMS and EMS audit checklists
Above all ISO 9001 14001 documentation were prepared for all the departments of an IT organization, which reduce cost and manpower required in this project. The company has already implemented the quality management system and environmental management system as per previous standards, but the revised ISO documents helped them to understand the requirements of new ISO 9001 and ISO 14001 standards as well as to accelerate the certification up-gradation process.
Global Manager Group's strategy by such online projects was to present online consultancy for ISO documentation as world's leading Knowledge Processing Outsourcing – KPO for ISO certification, which can be exciting place to work where there are many opportunities to grow. This statement was purposely used to create curiosity so the client would continue fulfil their requirements with accurate and effective documentation with time and cost saving services. Global Manager Group has already sold out more than 50 copies of Ready-to-use EQMS Documentation Kit, which is a set of sample integrated QMS EMS documents for quick certification, available at www.Globalmanagergroup.com.
To establishing the common effluent treatment plant under the name "The Green Environment Services Co. Op. Society Limited" is developed under Vatva industries association and Gujarat dyestuff manufacturer's association, Global Manager Group has taken consultancy to implement integrated management system, and successfully achieved ISO 9001:2015, ISO 14001:2015, OHSAS 18001:2007 certification from ISOQAR – UK based certifying body.
The process designing is carried out by M/s. Advent Corporation, USA one of the internationally renowned consultants for the industrial wastewater treatment. The commissioning and operations supervision is done by advent's Indian collaborators Advent Envirocare Technology Pvt. Ltd., Ahmedabad. Detailed engineering for the CETP project is carried out by renowned consultant M/s Sudarshan Chemicals Industries Limited, Pune (India).
Global Manager Group has implemented ISO 9001:2015, ISO 14001:2015 and OHSAS 18001:2007 systems in the Organization by training employees of all level. The effective implementation of EQHSMS management system, training, documentation and certification is completed in given timeframe by Global Manager Group. During the implementation of ISO 9001:2015, ISO 14001:2015 and OHSAS 18001:2007 followings steps were implemented.
Preparation of documents for IMS, such as Manual, Procedures, SOPS/OCPs, Register o rules and regulations. Operational control plan, Quality control plan, Quality plan and many more as required by IMS,
Environmental aspects and impacts, Hazard identification and risks assessment and determining controls, is consultation with the company employees down the level.
Identification in consultation control points and exercising control over the same,
Training to all levels of employees with active participation,
Conducting mock frill on fire handling by creating scenario,
Encouraging employees to create safe work and establishing safe work practices,
Review and identification of legal and other requirements and guiding to comply with all such legal requirements,
Preparation of quality and EHS objectives and its targets and informing the employees for routine tracking, control and monitoring of the same.
About The Green Environment Services Co. Operative Society Limited
The Vatva Industrial estate has been developed by Gujarat Industries Development Corporation in the year 1960 accommodates small and medium scale Industries. This estate is located in south east direction of Ahmedabad – Mehmadabad state highway. Company is having Common Effluent Treatment Plant and Multi Effect evaporation facility for treatment of the waste water collected from the member industries. In this industrial estate there are approximately 1600 units, out of this approx 600 industries generated effluent. These unit include pharmaceutical products manufacturers, rolling mills, process houses, dyes and dye intermediates manufacturers, pigment manufacturers etc.
To treat the effluent by individual member units at source was very difficult and techno-economically not viable hence to solve this problem, the most practical and cost-effective approach was adopted by establishing the common effluent treatment plant under the name "The Green Environment Services Co. Op. Society Limited" with the support of Vatva industries association and Gujarat dyestuff manufacturer's association.
The popular website for readymade documentation solution, Globalmanagergroup.com has announced that the online sell of its one of the most demanded product EQHSMS Documentation – 2015 has been crossed over 50 copies in very short period of just 3 months. GMG has introduced this product in September 2015, which is based on Integrated Management System consist of ISO 9001:2015, ISO 14001:2015 and OHSAS 18001:2007 requirements.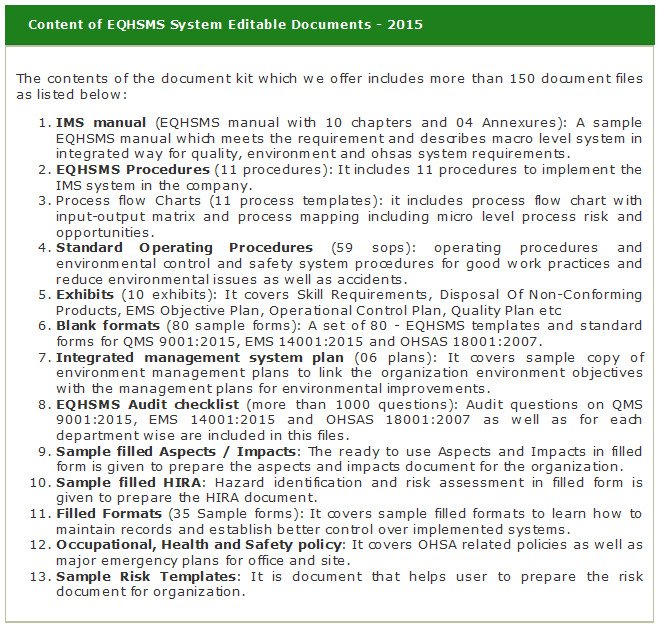 The sales team has admitted that more than 1000 users has downloaded free online DEMO of EQHSMS Documentation Package at website www.globalmanagergroup.com, which has guided them to understand the actual requirements and made them to take purchase decision faster to upgrade their existing systems as per revised ISO systems. As company was assured about sell of all new products would be increase in this quarter, they didn't surprise with that it crossed more than 50 copies of readymade EQHSMS documentation package.
Mr. Devang Jhaveri, owner of Global Manager Group, has thanked every users, who were believing in GMG's ability to provide effective ready to use documentation templates and have been purchased EQHSMS total Documentation Package – 2015. He has added that they continuously received very positive feedback on this product from all over the world, which has purchased product or downloaded free demo.
The reputed team of ISO consultants having rich experience in environment, quality and OHS management system were involved in preparing this documentation kit on integrated management system and made this document package possible to sell online to their global customers within minimum time of release of standard. The Online sell of EQHSMS Package, which covers sample copy of Quality, environment and safety IMS Manual and IMS certification procedures as well as SOPs, Exhibits, blank and filled forms, environmental policy, EMS plan, quality work instruction, and more than 1000 audit checklist etc., which are key highlight of the product.
The EQHSMS Documentation kit was placed for online sell to their wide range of global customers at very competitive rate of just 450 USD. The online purchase of the product can benefits their customers by providing them all rights of editing and reusing of documents for organization or work place as per requirements which saves a lot of their time and accelerates overall all documentation process, which made it very popular like GMG's other documentation packages.
Global Manager Group leading Certification Documentation and System auditor training presentation kits selling company has launched upgrade to product C102 as EMS 14001 Awareness and Auditor training presentation kit versions 2015 from 2004. ISO 14001:2015 – Environmental Management Systems- requirements standard was published and all the existing certified companies needs to upgrade their system as per ISO 14001-2015 before September 2018 standard. Many new changes are added in this revised ISO 14001-2015 standard and focus on documents and records are reduced and now it is very much helpful to organization to improve their environment, sustainability and operational performance.
The newly revised awareness and auditor training kit on ISO 14001:2015 provides more clarity and includes 6 items with our training kit. Our training kit includes more than 300 editable ppt presentation slides on 11 modules including overview, requirements, steps, documented information, objectives, awareness to vendors, environmental aspects etc. It also includes handouts, sample auditor training certificate, workshops and case study, audit record templates and more than 400 audit questions as per ISO 14001-2015. This helps any organization to make best EMS system with establishing good culture and awareness on EMS and can make it relevant to the needs of your own organization to achieve sustainable business improvements.
Mr. Devang Jhaveri, Owner of Global Manager Group said that we are very happy to re-launch the product C102 EMS 14001-2015 Awareness and Auditor training kit ppt presentation, which is designed to help all world organizations and consultants to understand the requirements of ISO 14001:2015, on environmental management system. Our company has worked hard on the preparation of the ppt presentation on ISO 14001:2015, which making us the first organization that launched such training materials in a minimum time of ISO 14001-2015 EMS released. We ensure that our product C102 will help users to study the standard update and communicate clearly the message of continuous improvement with the effective Environment management system and give full value for money to user.
The company associate quoted that it will be beneficial for consultants and internal auditors to improve or implement environmental management system in small and big size organizations. Ready to use EMS 14001:2015 training kit, which includes with more than 300 ppt presentation slides based on the Environment management. The full presentation kit is on sell at very compatible cost of just USD 270, and prepared in MS PowerPoint and Word documents, written in simple English, which is given with all the editing and reuse rights for any organization.
Download FREE DEMO of C102 – EMS 14001:2015 Auditor Training Kit.