In today's world, an integrated management system (IMS) is a must have in any business. An integrated management system refers to the seamless integration of several different standards into a common system that meets the requirements of each of the standards. This allows the organisation to work as a single unit with unified objectives.
The initial implementation of an IMS will require a significant amount of resources such as time and effort in preparation of documentation. With that in mind, Global Manager Group has developed IMS EQHSMS Documentation Kit as per ISO 9001:2015, ISO 14001:2015 and ISO 45001:2018 requirements.
Which IMS documents are covered in this documentation Kit?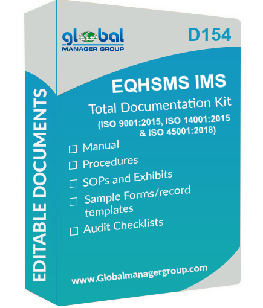 IMS Manual
IMS Procedures
Process Flow Charts
Standard Operating Procedures
Exhibits
Blank Formats
HSE plan
OHS policies
Sample filled Aspect/ Impacts
Sample filled HIRA
IMS audit checklist
The IMS documentation kit can also help you understand the management system requirements and make proactive changes to any workflows. By saving time, toolkits allows you to focus more on ensuring that the necessary processes and procedures are performed and disseminated throughout the organization.
Global Manager Group is involved in documentation selling since 1995; IMS documentation kit is one of the most selling document products of the company. The aim and purpose of providing readymade IMS documents is to help organization in integration of Quality Management System (QMS), Environment Management System (EMS), Occupational Health and Safety Management System (OHS&MS) into one system for easier management and operations.
IMS documentation kit developed by Global Manager Group is consistent in its appearance, and is written and reviewed by recognized authorities in the area. You can also receive support and guidance on using the toolkit.
The Global Manager Group, leading ISO documents and ISO training presentation kit Seller Company has updated its product C117, named as ISO 50001:2018 awareness & auditor training presentation kit for setting up and managing an effective Energy Management System (EnMS).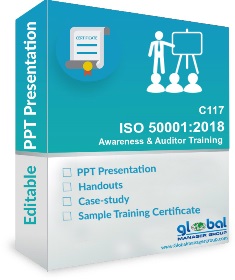 International Organization for Standardization (ISO) has published new ISO 50001:2018 standard on 21st August, 2018 and replaces the current standard ISO 50001:2011 that brings in a much stronger focus on continual improvement in energy performance with greater involvement of leadership and employees. Many new changes are added in this revised ISO 50001 auditor training presentation kit. It helps to establish a much better understanding of the ISO 50001:2018 awareness and internal auditing.
The newly revised ISO 50001 training ppt presentation kit provides more clarity and includes 6 items. ISO 50001 awareness training kit includes more than 180 editable ppt presentation slides on 7 modules including overview, objectives and energy management plan, requirements, steps, documented information, internal audit etc. It also includes handouts, workshops and case study, more than 500 audit questions, audit record templates and sample auditor training certificate as per ISO 50001:2018.
Global Manager Group provides ISO 50001:2018 auditor training presentation kit at very compatible cost of USD 450, and prepared in MS PowerPoint and Word documents and written in simple English. This ppt presentation kit is an editable document so any user can modify it as per their requirement, and use it as internal auditing for their organization.
For further details on training presentation kit and access Free Demo, visit our website: www.globalmanagergroup.com
Future Development Service Ltd (FDS), a specialist professional services company providing training and consultancy solutions pleased to announce the two-day training program on "ISO/IEC 17025:2017 Certified Internal Auditor and Uncertainty of Measurement" at Al Khobar, Kingdom of Saudi Arabia from 14th to 15th November, 2018.
Future Development Service and Global Manager Group jointly announce this ISO/IEC 17025:2017 certified internal auditor training program. Mr. Devang Jhaveri, a reputed ISO/IEC 17025 trainer and consultant will be delivering this two-day training program. The trainer has rich experience of ISO/IEC 17025 training in more than 100 laboratories.
FDS is offering this training program with attractive early bird package as well as group discount, if more than 5 participants booked at once.
During this two-day event, the participants will know the key changes made in ISO/IEC 17025:2017 standard as well as gain an understanding of transition for laboratory conformity assessment activities through an interactive, guided tour of the standard. This course will help the participant to make their own system and prepare for transition to ISO/IEC 17025:2017, know how to audit as per ISO/IEC 17025:2017, prepare audit reports and understand concept of calculation of uncertainty of measurement, audit reporting etc.
Laboratory personnel who responsible for the daily implementation of an ISO/IEC 17025 conformant management system can participate in this event, it will be the best opportunity. After completion of this course, all participants will receive a training certificate for ISO/IEC 17025:2017 certified internal auditor training.
Highlight of the ISO/IEC 17025:2017 Certified Internal Auditor Training
Course Introduction
Overview of ISO standard update process and structure of ISO/IEC17025:2017
Requirements of the ISO/IEC 17025:2017 Standard major changes in the standard
Documentation as per ISO/IEC 17025:2017
Steps for accreditation and transition process
Risk management and impartiality and decision rule
Audit process
Audit records and audit checklist
Uncertainty of measurement concept and steps for calculation of uncertainty
Practical examples of calculation of uncertainty of measurement
Final exam
Trainer Profile: Mr. Devang Jhaveri
Mr. Devang Jhaveri has been providing management training and consultancy since 1991 and has more than 1800 clients in more than 18 countries. Devang had the experience of more than 30 years in providing ISO certification consultancy and management consultancy and globally more than 100 laboratory consultancy and many public training courses. So far he has conducted more than 100 training courses on ISO/IEC 17025 and many laboratories have got accreditation for ISO/IEC 17025 under his project management in GCC including leading refineries, Saudi ARAMCO, Gulf Laboratory, Buzwair, Al-Hoti, Ministry of Works (Bahrain), Q Chem., International Laboratory, Doha Technical Lab, Qatar Engineering Lab etc.
About Future Development Service Ltd
Future Development Services Ltd. (FDS) is a specialist professional services company providing training and consultancy solutions to a wide range of clients, and to that effect, they are responding to specific demands of each client. These include, but not limited to, delivering innovative solutions that enable our clients to foster entrepreneurship driven work environment. They focus on delivering training, ISO consultancy, HR consultancy and more.
Venue: Al Khobar
Delegates Fee: SAR 1875 per Participant (Single Individual)
Registration
Future Development Services Co.
P.O. Box: 461, Al Khobar – 31952, Kingdom of Saudi Arabia
Phone: +966 (0) 565368040, +966 (13) 8828813
Website: www.fdscompany.com.sa
Global Manager Group, leading ISO documents and ISO awareness as well as ISO auditor training presentation selling company is delighted to announce the launch of its new product D151- NABH Documentation Kit for Eye Care Organisation Accreditation.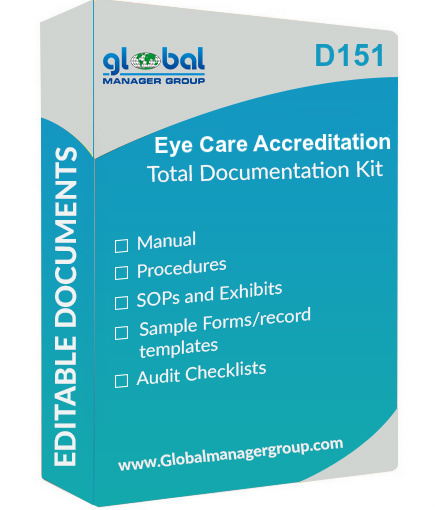 New to Global Manager Group's Eshop, NABH Documentation Kit is designed to help Eye Care Organisation in NABH accreditation. It provides a complete set of mandatory and supporting pre-written documentation templates to reduce the time spent developing documentation. This NABH Documents prepared by highly technical team of NABH consultant and ISO auditors from Global Manager Group, and taken care of each requirements of the NABH standard. It contains documentation such as NABH Manual, System Procedures, SOPs, Forms and Templates, Audit Checklist, etc.
The complete set of NABH Documents designed to minimise the time and cost involved in eye care organisations accreditation. It assists user to understand quality systems in hospitals and how to achieve fast and effective NABH accreditation certification.
The ready to use eye care organization accreditation documents priced at USD 599. The ready to use sample templates are written in simple English and easily editable format.  The entire documentation kit can be edited so that you can draft your NABH documentation quite easily as well as prepare the entire documentation fast which saves your valuable time. Users can download Free Demo of the product can be download that help to learn list of documents covered in this product in details