Global Manager Group, since 1991, is a leading name in ISO documents and ISO training and certifications.  Time-to-time, we conduct training on ISO standards, their updates and how to implement them to get certified, across the globe. Till now, we have achieved 100% success rate as a successful certification consultancy.
Recently, Global Manager Group's director Mr. Devang Jhaveri conducted ISO training on 14th and 15th of March 2018 in the Kingdom of Bahrain. The course code of the training was LMS-BH-001-18.  This ISO 17025:2017 training was conducted in partner ship with Infovision Consultants W. L. L. The entire ISO 17025:2017 training focused on the awareness of ISO/IEC 17025-2017 and certified internal auditors with emphasis on uncertainty of measurement and how can they perform their jobs better to bring effectiveness in the way their laboratories operates.
The training program was successfully welcomed by the participants. At the end of the training program, the candidates were awarded with the certificates on ISO 17025:2017 Awareness/transition and Internal Auditor Training. The entire training content was delivered in an easy to understand and implement way with a special emphasis on 'uncertainty of measurement'. This is because at Global Manager Group we understand that there is an uncertainty associated with every test and calibration. And, ISO/IEC 17025 recommends the results of quantitative measurement to be reported as both a single value and together with the possible deviation from the true value. The work shop, case studies and mock auditor role play was specialty of this course.
This training program was designed for laboratory managers, responsible company/corporate management, lab personnel, persons responsible for documenting, implementing, maintaining or auditing the laboratory systems; and 2nd or 3rd party auditors.
The list of participant organizations that attended this ISO 17025:2017 training program, along with their teams, is furnished underneath:
QEL Bahrain Branch
Calibration Expert
AI Holy Analytical Services
Muharraq Wastewater
Bahrain Airport Services
Interlab
Garmco
Ministry of Works- SEOMD and MED labs
Midal Cables
For further details on the ISO training programs, ISO certifications, recommended list of ISO checklists on various ISO standards and download various ISO checklists and ISO Audit checklists, various ISO documentation kits and ISO training kits, visit our website: www.Globalmanagergroup.com
The Global Manager Group is a leading name in selling ISO documents and ISO training kits word wide. Since 1991, we have achieved 100% success rate for successful ISO certification consultancy. The management team at Global Manager Group proudly announces its new product launch i.e. D152 – BS ISO 45001:2018 Documentation Kit with editable templates, manual, procedures, audit checklists and more for Occupational, health, safety management system certification.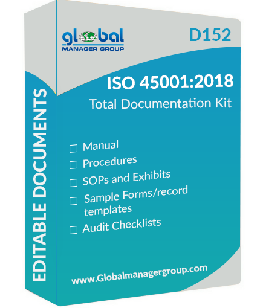 The ISO has introduced long awaited standard BS ISO 45001:2018 on 12th March 2018, which represents for Occupational, health and safety management system of the organization. The new product is designed to learn OH&S management system documenting requirements and concepts with the help of given forms and templates. The ISO 45001 documents are intended towards those corporate professionals who are interested to establish a good OHS system in their organization based on latest ISO standard.
The Team of OHS consultants of Global Manager Group has involved since releasing of first draft copy. More than 2000 hours are spent in the preparation of this documentation kit. It is developed under the guidance of experienced OH&S certification experts having rich experience of more than 20 years in the system implementation and certification.
The ISO 45001:2018 Documentation kit is categorized in 11 directories like manual, procedures, SOP, filled and blank formats, OHS policy, audit checklist, hazard and risk templates etc. comprises of more than 160 editable MS- word documents that help you to customize your own documentation. The ready-to-use ISO 45001 document kit also comes with the compliance matrix, which is Requirements-wise reference documented information. Over and above, it comprises audit questionnaire of nearly 500 audit checklists. These ISO 45001 checklists help an organization to devise their own customized internal audit checklist.
The contents of ISO 45001:2018 Documentation kit is evaluated and verified at various levels during preparation. The Document kit is launched to sell online at rate of just 499USD, which is very competitive price as compare to other products of Global Manager Group.
For further details on documentation kit and access FREE DEMO, visit our website: https://www.globalmanagergroup.com/
8-Feb 2018 – NCQC – Global Manager Group is taking participate as exhibitor to world's largest Plastic Industry exhibition, PlastIndia2018. Plast India 2018, world's third largest plastic industry exhibition starts at Gandhinagar Exhibition Center – India, from 7 to 12 February 2018. Global Manager Group aims to associate with more plastic & packaging industry, which are looking for Quality certification as well as NABL accredited instrument calibration facilities.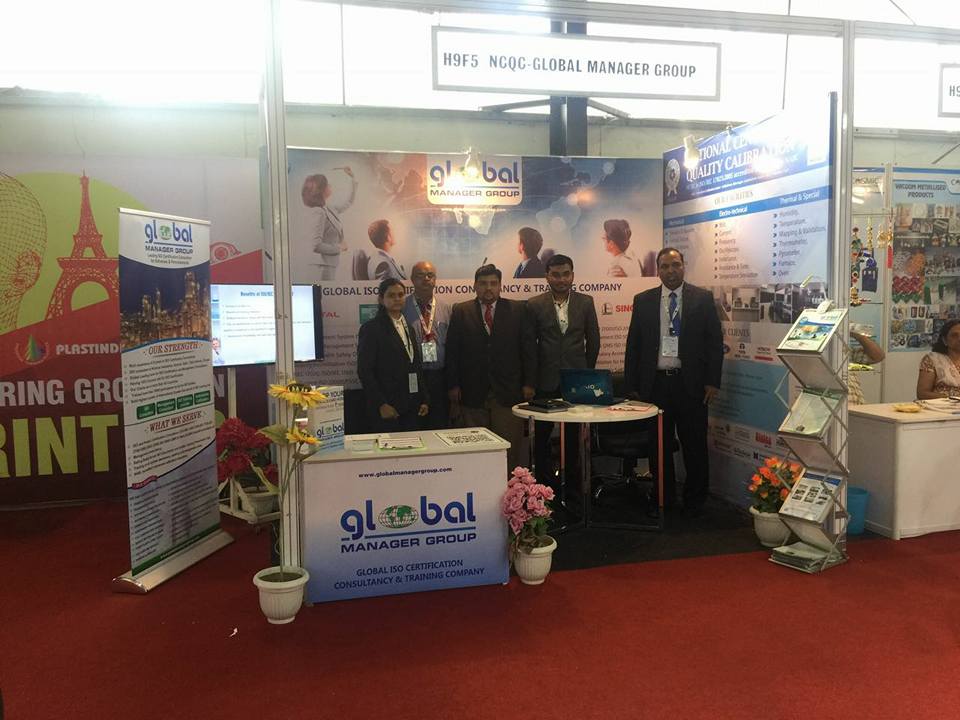 Mr. Devang Jhaveri, owner of Global Manager Group will be available at Plast India Exhibition at stall no. H9F5 on 9 & 10 February 2018. He will be there to share his experience working with industrial, R & D, Petrochemicals and Refineries as well as Laboratories as an ISO Consultant. The six-day exhibition is going to be world's third largest exhibition organized till date for Plastic industries. Global Manager Group aims to take participate in this event to offer a floor for all delegates to interact with experts in instrumentation, plastics, petrochemical, and packaging industries. GMG Also provides platform to all exhibitors from plastic manufacturers, instrument manufactures, packaging material manufacturers etc., to get in touch for their instruments calibration requirements by National Centre for Quality Calibration, leading NABL accredited calibration laboratory in India.
Global Manager Group has been providing management consultancy services and training since 1991 and has more than 2700 clients in more than 45 countries. The industry leader in ISO consultancy has over 20 years of experience, working with industrial, R & D, and Laboratories as well as management systems consultancy. The company has own Instrument calibration laboratory at Ahmedabad, as name of National Centre for Quality Calibration. The company has international reputation for ISO/IEC 17025 accreditation consultancy. So far the Company has conducted more than 100 courses on ISO internal auditor training and ISO system awareness training. Many laboratories have got ISO/IEC 17025 under his project management in GCC countries including Saudi ARAMCO, Yanbu Refinery, Gulf Laboratory, NAP Laboratory, Riyadh Refinery, Al-Hoti, Q Chem., Geotechnical lab, International Laboratory, aDoha Technical Lab, Qatar Engineering Lab, Qatar Industrial Lab, Jeddah refinery laboratory, technical laboratory etc.
More News and Updates about Global Manager Group visit blog.globalmanagergroup.com
30 Jan 2018, Alkhobar, KSA – Future Development Services Co. (FDS) and Global Manager Group are jointly announcing the one day training program on "ISO/IEC 17025:2017 Changes and Transition" at Al Khobar and Jubail, Kingdom of Saudi Arabia on 5th and 6th February, 2018. The ISO 17025-2017 training program will be helpful and beneficial for participants from ISO/IEC 17025 accredited laboratories in Saudi Arabia.
As FDS confirmed Mr. Devang Jhaveri will be delivering one day training program on recently released ISO/IEC 17025:2017 standard. The course will guide participants with knowledge of key changes and requirements in transition to ISO/IEC 17025:2017 accreditation. The trainer has rich experience of more than 100 laboratories ISO/IEC 17025 consultancy, this course will help participants to gain an understanding of transition for laboratory conformity assessment activities to make their own system and prepare for transition to ISO/IEC 17025:2017 and prepare the documents.
The ISO/IEC 17025 Changes and Transition – 1 day training is organized at Al Khobar, KSA on 5th Feb 2018 and at Jubail, KSA 6th Feb 2018. Organizations and laboratories of Saudi Arabia, which wants to train their laboratory employees to understand ISO 17025:2017 transition requirements can participate in this event, it will be the best opportunity for such laboratories. After completion of this course, all participants will receive a training  certificate for ISO/IEC 17025:2017 training.
Highlight of the ISO/IEC 17025:2017 Changes and Transition Training
Course Introduction
Overview of ISO standard update process and structure of ISO/IEC 17025:2017
Requirements of ISO/IEC 17025:2017 Standard – Major changes in the standard
Guidelines for Documentation as per ISO/IEC 17025:2017
Steps for accreditation and transition to ISO/IEC 17025-2017
For More Detail Click Here
Trainer Profile:  Mr. Devang Jhaveri
Mr. Devang Jhaveri is owner of Global manager group, has been providing management training and consultancy since 1991 and has more than 2700 clients in more than 45 countries. Devang had the experience of more than 30 years in providing ISO certification consultancy and management consultancy and globally more than 100 laboratory consultancy and many public training courses. So far he has conducted more than 70 courses on ISO/IEC 17025 and many laboratories have got accreditation for ISO/IEC 17025 under his project management in GCC including leading refineries, Gulf Laboratory, Buzwair, Al-Hoti, Ministry of Works (Bahrain), Q Chem., International Laboratory, Doha Technical Lab, Qatar Engineering Lab etc.
VENUE & DATE: 5-Feb 2018, TBA – Al Khobar, KSA and 6-Feb 2018, TBA – Jubail, KSA.
DELEGATE FEE: SAR 900 per Participant (Single Individual)
Registration
Future Development Services Co.
P.O. Box: 461, Al Khobar – 31952, Kingdom of Saudi Arabia
Phone:  +966 (0) 565368040, +966 (13) 8828813
Website: www.fdscompany.com.sa
Global Manager Group
+91-79-26565405, +91-9825031523
Email: sales@globalmanagergroup.com
Website: www.Globalmanagergroup.com