Global Manager Group, leading name in ISO documentation, ISO training and Certification Consultancy has re-introduced its product D141 – ISO 15378 Documentation Kit as per newly revised standard ISO 15378:2017 requirements.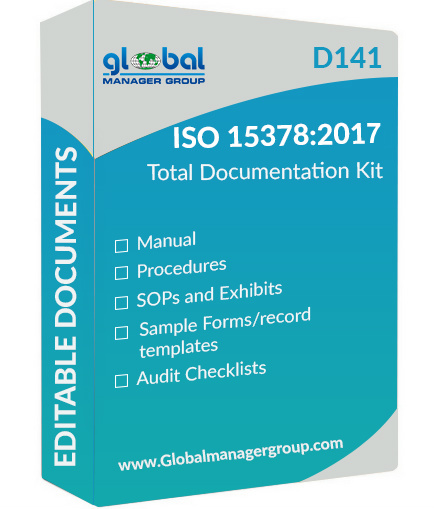 The newly upgraded ISO 15378:2017 standard has been released by International Organization for Standardization (ISO). The new edition of the standard has had some key changes. The experienced team of ISO Consultant of Global Manager Group has started work on revising this ISO 15378:2017 Documentation kit as per newly revised ISO 15378:2017 standard and make it available online in very short time of release of standard. This readymade ISO documentation kit contains ISO 15378:2017 documents like manual, procedures, SOPs, exhibits, sample forms, audit checklist, etc.
Mr. Devang Jhaveri, Managing Director of company stated, "The set of documents provided by GMG for ISO 15378:2017 Certification, that helps medicinal product packaging material manufacturers who want to update their existing 2015 system to ISO 15378:2017 or implement ISO 15378 system certification first time for new clients. The vision and aim of the company is to provide accurate solution for documentation that makes overall certification process quick and effective."
With this product re-launch, Global Manager Group has committed to deliver Readymade ISO 15378:2017 Documentation Kit at very competitive price at just 899 USD, which covers sample templates that are written in simple English and easily editable format. The user can update total documentation templates as per organization working system and create own documents for their company in quick time.
Also provides Free Demo and Sample Documents to find out more about how it can help organisations in ISO 15378:2017 Certification
ISO standards touch almost all aspects of daily life, and work for organizations large and small. ISO/IEC 17025 is the international quality standard for testing and calibration laboratories. Laboratories use ISO/IEC 17025 to implement a quality system aimed at improving their ability to consistently produce valid results. Labs must hold this accreditation as it is a kind of certificate of their technical competence, nationally and globally. ISO/IEC 17025 Audit Checklist is an important tool that helps laboratories achieve ISO/IEC 17025 certification in an easier, faster and cost-effective way.
An overview of ISO/IEC 17025 Audit Checklist
In the entire ISO 17025 Audit documentation kit, the best part is ISO 17025 Audit checklist. Do you know why it is so? This is because, ISO/IEC 17025 checklist is:
prepared by industry experts having rich experience of 25+ years
meant to verify mandatory system implementation points
completely customizable
an exhaustive list of more than 500 questions.
Why is ISO/IEC 17025 Audit Checklist important?
ISO 17025 audit is meant for checking the competence of your laboratory to consistently produce valid results. ISO/IEC 17025 Audit Checklist is an indispensable part of the ISO audit of your laboratory. It is a useful tool that helps you efficiently and timely conduct audit in order to get ISO/IEC 17025 certification for your laboratory.
Preparing for an ISO/IEC 17025 accreditation audit is demanding, especially if it is your first audit. Even if you have had prior experience of ISO 17025 audit, you will be a little stressed and anxious about the outcome. ISO 17025 audit checklist plays here a vital role to alleviate your tension and make the audit an enjoyable experience for you and your organization.
When ISO auditors come to your laboratory they will ask for a number of documented information about your quality management system, processes and their implementation. If you have a readymade ISO 17025 audit checklist, then it will help you prepare for the audit in a well-organized manner. Conversely, auditors also find it easy to systematically conduct audit by referring to audit checklist, as it minimizes the chances of any lapse in collecting and auditing the documents.
ISO 17025 audit checklist will eliminate the eleventh-hour rush during or before audit as you can pre- organize all the necessary information/ documents in folders, binders, and (or) in your computer/laptop at the place of audit meetings.
Remember, in any audit, your first impression matters. If all the documents are readily available, it indicates that your organization/laboratory is professional and well-organized.  Auditors, on the other side, will also be able to exhibit professionalism if they have audit checklist ready in their hands.
Benefits of ISO/IEC 17025 Audit Checklist
The three main benefits of using ISO17025 audit checklist are that it:
1.    Saves time
Having information readily available is a huge time saver. Collecting documented information before audit and having them readily available for auditor will not only reduce the amount of time spent on your assessment but also make you look professionally and well prepared. ISO/IEC 17025 Audit Checklist will help save time for collecting all types of documented information that auditors would ask for.
2.    Reduces costs
The less time it takes to complete your assessment, the lower your assessment fees will be. You may be able to save several thousand rupees/ dollars by expediting the assessment process. Additionally, you will be less stressed and able to focus on the assessment.
3.    Reduces chance of deficiencies
Additionally, your preparation efforts will make you frantically searching for various documented information. This will put you under pressure causing you to deliver your auditors incomplete or incorrect information and giving them extra time to dig deeper into your documents, records, and processes and find more deficiencies. Using checklist would likely prevent your assessor from finding additional deficiencies. With the checklist in hand, you can preselect records that are free from mistakes.  Thus you would attract fewer citations and deficiencies and you will be at advantage in the assessment.
Conclusion
ISO/IEC 17025 Audit Checklist is a must have for testing and calibration laboratories seeking ISO 17025 certification. It is also useful for those laboratories which are looking for re-certification. Here, we have just given you a glimpse of what an ISO 17025 certification audit is and how ISO/IEC 17025 Audit Checklist can ease your process of getting certified.  In a nutshell using the ISO 17025 audit checklist can make the path of ISO/IEC 17025 certification easier for you by saving your time and cost and reducing the  chance of deficiency.
Global Manager Group, leading name in selling ISO documentation and training kits proudly announces its new product C123 – IMS Awareness & Auditor Training Presentation Kit designed by experienced team of ISO auditors and consultants, which covered requirements of each clause and sub clauses in detail.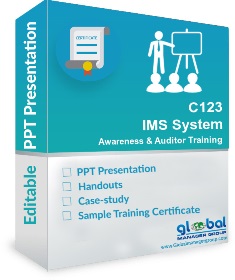 Global Manager Group introduced readymade IMS auditor training kit is complete guide in ppt presentation and gap analysis kit to understand Integrated Management System (IMS) as per latest ISO 9001:2015, ISO 14001:2015 & ISO 45001:2018 standards requirements. It is useful for those organizations that want to quickly and efficiently learn how to implement and successfully clear the audit for IMS Certification. IMS training presentation kit saves precious time while preparing the IMS awareness training course materials for in-house training programs. This IMS training presentation slides are aim to prepare the organizations employees for how to face ISO audits on integrated management system.
The IMS training – ready to use ppt presentation described in 13 main modules comprises of more than 510 editable ppt slides and MS- word documents like audit forms, checklists and more that help you to customize your own audit checklist. The training kit also comes with the case studies and workshops.
This presentation kit of IMS training available at very exciting rate of just 450 USD with Free Demo and will offer full value for the money spent by the customers globally. Moreover, the information can be edited so that you can craft your presentation quite easily as well as prepare the entire training presentation fast which saves your valuable time.
Global Manager Group, leading ISO documents and ISO awareness as well as ISO auditor training presentation selling company is delighted to announce the launch of its new product D145 – Pre Entry Level for Hospital Accreditation Documentation Kit.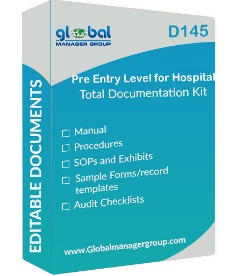 To help Hospital that having facilities above 50 beds for patients, we launched the Pre Entry Level for Hospital Accreditation Documentation Kit. It provides a complete set of mandatory and supporting pre-written documentation templates to reduce the time spent developing documentation.
This Pre Entry Level for Hospital Documents prepared by highly technical team of NABH consultant and ISO auditors from Global Manager Group, and taken care of each requirements of the NABH standard. In contains documentation such as Hospital Manual, System Procedures, SOPs, Forms and Templates, NABH Audit Checklist, etc.
Mr. Devang Jhaveri, Director of Global Manager Group said "The Total Documentation Kit for Pre Entry Level for Hospital can be a unique tool to learn implementation of NABH Certification."  He also added that the Hospital Manual and other documents shall help user to create documentation for their organization in just few clicks. Moreover, the information can be edited so that you can draft your Pre Entry Level documentation quite easily as well as prepare the entire documentation fast which saves your valuable time.
Global Manager Group has introduced this product online at very compatible price of just 599 USD. Download a Free Demo of the Pre Entry Level for Hospital Documentation kit to find out more about how it can help hospitals meet the NABH requirements.