Global Manager Group, leading ISO documents and ISO awareness as well as ISO auditor training presentation selling company is delighted to announce the launch of its new product D145 – Pre Entry Level for Hospital Accreditation Documentation Kit.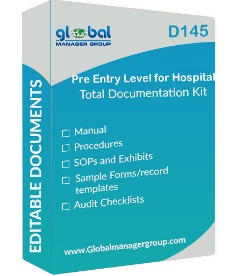 To help Hospital that having facilities above 50 beds for patients, we launched the Pre Entry Level for Hospital Accreditation Documentation Kit. It provides a complete set of mandatory and supporting pre-written documentation templates to reduce the time spent developing documentation.
This Pre Entry Level for Hospital Documents prepared by highly technical team of NABH consultant and ISO auditors from Global Manager Group, and taken care of each requirements of the NABH standard. In contains documentation such as Hospital Manual, System Procedures, SOPs, Forms and Templates, NABH Audit Checklist, etc.
Mr. Devang Jhaveri, Director of Global Manager Group said "The Total Documentation Kit for Pre Entry Level for Hospital can be a unique tool to learn implementation of NABH Certification."  He also added that the Hospital Manual and other documents shall help user to create documentation for their organization in just few clicks. Moreover, the information can be edited so that you can draft your Pre Entry Level documentation quite easily as well as prepare the entire documentation fast which saves your valuable time.
Global Manager Group has introduced this product online at very compatible price of just 599 USD. Download a Free Demo of the Pre Entry Level for Hospital Documentation kit to find out more about how it can help hospitals meet the NABH requirements.
ISO 17021 is a series of standards that set out requirements for organizations who provide certificates of conformity to all types of management systems. These organizations are commonly referenced to as certification bodies or registrars. The ISO 17021 standards are used by accreditation bodies to assess the processes that certification bodies have in place to ensure that they are impartial and the results of their assessments are consistent.
Global Manager Group is involved in documentation selling since 1995; ISO/IEC 17021:2015 Documentation kit is one of the most selling document products of the company. ISO 17021:2015 accreditation documents requirements for bodies providing audit and certification of conformity assessments systems, is intended to increase trust in management system certificates issued. Global Manager Group's aim and purpose of providing ISO 17021:2015 documents is to increase the value of conformity assessments systems certification.
What ISO/IEC 17021:2015 Documentation Kit Includes?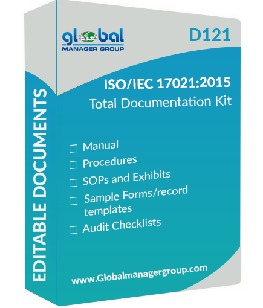 ISO 17021 manual: It describe profile, amendment sheet, index, clause wise details as per ISO/IEC 17021:2015 for implementation, sample quality policy and organization chart. This documents standard requirements of ISO/IEC 17021 accreditation system implementation as well as quick certification.

ISO 17021 Policy: This document cover topic of mandatory policies covering all the details as per ISO/IEC 17021:2015 requirements for Certifying Body.

Mandatory Procedures: This document for conformity assessment covering mandatory procedures details like purpose, scope, responsibility, how procedure is followed as well as list of exhibits, reference documents and formats.

Work Instructions: This document is guideline for establishing controls on significant aspects, work instructions for operators as well as standard operating procedures. This documents very useful for testing process control and establishes effective laboratory management system with good laboratory practices culture.

ISO 17021 Audit Checklist: This document is tool for the internal to make audit questionnaire while auditing and make effectiveness in auditing. ISO 17021:2015 Checklists document requirements for ISO 17021:2015 standard and implementation of accreditation system.
ISO 20000 is the globally accepted standard for defining IT service management system that enables organisations to control risks and achieve business benefits. The ISO 20000 Certification is required proper training for system awareness that guide you for better understanding of ITSMS as per ISO 20000. Therefore, Global Manager Group provides Ready-made ISO 20000 Training Presentation Kit to understand ISO 20000-1:2012 standard well and effectively auditing implemented system.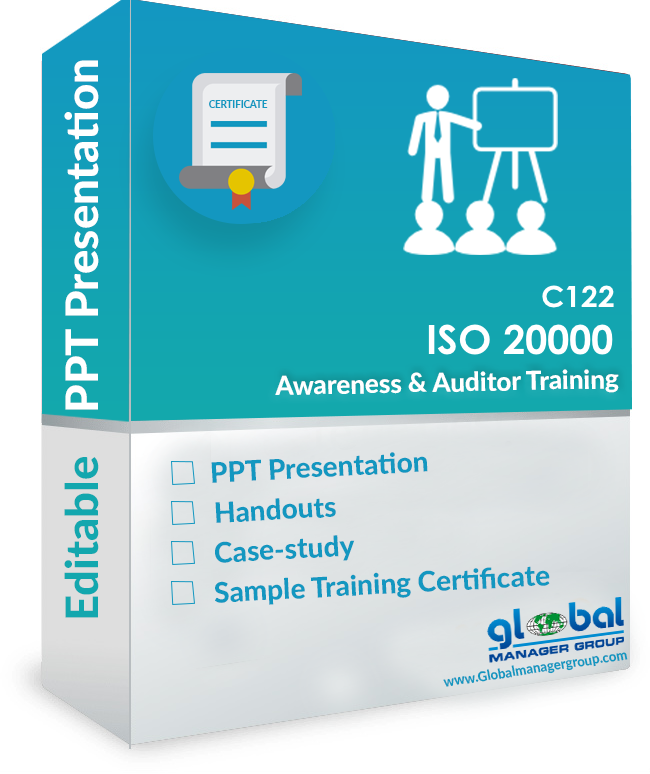 The ISO 20000:2011 training presentation kit is prepared by highly qualified business management professional team. The ISO 20000 auditor training presentation offers relevant information about IT service requirements and documentation process as well as steps for certification. It contains more than 290 slides of presentation as well as hand-outs.
The following contents are included in ISO 20000 training presentation:
Overview of ISO 20000-1:2011 System
ISO 20000-1 requirements
Terms and Definitions
ISO 20000-1 Documentation
ISO 20000-1 ITSMS Internal Audit
Steps for ISO 20000-1 installation
Risk management
Steps for ISO 20000-1 internal audit
Work-shops and Case studies
Global Manager Group has introduced this product at very competitive price at just 550 USD with FREE DEMO. Moreover, the information can be edited so that you can craft your presentation quite easily as well as prepare the entire training presentation fast which saves your valuable time.
Global Manager Group, leading industry leader for online documents selling for various international system certifications announces its new product launch D153 – BRC Global Standard for Consumer Products Documentation Kit, which is written in English and will be deliver in editable format. This new documentation kit provides with a comprehensive set of pre-written BRC documents compliant with BRC Global Standard for Consumer Product Standard.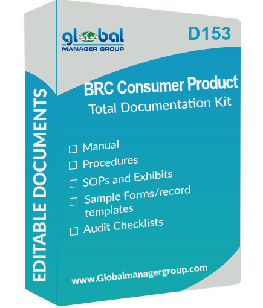 The experienced team of Food safety certification consultant of Global Manager Group has designed and developed readymade BRC Consumer Products Documentation Kit to help consumer products manufacturing and packaging company to get BRC Certification.
The BRC global standard for consumer product documentation templates covered under this kit is categorized in 9 main directories like BRC manual, procedures, blank formats, SOP, exhibits, process flow charts, HACCP docs, audit checklist, compliance matrix, etc. comprises of more than 145 editable MS- word documents that help organization to customize own documentation. The key features of using such readymade BRC documents are that it saves time and cost in process of documentation, learning requirements and hence effective certification.
The ready-to-use product BRC global standard for consumer product documentation kit is offered online by Global Manager Group at very competitive rate of just USD 499. User can download Free DEMO that helps to learn list of each document in details with its clause wise requirements.