Posts Tagged 'iso certification'
8-Feb 2018 – NCQC – Global Manager Group is taking participate as exhibitor to world's largest Plastic Industry exhibition, PlastIndia2018. Plast India 2018, world's third largest plastic industry exhibition starts at Gandhinagar Exhibition Center – India, from 7 to 12 February 2018. Global Manager Group aims to associate with more plastic & packaging industry, which are looking for Quality certification as well as NABL accredited instrument calibration facilities.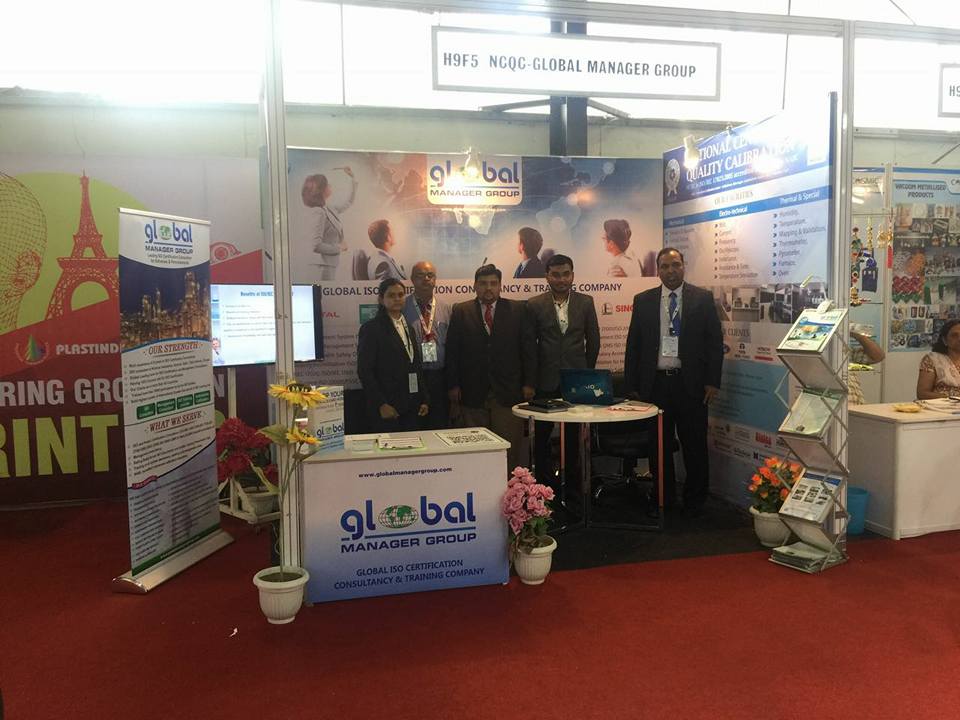 Mr. Devang Jhaveri, owner of Global Manager Group will be available at Plast India Exhibition at stall no. H9F5 on 9 & 10 February 2018. He will be there to share his experience working with industrial, R & D, Petrochemicals and Refineries as well as Laboratories as an ISO Consultant. The six-day exhibition is going to be world's third largest exhibition organized till date for Plastic industries. Global Manager Group aims to take participate in this event to offer a floor for all delegates to interact with experts in instrumentation, plastics, petrochemical, and packaging industries. GMG Also provides platform to all exhibitors from plastic manufacturers, instrument manufactures, packaging material manufacturers etc., to get in touch for their instruments calibration requirements by National Centre for Quality Calibration, leading NABL accredited calibration laboratory in India.
Global Manager Group has been providing management consultancy services and training since 1991 and has more than 2700 clients in more than 45 countries. The industry leader in ISO consultancy has over 20 years of experience, working with industrial, R & D, and Laboratories as well as management systems consultancy. The company has own Instrument calibration laboratory at Ahmedabad, as name of National Centre for Quality Calibration. The company has international reputation for ISO/IEC 17025 accreditation consultancy. So far the Company has conducted more than 100 courses on ISO internal auditor training and ISO system awareness training. Many laboratories have got ISO/IEC 17025 under his project management in GCC countries including Saudi ARAMCO, Yanbu Refinery, Gulf Laboratory, NAP Laboratory, Riyadh Refinery, Al-Hoti, Q Chem., Geotechnical lab, International Laboratory, aDoha Technical Lab, Qatar Engineering Lab, Qatar Industrial Lab, Jeddah refinery laboratory, technical laboratory etc.
More News and Updates about Global Manager Group visit blog.globalmanagergroup.com
Houston, TX, USA, Dec. 05, 2016 – Principle Information Technology, the leading platform for solutions and services that span the range of Cloud, IoT, BPM, ERP (SAP, Oracle etc.), Project Management and mobility, announced that it has awarded compliance to ISO 9001:2015, ISO/IEC 27001:2013 and ISO 20000:2011 certification for quality management system (QMS), information security management system (ISMS) and IT service management system (ITSMS) with the help of Global Manager Group's consultancy services. The certifications are granted by ISOQAR – UKAS, UK based widely recognized and prestigious certifying body after successfully audited the implemented all 3  systems with hard work of more than 4 months of system establishment by Principle Information Technology company. This is the big achievement for the company to get all the 3 certificated from globally reputed company ISOQAR by implementing integrated systems for QMS, ISMS and ITSMS.
Global Manager Group has completed ISO 9001, ISO 27001 and ISO 20000 certification consultancy projects within time limits by implementing effective QMS, ISMS and ITSMS within Principle InfoTech process areas at Houston, United States. ISO 9001 helps organization to achieve quality requirements in all departments, which results in continuous improvements. ISO 27001 helps organizations manage the security of information assets, including financial and third-party information, and helps ensure that risk, governance, and compliance practices meet the most rigid standards. ISO 20000 helps organization to control for providing software support services related to ERP which includes SAP, ORACLE, BPM-tools, HANA & Luxon etc., to their clients. ISO QAR, UKAS accredited certifying body has awarded Principle Information Technology Company the certification after completion of a rigorous third-party audit of its QMS, ISMS, ITSMS and related business processes. Principle InfoTech's ISO 9001 audit, ISO 27001 audit and ISO 20000 final audit follows successful recommendation and completion of Global Manager Group's ISO Consultancy project at USA.
During this highly technical consultancy project, Global Manager Group has helped Principle InfoTech to understand requirements via online ISO training programs on ISO 9001, ISO 27001 and ISO 20000 system awareness, gap analysis, work management, ISO documentation preparation, auditor trainings, internal audit as well as final assessment audit, done by UKAS accredited certifying body auditors from 3rd to 8th November 2016. The ISO/IEC 20000 is given by ISOQAR certifying body with accreditation of reputed company APMG international.
Global Manager Group helps Software solution provide company to aware of the requirements of quality management system as well as need to maintain the highest standard for securing the data of customers as well as service management systems. With this achievement of ISO 9001, ISO 27001, ISO 20000 certifications – Principle InfoTech has assured that customers have confidence in their commitment to quality process as well as secure and protect their data and that of their suppliers.
Every company needs to have an ISO certification to maintain the quality standards. In fact, ISO quality standard is a must to preserve customer gratification and their reliability in your products or services. An ISO certificate indicates that your business is following all the rules and regulations pertaining to safe and quality business practices. This assists in developing immense customer gratification and trust in your products or services.
If you are planning to get an ISO certification for your firm, then always remember that it is a bit daunting to avail an ISO quality certificate without the assistance of a professional. Thus, you require some professional or expert assistance to help you obtain ISO certification. Global Manager Group is a global leader in providing ISO solutions to businesses in Canada,USA,UK,London,South Africa,Saudi Arabia and various other countries.
In fact, Global Manager Group will help you avail ISO certificate in a very hassle free and simple manner. No matter whether you wish to have ISO 14001, ISO 17025, ISO 9001 certifications and ISO as well as Six Sigma training, Global Manager Group provides you all. Thus, it is a one-stop place for all your ISO and Six Sigma needs.
The procedure to obtain ISO quality certificate is somewhat lengthy and time consuming, but Global Manager Group ensures that you obtain the certificate in no time. The working procedure at Global Manager Group is fully transparent to assist you in getting familiar with every process of the ISO training. In addition, ISO training from the experts of Global Manager Group will help you resolve several flaws that persist in the working of your organization.
In most of the organizations, flaws are commonly found in the production or manufacturing process. These organizations ignore certain important standards and therefore, fail to achieve ISO certification, which in turn deteriorates the business and its image. Global Manager Group makes sure that all the personnel follow all the norms for performing ISO auditing.
Techniques used by the experts at Global Manager Group in offering ISO certifications consist of certain crucial aspects making the training process a lot easier and smooth.
Improvement in Quality Standards: Global Manager Group ensures to provide your employees with all the required ISO training. They educate your employees regarding various safety practices to improve quality.
Internal Auditing: Professionals at Global Manager Group assist you in fulfilling the requisites of ISO auditors. This helps to reduce the flaws and a move a step further towards availing ISO certification.
Proficient Auditors: Professional ISO auditors at Global Manager Group are skilled enough to direct on the entire process. With the help of these auditors, you are sure to receive apt guidance for obtaining ISO training to assist you in maintaining high quality standards in the organization.
Six Sigma Training: Our expert Six Sigma training will assist you in utilizing the available resources in an effective way, boosting employee satisfaction level, enhancing business repute and augmenting business relationships. These professionals providing Six Sigma training work delicately to guide you about the benefits of utilizing the Six Sigma technique in your organization.
When you're searching for ISO online training assets, you'll find them nearly everywhere. Among the best and many convenient kinds of ISO courses is going to be found online. The companies that provide ISO online training within the internet have produced a means for additional people to obtain the professional training they have been searching for with less time and effort allocated to offline training. This gives individuals with a number of advantages and benefits over taking traditional ISO courses, permitting them to get at speed up and cut back time on their own education.
ISO online courses from different E-learning website companies aren't all produced equally. You will need to make certain that you simply take a look at all of your available alternatives and discover working out you have been searching for, regardless of what that may mean for you. Make certain that you simply have an opportunity to get the best online ISO training companies to ensure that you will get the ISO training that you'll require rapidly and effectively in the top ISO courses online. In the end, obtaining a fast and simple training is not nearly as essential as obtaining the right practicing your industry. Professional careers that seek ISO certification or accreditation are growing quickly, you have to make certain that you will get trained to ensure that you are able to be a valuable prospective worker to the company who needs your abilities.
ISO classes are going to offer you a far more flexible and accessible method of getting the certification training that you'll require if you select to pursue them online. Because of so many different choices to think about and items to consider, it might appear harder than it truly is to obtain the certification training that you're searching for. Just take time to consider the various possibilities you have and discover working out assets that meet your requirements best.
Everybody has different ideas about ISO certification training and what's expected of these. Should you take time to evaluate which you anticipate and what you believe online ISO training can perform for you personally, you'll have an simpler time finding ISO courses and selecting the one which you need to use. It is all about being prepared and informed, but as lengthy while you research your options ISO online training can help you save time, money, and hassle inside your ISO certification training experience. Keep these issues in mind while you are looking for your ISO certification courses and it'll be simpler to acquire than you may have expected.
GlobalManagerGroup.com offers ISO 9001 Training: Quality Management System along with other top online ISO Courses.