Global Manager Group is one of the largest business management consulting and ready-to-use documentation kits selling company has announced a 20% Discount Offer for Thanksgiving and BlackFriday this year on any of the ISO Documentation kits and ISO Training Kits. This mega offer valid can be avail on any single or multiple products by applying the given coupon code during the offer period from 21st November to 30th November 2021.
Use Discount Coupon: blackfri#p20
Global Manager Group wants to extend a special THANKS to all of our existing customers and clients for being part of our family as well as looking to purchase our products especially this past year with all the challenges and Covid-related issues. Global Manager Group is thanking all of the customers, clients, and well-wishers by offering a special 20% discount on the occasion of Thanksgiving and Black Friday – 2021.
Any working professionals, college students, or any other individuals are eligible for this deal. They can get a 20 % discount on all ISO Documents, ISO awareness training ppt, ISO Auditor training kits, and Management Training Kits listed on www.Globalmanagergroup.com/Eshop till 30th November 2021.
Global Manager Group had offered discounts up to 10 – 15 % OFF, on some of its documentation kits previously on different occasions, but this time Global Manager Group came up with a flat "20% off" discount offer on all ISO Documentation Kits and ISO Training PPT Packages.
Be the first to grab the mega offer. Don't forget to avail your 20% off discount coupon! Hurry up to grab this opportunity today and save your time by using Global Manager Group's readymade ISO documents for preparing documentation for your organization.
For More Details and Sample Documents, Visit: www.Globalmanagergroup.com/Eshop
Global Manager Group – Global ISO Consultancy and Training Company is now offered its new product D173 – ISO/IEC 19770-1:2017 Documentation and Awareness Training kit with including IT Asset Management Document Templates to fulfil ISO/IEC 19770-1:2017 requirements and available only with introductory price of 799 USD. To address both the processes and technology for managing software assets and related IT assets, Here The ISO/IEC 19770-1:2017 standard specifies all IT asset management system (ITAM) Requirements.
To get quick IT Asset Management System Certification, Global Manager Group develops this documentation tool which covers in more than 140 editable MS-Word and ppt files which are editable and written in simple English with easy editing features and compatible with ISO/IEC 19770-1:2017 requirements.
For IT organizations, GMG's this Ready-to-use ISO 19770 Documents and Training Kit is best to implement IT asset management from the requirements of the standard as well as provides guidance on ISO 19770. The readymade templates of ISO 19770:2017 to accelerate the documentation process for supporting implementation for quick ISO 19770 certification. In the contents of this combined ISO/IEC 19770-1:2017 Documentation which includes more than 140 editable files are divide in following directories,
ISO 19770 Manual
ISO 19770 Procedures
Policies
SOP and Work Plan
Exhibits
Sample Formats
Job Description
Management Review Agenda & Minutes
Process Approach
ISO 19770-1:2017 Audit Checklist
ISO 19770 Compliance Matrix
Also, in the ISO 19770 Training ppt, there are ppt presentations slides which contain Overview of IT Asset Management System, ISO/IEC 19770-1:2017 requirements, Terms and Definitions, ISO/IEC 19770-1:2017 documentation, Establishing an ITAMS Risk Assessment Risk Management Risk Treatment,as well as Step for ISO/IEC 19770-1:2017 installation. In Addition, the literature is included to understand the ISO 19770:2017 subject well considering with 06 chapters, 02 workshops, and 02 case studies.
The ISO 19770 Documentation and training presentation on IT asset management system has facility to edit total documentation templates as per organization working system and create own documents for IT organization. GMG's this new product – ISO/IEC 19770-1:2017 Documentation and Awareness Training kit's Free Demo templates are also available at web portal that help to understand each documents in details: https://www.globalmanagergroup.com/Products/iso-19770-manual-procedures-documents.htm or directly contact us at manager@globalmanagergroup.com
ISO 15189 is a process-based QMS system. It promotes systematic identification of processes and their integration. Proper documentation of key processes helps to reveal performance structure. Understanding the interoperability of processes increases efficiency and efficiency because it opens up unnecessary gaps and functions. Testing the implementation and efficiency of the process is a major, if not the most important, aspect of ISO 15189 certified testing.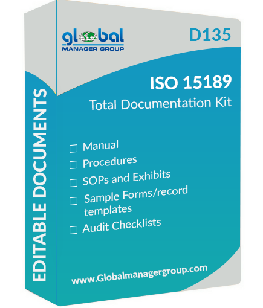 Laboratories accredited by ISO 15189 must conduct internal audits of their QMS on a regular basis. In order to comply with the requirements of ISO 15189, the strong involvement of laboratory staff is required to understand the best process to meet the needs in terms of acquisition of technology and methodology, scientific literature, but also time and problems. The strengths of laboratory staff can be expressed in a variety of contexts.
The senior management of the laboratory to which they are responsible must commit to authorization and full support of the team in all respects. Here is information on the ISO 15189 manual which is prescribed by ISO 15189.
The Quality manual is in the documents required by ISO 15189. The small size organization may find you eligible to submit a full description of its quality plan in ISO 15189 Manual, including all required written quality procedures. a quality book should describe the quality management system and its document structure. The ISO 15189 Quality Manual should include or refer to supporting procedures; including technical processes.
The ISO 15189 Quality Manual should highlight the document structure of the quality management system. The roles and responsibilities of the technical indicator and the quality manager, including their responsibilities in accordance with international standards, should be included in the staff manual. The quality manual must be kept up to date under the authority and authority of the quality manager appointed by the laboratory guidelines.
The table of contents of a medical ISO 15189 Quality Manual may, for example,
Introduction.
Description of the lab, its legal status, resources and core jobs.
Quality policy.
Recruitment and training of staff.
Quality assurance.
Document management.
Records, archiving and archiving.
Resources and the environment.
Metal control devices and / or proper use.
Verification of analysis processes.
Security.
Research and development.
Medical protocols, removal of basic samples, samples collection and processing.
Verification results.
Quality controls (including laboratory comparisons).
Laboratory information system.
Results of the review.
Corrective action and consideration of grievances.
Communication and other customer relationships, health specialists, laboratories who disagree with suppliers.
Internal Audit
Contact Global Manager Group for the Readymade ISO 15189 Documents which includes quality manual, procedures, SOPs, forms, audit checklists, etc., is a primary requirement for conforming to the competence of medical laboratories.
The principle standard used by the International Accreditation Service (IAS) to obtain the authority of Inspection Bodies is ISO/IEC 17020. This international standard was recently updated from the 1998 version to the ISO/IEC 17020: 2012, conformity Assessment – Requirements work different types of bodies presenting tests.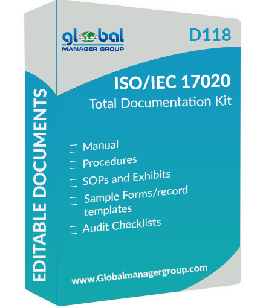 Accreditation of inspection agencies is done through the implementation and implementation of ISO/IEC 17020: 2012 Certification – General requirements for the operation of various types of bodies that make up the check. This includes the ability of the certifying Body Test to capture the quality management system and the ability to perform competent tests.
The second edition of the ISO/IEC 17020 was published in March 2012. This effective version includes some changes the Inspection Bodies (IBs) will need to incorporate into your management system in order to maintain it. The ISO 17020 certification audit is conducted by the accredited certifying body auditors.
Global Manager Group offers ISO 17020 Documents which is required for ISO 17020 Accreditation – Conformity Assessment for inspection agency. The ISO 17020 Documentation kit includes ISO 17020 Quality manual, procedures, as well as ready-to-use iso 17020 audit checklists are the most important part of this ISO 17020 accreditation kit and the best part of this documentation kit with using this user can create their effective conformity assessment documents for their own inspection agency on the basis of their organization's working system.
Benefits of ISO/IEC 17020:2012 System
Improved efficiency, productivity and efficiency in the performance of inspection bodies as a whole,
Improved level of motivation, collaboration, work and quality awareness include competence,
Increased reliability of inspection and performance information by staff. Extensive control of processes and activities across all assessment bodies. Time and cost savings due to reduced or eliminated need for re-testing / re-operation, etc.
Provide tips for data analysis and complete record keeping.
Provide better guidelines and controls for equipment repairs, maintenance of inspection records, etc.
Establish customer management confidence with results and reports and increase customer trust and market share.
Better images of test themes like quality test themes in the global market.
International recognition and honesty.
ISO 17020:2012 The adopted accredited inspection body has a more direct edge over competitors.