Archive for the 'Accreditation Consultancy' Category
ISO 15189 is a process-based QMS system. It promotes systematic identification of processes and their integration. Proper documentation of key processes helps to reveal performance structure. Understanding the interoperability of processes increases efficiency and efficiency because it opens up unnecessary gaps and functions. Testing the implementation and efficiency of the process is a major, if not the most important, aspect of ISO 15189 certified testing.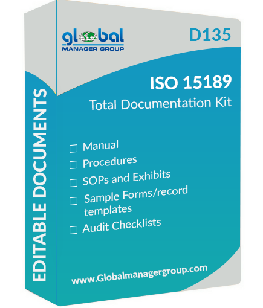 Laboratories accredited by ISO 15189 must conduct internal audits of their QMS on a regular basis. In order to comply with the requirements of ISO 15189, the strong involvement of laboratory staff is required to understand the best process to meet the needs in terms of acquisition of technology and methodology, scientific literature, but also time and problems. The strengths of laboratory staff can be expressed in a variety of contexts.
The senior management of the laboratory to which they are responsible must commit to authorization and full support of the team in all respects. Here is information on the ISO 15189 manual which is prescribed by ISO 15189.
The Quality manual is in the documents required by ISO 15189. The small size organization may find you eligible to submit a full description of its quality plan in ISO 15189 Manual, including all required written quality procedures. a quality book should describe the quality management system and its document structure. The ISO 15189 Quality Manual should include or refer to supporting procedures; including technical processes.
The ISO 15189 Quality Manual should highlight the document structure of the quality management system. The roles and responsibilities of the technical indicator and the quality manager, including their responsibilities in accordance with international standards, should be included in the staff manual. The quality manual must be kept up to date under the authority and authority of the quality manager appointed by the laboratory guidelines.
The table of contents of a medical ISO 15189 Quality Manual may, for example,
Introduction.
Description of the lab, its legal status, resources and core jobs.
Quality policy.
Recruitment and training of staff.
Quality assurance.
Document management.
Records, archiving and archiving.
Resources and the environment.
Metal control devices and / or proper use.
Verification of analysis processes.
Security.
Research and development.
Medical protocols, removal of basic samples, samples collection and processing.
Verification results.
Quality controls (including laboratory comparisons).
Laboratory information system.
Results of the review.
Corrective action and consideration of grievances.
Communication and other customer relationships, health specialists, laboratories who disagree with suppliers.
Internal Audit
Contact Global Manager Group for the Readymade ISO 15189 Documents which includes quality manual, procedures, SOPs, forms, audit checklists, etc., is a primary requirement for conforming to the competence of medical laboratories.
Global Manager Group (GMG) – one of the largest business management consulting and training company, which focuses primarily on offering a full range of consulting services, is celebrating its 25th year of foundation – its Silver Jubilee – on 5th March, 2020.
Founded by Mr. Devang Jhaveri on 5th March 1996 company has stood the test of time and has provided consultancy and management solutions for startups, SMEs and large organizations, including government organizations, to move forward on their journey of growth by establishing and implementing better management systems in their organizations. Today the Global Manager Group of companies has many vertical including ISO consultancy for more than 70 standards; instrument calibration; online auditor certification courses and classroom training programs.
Since its inception in 1996, as a small start-up business, GMG has achieved a number of milestones in the field of ISO and other management system consultancy, total documentation solutions, and equipment calibration
In the post-globalization era, Global Manager Group of companies is a shining example of the success of management consultancy services. It is a company that has always strived to exceed its client's expectations, by providing them high quality and time-bound customized consultancy services catering to their needs.
In its successful journey of 25 years, GMG group of companies has established itself as a leading consultancy firm in India having both off-shore and on-shore clients. Within few years of its inception, group reached the benchmark of 100 clients who achieved various kinds of ISO certification. It also started to offer all ISO series consultancy, including consultancy for documentation and certification/accreditation for International Standards like ISO/IEC 17025, ISO 22000, ISO 27001, CE Mark, BRC food safety, HACCP and ISO 50001 etc.
In the year 2004, Global Manager Group started consultancy for various management areas. Within a decade of its journey, the company started selling ready-to-use editable training presentation and documentation kits for more than 70 ISO standards and other management areas. In US market itself, GMG has sold more than 1000 training and document kits and has got many appreciations from customers. So far it has more than 2700 satisfied customers in certification solution and management areas in more than 27 countries world-wide. The company has a branded image of timely completion of work with billing rates almost 40 percent lower than the industry rate. The company has been able to deliver services in a time as short as 12 to 24 hours of receiving client's consent for services.
To cater to the needs of all types of industries, Global Manager Group of companies has set-up a permanent facility at Ahmedabad, Gujarat. for calibration of equipment. As a sister concern of GMG, National Centre for Quality Calibration(NCQC) started functioning in 1998, which is a ISO/IEC 17025 (NABL) accredited Calibration Laboratory for all type of instruments.
Global Manager Group added another feather in its cap when Punyam Academy was launched in 2018. Punyam Academy offers classroom training programs as well as online courses on various ISO and management systems. Within less than a year, this company has achieved NBQP accreditation for providing certified classroom training on "Laboratory Management System & Internal Audit as per ISO/IEC 17025:2017". Punyam Academy's online certification courses are popular worldwide among ISO consultants, ISO auditors as well as management personnel.
Over the years, GMG has continued to increase its operations and support services as well as its overall capacity. With humble beginnings with 5 employees, now the company has increased its staff strength to 70 employees. Also, it has brought specialists as associate consultants to be able to manage larger projects. Global Manager Group's services have expanded in recent years to develop business systems and solutions for start-ups who are in need of customers.
Keeping up with its track record of last 25 years, Global Manager Group looks forward to achieve many more milestones and celebrate many more anniversaries in the future as its footprint continues to grow as a leader in innovative and creative solutions for ISO certifications and various management areas.
June 9 is World Accreditation Day as a global initiative jointly established by the International Accreditation Forum (IAF) and the International Laboratory Accreditation Cooperation (ILAC) to raise awareness about the importance of accreditation.
Global Manager Group, one of the leading accreditation consultants of the world, celebrates this day every year with invited experts to the meet and communicates online on various accreditation standards and get benefit by sharing knowledge of accreditation. In 2019, Global Manager Group has announced special discount offers on online purchase of any documents/training kits or E-learning courses for the global clients around the world.
Discount Code:

WAD2019p10
Global Manager Group is leading accreditation consultant in the globe, who are selling various ready to use accreditation documentation kits as well as awareness and auditor training kits creating awareness on particular ISO accreditation standards and its requirements. For more detail visit: Global Manager Group – Eshop.
Global Manager Group is also associated with World's leading online ISO training provider, Punyam Academy. Punyam Academy offers various E-learning certified courses on ISO/IEC 17025:2017 as well as other ISO standards. For more detail visit: https://www.punyamacademy.com/Eshop
To celebrate this year's World Accreditation Day- 2019 in a special way, Global Manager Group announce 10% Flat Discount on each product within both the websites. This special offer can be redeemed with Discount Code and valid from 1st June 2019 to 9th June 2019.
Discount Code:

WAD2019p10
The owner of the company Mr. Devang Jhaveri explains and discuss in brief about widely used 9 international standards which are used for accreditation for laboratories, personnel certification bodies; PT providers; CRM manufacturers; Inspection agency; product or process certifying body; system certifying body, etc. The focus of this discussion on the global data of accreditation for all these various schemes is to share experience and challenges with the world that the customer faced during accreditation projects from process approach to the competence of people for various ISO accreditation as well as a need for establishing management system documentation. Considering this fact in mind we are trying to provide E-learning courses to improve understanding and knowledge of these accreditation standards as well as to provide ready to use editable templates to establish a good system with practical approach and quick solution to various accreditations.
What are the benefits of Accreditation?
Global Acceptance and recognition
System approach helps to build the system
Institutionalize the processes throughout the organization
Improve technical knowledge and competency
Help to increase market share in a competitive environment.
The reader of this press release can share their experience or send us any query related to any of the below 9 accreditation standard and enjoy global accreditation day.
There is various kind of accreditation standard and its technical requirements are covered in this event. For all these standards editable documents are provided by Global Manager Group, so any consultants and auditors can visit the website and download free DEMO to understand requirements of documentation for any of the following standards.
ISO/IEC 17020– inspection agency accreditation
ISO/IEC 17025 – test/calibration Laboratory accreditation
ISO/IEC 17021 – System certifying body accreditation
ISO 17024- Personal certification body accreditation
ISO 17043 – Proficiency testing provider accreditation
ISO 17034- CRM manufacturer accreditation
ISO 17065- Process and product certifying body accreditation
ISO 15189 – Medical laboratory accreditation.
For more detail, Write to us at sales@globalmanagergroup.com.
30 Jan 2018, Alkhobar, KSA – Future Development Services Co. (FDS) and Global Manager Group are jointly announcing the one day training program on "ISO/IEC 17025:2017 Changes and Transition" at Al Khobar and Jubail, Kingdom of Saudi Arabia on 5th and 6th February, 2018. The ISO 17025-2017 training program will be helpful and beneficial for participants from ISO/IEC 17025 accredited laboratories in Saudi Arabia.
As FDS confirmed Mr. Devang Jhaveri will be delivering one day training program on recently released ISO/IEC 17025:2017 standard. The course will guide participants with knowledge of key changes and requirements in transition to ISO/IEC 17025:2017 accreditation. The trainer has rich experience of more than 100 laboratories ISO/IEC 17025 consultancy, this course will help participants to gain an understanding of transition for laboratory conformity assessment activities to make their own system and prepare for transition to ISO/IEC 17025:2017 and prepare the documents.
The ISO/IEC 17025 Changes and Transition – 1 day training is organized at Al Khobar, KSA on 5th Feb 2018 and at Jubail, KSA 6th Feb 2018. Organizations and laboratories of Saudi Arabia, which wants to train their laboratory employees to understand ISO 17025:2017 transition requirements can participate in this event, it will be the best opportunity for such laboratories. After completion of this course, all participants will receive a training  certificate for ISO/IEC 17025:2017 training.
Highlight of the ISO/IEC 17025:2017 Changes and Transition Training
Course Introduction
Overview of ISO standard update process and structure of ISO/IEC 17025:2017
Requirements of ISO/IEC 17025:2017 Standard – Major changes in the standard
Guidelines for Documentation as per ISO/IEC 17025:2017
Steps for accreditation and transition to ISO/IEC 17025-2017
For More Detail Click Here
Trainer Profile:  Mr. Devang Jhaveri
Mr. Devang Jhaveri is owner of Global manager group, has been providing management training and consultancy since 1991 and has more than 2700 clients in more than 45 countries. Devang had the experience of more than 30 years in providing ISO certification consultancy and management consultancy and globally more than 100 laboratory consultancy and many public training courses. So far he has conducted more than 70 courses on ISO/IEC 17025 and many laboratories have got accreditation for ISO/IEC 17025 under his project management in GCC including leading refineries, Gulf Laboratory, Buzwair, Al-Hoti, Ministry of Works (Bahrain), Q Chem., International Laboratory, Doha Technical Lab, Qatar Engineering Lab etc.
VENUE & DATE: 5-Feb 2018, TBA – Al Khobar, KSA and 6-Feb 2018, TBA – Jubail, KSA.
DELEGATE FEE: SAR 900 per Participant (Single Individual)
Registration
Future Development Services Co.
P.O. Box: 461, Al Khobar – 31952, Kingdom of Saudi Arabia
Phone:  +966 (0) 565368040, +966 (13) 8828813
Website: www.fdscompany.com.sa
Global Manager Group
+91-79-26565405, +91-9825031523
Email: sales@globalmanagergroup.com
Website: www.Globalmanagergroup.com