Archive for the 'BRC Global Standard' Category
Global Manager Group, leading industry leader for online documents selling for various international system certifications announces its new product launch D153 – BRC Global Standard for Consumer Products Documentation Kit, which is written in English and will be deliver in editable format. This new documentation kit provides with a comprehensive set of pre-written BRC documents compliant with BRC Global Standard for Consumer Product Standard.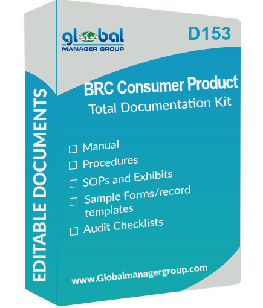 The experienced team of Food safety certification consultant of Global Manager Group has designed and developed readymade BRC Consumer Products Documentation Kit to help consumer products manufacturing and packaging company to get BRC Certification.
The BRC global standard for consumer product documentation templates covered under this kit is categorized in 9 main directories like BRC manual, procedures, blank formats, SOP, exhibits, process flow charts, HACCP docs, audit checklist, compliance matrix, etc. comprises of more than 145 editable MS- word documents that help organization to customize own documentation. The key features of using such readymade BRC documents are that it saves time and cost in process of documentation, learning requirements and hence effective certification.
The ready-to-use product BRC global standard for consumer product documentation kit is offered online by Global Manager Group at very competitive rate of just USD 499. User can download Free DEMO that helps to learn list of each document in details with its clause wise requirements.
Global Manager Group, a leading system certification consultancy and ready documentation selling company has introduced new product, D131 – BRC Documents for Storage and Distribution Certification issue-2. The documents for BRC issue 2 covers all key requirements for BRC global standard for storage and distribution documentation like BRC Manual, procedures, SOPs, blank forms, HACCP policy and HACCP plans, audit documents and more.
The readymade BRC documentation kit is designed to provide accurate information while preparing documentation during implementation of BRC Storage and Distribution management system as per issue 2. As GMG only organization that offers such BRC storage and distribution documents online that helps all food manufactures and packaging industries, which implemented system as per BRC global standard for storage and distribution. The product D131 BRC Storage and Distribution issue 2 total documentation kit is low budget and can be purchased online in just USD 450.
It will be very good tool for consultants and auditors to make BRC Storage and Distribution Issue 2 documentation with audit checklists and make effectiveness in internal auditing. Total more than 900 audit questions for all the department as well as clause wise requirements are given in this product for minimizing mistakes and quick BRC certification. Global Manager Group is a popular name in global market from last 10 years for offering readymade documents for food system certification like BRC food, BRC packaging and packaging material, ISO 22000, FSSC 22000, HACCP, FamiQS and more.
BRC Storage and Distribution issue 2 documents will be provided to buyer in editable word format, so users can easily update as per their requirements in it. The key feature of this product is that the users will get better control in their system due to our proven BRC Storage and Distribution safety documents templates developed under the guidance of our experts and globally proven consulting team, having rich experience of more than 20 years in ISO and BRC certification consultancy. BRC Storage and Distribution documentation kit as per issue-2 is introduced at very competitive rate of just $450 with free DEMO at Globalmanagergroup.com
Other BRC documents by Global Manager Group that recognized globally are D113 BRC food issue 7 total documentation kit, BRC IoP issue 5, BRC auditor training kit issue7, BRC packaging auditor training kit etc., which were already purchased, used and appreciated by our global clients.
Altrafine Gums, a leading company in food manufacturing line has awarded with BRC global standard for food issue 7 certificates with help of Global Manager Group's consultancy service. Global Manager Group, a leading consultancy company for international system certification has been associated with the Altrafine group companies since 12 years. Global Manager Group has helped in implementation of food safety system as per BRC global standard issue 7 and prepared required documentation as well as provided training to their staff as a part of BRC consultancy. The BRC food issue 7 audit has taken by external auditors in Jan 2016 and recommended Altrafine Gums for BRC issue 7 certified companies.
With the help of Global Manager Group, Altrafine Gums successfully completed the certification of BRC food issue 7 in given time duration. During this BRC certification, all the helps regarding BRC documentation, implementation training, internal auditing as well as auditor training to all employees are delivered successfully, which resulted in BRC food Certification in quick time. Team of experienced food certification consultants has been involved in system implementation and BRC training to ensure adherence to standard requirements of BRC issue 7 of food safety and quality policy.
As per leading Food certification consultant of Global Manager Group remarked, "All the management staff and technical staff were involved and co-operated with the consultancy team to verify implemented system with the internal auditing of their work area, which made easy for us to achieve BRC certification in first attempt."
Global manager group is associated with the Altrafine group companies since last 12 years, and helping the organisation for taking various certifications like ISO 9001, FSSC 22000, FAMI-QS and BRC global standard for food safety issue 7. GMG has supported in all the areas of food safety to the organization since last 12 Years and in routine all the necessary help like documentation, internal auditing, trainings etc is provided.
About Altrafine Gums
The organisation Altrafine Gums is established in 1982, a leading company in the manufacturing of Guar gum and cassia gum powder. Altrafine Gums, the rapidly growing Company offering Food Grade Thickeners, Natural Gums for Textile Printing & Sizing, and Organic Paper Gums manufactured to international standards. Altrafine Gums present a product that must supremely contend with existing additives, thickeners and synthetic substitutes that proliferate a highly competitive market. It has state-of-the-Art infrastructure to produce eminent products, having an optimum quality.
July 2015 saw the British Retail Consortium (BRC) has released the new issue 5 of BRC Global Standard for packaging and packaging material. BRC Packaging standard is a set of requirements for organisations on how to implement a Packaging to increase food safety, reduce costs and improve HACCP based hygiene practices.
BRC Packaging Issue 5 – Documentation
Global Manager Group has released new readymade BRC Packaging issue 5 Documentation Kit in September 2015 and wins very positive feedbacks from the clients around the world. You can find the link to download free DEMO of the Ready-to-use BRC IoP Issue 5 Documents from Globalmanagergroup.com, a leading ISO certification consultancy & readymade reference documents provider for international system certification. And you can purchase a comprehensive BRC Issue 5 packaging documentation kit that will help you document a best practice of BRC and HACCP based packaging safety system.
The BRC Packaging System Documentation Toolkit, from Globalmanagergroup.com, provides a set of pre-written templates that meet the BRC packaging requirements of the Issue 5 released in July 2015. The BRC Packaging Documentation kit has been developed to encourage businesses, large and small, to develop their own 'packaging safety' management system. It does this with:
A HACCP packaging safety policy
A planned Packaging Management System
Procedures for the implementation and operation of the BRC global standard for packaging safety
Procedures for checking and measuring performance of the BRC IoP issue 5
Documented management review and actions to improve the hygienic packaging processing practices
Key Benefits of using BRC Packaging issue 5 Documentation kit are:
Reduced costs
Saves maximum time of document preparation
Improved packaging safety system performance
Fulfillment of legal and moral obligations of packaging safety requirements
Enhancement of company brand with quick BRC certification as per issue 5.
Food Packaging is a primary concern while defining food safety in food industries. GMG can help organisations meet the requirements of BRC packaging standard issue 5, with the perfect set of ready documentation toolkit. The BRC issue 5 Documentation Toolkit is completely up to date and will help organisations improve their existing packaging safety system.
"The BRC issue 5 Documentation Toolkit for packaging safety contains useful documentation for all types and sizes of organisations and accommodates HACCP, packaging hazards and packaging safety system." – Devang Jhaveri, Managing Director at Globalmanagergroup.com
Purchasing the BRC documentation toolkit will provide an organisation with an uncomplicated system which helps them to achieve BRC issue 5 certification in short time. The BRC packaging issue5 Documentation Toolkit can be purchased immediately and downloaded at www.Globalmanagergroup.com.
FOR FURTHER INFORMATION
Global Manager Group
World's leading Certification Consultancy & Documentation Seller
+91 (079) 2656 5405
sales@globalmanagergroup.com