Archive for the 'ISO 15189' Category
ISO 15189 is a process-based QMS system. It promotes systematic identification of processes and their integration. Proper documentation of key processes helps to reveal performance structure. Understanding the interoperability of processes increases efficiency and efficiency because it opens up unnecessary gaps and functions. Testing the implementation and efficiency of the process is a major, if not the most important, aspect of ISO 15189 certified testing.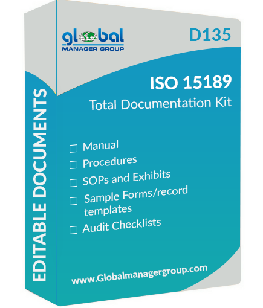 Laboratories accredited by ISO 15189 must conduct internal audits of their QMS on a regular basis. In order to comply with the requirements of ISO 15189, the strong involvement of laboratory staff is required to understand the best process to meet the needs in terms of acquisition of technology and methodology, scientific literature, but also time and problems. The strengths of laboratory staff can be expressed in a variety of contexts.
The senior management of the laboratory to which they are responsible must commit to authorization and full support of the team in all respects. Here is information on the ISO 15189 manual which is prescribed by ISO 15189.
The Quality manual is in the documents required by ISO 15189. The small size organization may find you eligible to submit a full description of its quality plan in ISO 15189 Manual, including all required written quality procedures. a quality book should describe the quality management system and its document structure. The ISO 15189 Quality Manual should include or refer to supporting procedures; including technical processes.
The ISO 15189 Quality Manual should highlight the document structure of the quality management system. The roles and responsibilities of the technical indicator and the quality manager, including their responsibilities in accordance with international standards, should be included in the staff manual. The quality manual must be kept up to date under the authority and authority of the quality manager appointed by the laboratory guidelines.
The table of contents of a medical ISO 15189 Quality Manual may, for example,
Introduction.
Description of the lab, its legal status, resources and core jobs.
Quality policy.
Recruitment and training of staff.
Quality assurance.
Document management.
Records, archiving and archiving.
Resources and the environment.
Metal control devices and / or proper use.
Verification of analysis processes.
Security.
Research and development.
Medical protocols, removal of basic samples, samples collection and processing.
Verification results.
Quality controls (including laboratory comparisons).
Laboratory information system.
Results of the review.
Corrective action and consideration of grievances.
Communication and other customer relationships, health specialists, laboratories who disagree with suppliers.
Internal Audit
Contact Global Manager Group for the Readymade ISO 15189 Documents which includes quality manual, procedures, SOPs, forms, audit checklists, etc., is a primary requirement for conforming to the competence of medical laboratories.