Archive for the 'ISO 50001' Category
The Global Manager Group, leading ISO documents and ISO training presentation kit Seller Company has updated its product C117, named as ISO 50001:2018 awareness & auditor training presentation kit for setting up and managing an effective Energy Management System (EnMS).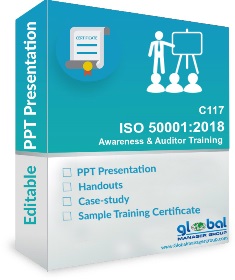 International Organization for Standardization (ISO) has published new ISO 50001:2018 standard on 21st August, 2018 and replaces the current standard ISO 50001:2011 that brings in a much stronger focus on continual improvement in energy performance with greater involvement of leadership and employees. Many new changes are added in this revised ISO 50001 auditor training presentation kit. It helps to establish a much better understanding of the ISO 50001:2018 awareness and internal auditing.
The newly revised ISO 50001 training ppt presentation kit provides more clarity and includes 6 items. ISO 50001 awareness training kit includes more than 180 editable ppt presentation slides on 7 modules including overview, objectives and energy management plan, requirements, steps, documented information, internal audit etc. It also includes handouts, workshops and case study, more than 500 audit questions, audit record templates and sample auditor training certificate as per ISO 50001:2018.
Global Manager Group provides ISO 50001:2018 auditor training presentation kit at very compatible cost of USD 450, and prepared in MS PowerPoint and Word documents and written in simple English. This ppt presentation kit is an editable document so any user can modify it as per their requirement, and use it as internal auditing for their organization.
For further details on training presentation kit and access Free Demo, visit our website: www.globalmanagergroup.com
Energy Management System (EnMS) as per ISO 50001 refers to a system used by an organisation to manage its activities, product or services in such a way to minimize or eliminate the significant energy use.
The ISO 50001 Manual is a mandatory document in the EnMS that must describe how a company will implement its system. It must define whether organisations are applicable and how they will be implemented. It describes the energy management systems structure which has been implemented to meet the ISO 50001 – energy management systems. ISO 50001 manual also describes objectives and responsibilities of the energy management system and provides a link to the system documents to the various elements of the ISO 50001 standard.
ISO 50001 manual document covers company profile, control and distribution, procedures, glossary of terms, organisation structure, etc. The purpose of ISO 50001 manual is to establish and clarify the terms and conditions governing the Energy Management System. These policies define the intentional provision of management to manage operations and activities in accordance with the framework established by the ISO 50001.
An effective ISO 50001 Manual can bring many benefits to an organisation and it's EnMS:
It offers a medium for the organisation to present its commitment and approach to energy management.
It is a good place to document other requirements, besides those required in an accessible and easy-to-read format.
It helps the auditor do a better and more complete job of EnMS auditing, and in turn, to offer suggestions for improving the system.
Perhaps best of all, it provides a good overhead view of the Energy Management System for the management representative, as well as the process owners.