Archive for the 'ISO Documents' Category
Global Manager Group is one of the largest business management consulting and ready-to-use documentation kits selling company has announced a 20% Discount Offer for Thanksgiving and BlackFriday this year on any of the ISO Documentation kits and ISO Training Kits. This mega offer valid can be avail on any single or multiple products by applying the given coupon code during the offer period from 21st November to 30th November 2021.
Use Discount Coupon: blackfri#p20
Global Manager Group wants to extend a special THANKS to all of our existing customers and clients for being part of our family as well as looking to purchase our products especially this past year with all the challenges and Covid-related issues. Global Manager Group is thanking all of the customers, clients, and well-wishers by offering a special 20% discount on the occasion of Thanksgiving and Black Friday – 2021.
Any working professionals, college students, or any other individuals are eligible for this deal. They can get a 20 % discount on all ISO Documents, ISO awareness training ppt, ISO Auditor training kits, and Management Training Kits listed on www.Globalmanagergroup.com/Eshop till 30th November 2021.
Global Manager Group had offered discounts up to 10 – 15 % OFF, on some of its documentation kits previously on different occasions, but this time Global Manager Group came up with a flat "20% off" discount offer on all ISO Documentation Kits and ISO Training PPT Packages.
Be the first to grab the mega offer. Don't forget to avail your 20% off discount coupon! Hurry up to grab this opportunity today and save your time by using Global Manager Group's readymade ISO documents for preparing documentation for your organization.
For More Details and Sample Documents, Visit: www.Globalmanagergroup.com/Eshop
Global Manager Group, leading name in selling ISO documentation and training kits proudly announces its new product C123 – IMS Awareness & Auditor Training Presentation Kit designed by experienced team of ISO auditors and consultants, which covered requirements of each clause and sub clauses in detail.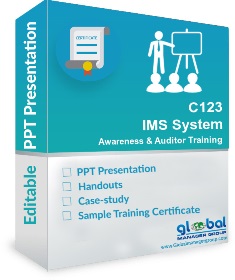 Global Manager Group introduced readymade IMS auditor training kit is complete guide in ppt presentation and gap analysis kit to understand Integrated Management System (IMS) as per latest ISO 9001:2015, ISO 14001:2015 & ISO 45001:2018 standards requirements. It is useful for those organizations that want to quickly and efficiently learn how to implement and successfully clear the audit for IMS Certification. IMS training presentation kit saves precious time while preparing the IMS awareness training course materials for in-house training programs. This IMS training presentation slides are aim to prepare the organizations employees for how to face ISO audits on integrated management system.
The IMS training – ready to use ppt presentation described in 13 main modules comprises of more than 510 editable ppt slides and MS- word documents like audit forms, checklists and more that help you to customize your own audit checklist. The training kit also comes with the case studies and workshops.
This presentation kit of IMS training available at very exciting rate of just 450 USD with Free Demo and will offer full value for the money spent by the customers globally. Moreover, the information can be edited so that you can craft your presentation quite easily as well as prepare the entire training presentation fast which saves your valuable time.
8-Feb 2018 – NCQC – Global Manager Group is taking participate as exhibitor to world's largest Plastic Industry exhibition, PlastIndia2018. Plast India 2018, world's third largest plastic industry exhibition starts at Gandhinagar Exhibition Center – India, from 7 to 12 February 2018. Global Manager Group aims to associate with more plastic & packaging industry, which are looking for Quality certification as well as NABL accredited instrument calibration facilities.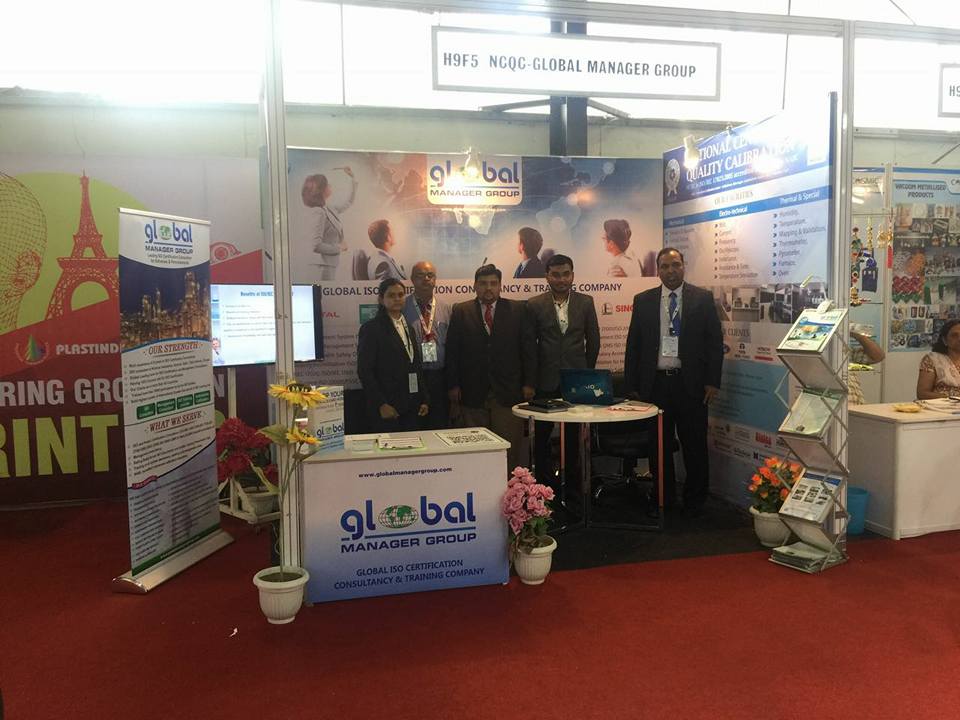 Mr. Devang Jhaveri, owner of Global Manager Group will be available at Plast India Exhibition at stall no. H9F5 on 9 & 10 February 2018. He will be there to share his experience working with industrial, R & D, Petrochemicals and Refineries as well as Laboratories as an ISO Consultant. The six-day exhibition is going to be world's third largest exhibition organized till date for Plastic industries. Global Manager Group aims to take participate in this event to offer a floor for all delegates to interact with experts in instrumentation, plastics, petrochemical, and packaging industries. GMG Also provides platform to all exhibitors from plastic manufacturers, instrument manufactures, packaging material manufacturers etc., to get in touch for their instruments calibration requirements by National Centre for Quality Calibration, leading NABL accredited calibration laboratory in India.
Global Manager Group has been providing management consultancy services and training since 1991 and has more than 2700 clients in more than 45 countries. The industry leader in ISO consultancy has over 20 years of experience, working with industrial, R & D, and Laboratories as well as management systems consultancy. The company has own Instrument calibration laboratory at Ahmedabad, as name of National Centre for Quality Calibration. The company has international reputation for ISO/IEC 17025 accreditation consultancy. So far the Company has conducted more than 100 courses on ISO internal auditor training and ISO system awareness training. Many laboratories have got ISO/IEC 17025 under his project management in GCC countries including Saudi ARAMCO, Yanbu Refinery, Gulf Laboratory, NAP Laboratory, Riyadh Refinery, Al-Hoti, Q Chem., Geotechnical lab, International Laboratory, aDoha Technical Lab, Qatar Engineering Lab, Qatar Industrial Lab, Jeddah refinery laboratory, technical laboratory etc.
More News and Updates about Global Manager Group visit blog.globalmanagergroup.com
Global Manager Group is industry leader for online documents selling for various international system certification, has released the new product online under documentation category named as D141 – ISO 15378:2015 Documentation kit for medicinal products packaging materials manufacturer's certification. The ISO 15378 – Primary Packaging Materials for Medicinal standard was developed in the pharmaceutical sector to provide a Quality Management System (QMS) for suppliers of materials intended to be used as Good Manufacturing Practice – GMP in packaging for medicinal products. This documentation released by GMG is covered all requirements of ISO 15378:2015 certification.
List of readymade templates given by GMG under this product for ISO 15378 Certification for primary packaging material for medicinal products with reference to quality management system and GMP contains a set of total 150 editable word files are divide in 7 directories like manual, procedures, exhibits, forms, process approach, SOPs and audit checklists etc.
Global Manager Group provides readymade ISO 15378 documents that can be easily customized to meet the specific needs of your organization. GMG provides documents like ISO 15378 manual, procedures, exhibits, SOPs, forms and audit checklists etc. as per the ISO 15378 Documentation requirements. All the documents are designed under guidance of experienced ISO consultants and QMS auditors. The ISO 15378:2015 documentation kit is the complete resource for all implementer as it provides the necessary tools for the major phases of the implementation of the ISO 15378 standard.
The complete sets of ISO 15378 documents designed to minimize the time and cost involved in certification as well as provides better control over implemented QMS system. The ready to use sample templates are written in simple English and easily editable format. The user can update total documentation templates as per organization working system and create own documents for their company.
This product, ISO 15378:2015 Documentation is offered online by Global Manager Group at very competitive rate of just $899 with free Demo that help to understand each document in details with its clause wise requirements on company's web portal www.globalmanagergroup.com.