Archive for the 'ISO training' Category
Global Manager Group is one of the largest business management consulting and ready-to-use documentation kits selling company has announced a 20% Discount Offer for Thanksgiving and BlackFriday this year on any of the ISO Documentation kits and ISO Training Kits. This mega offer valid can be avail on any single or multiple products by applying the given coupon code during the offer period from 21st November to 30th November 2021.
Use Discount Coupon: blackfri#p20
Global Manager Group wants to extend a special THANKS to all of our existing customers and clients for being part of our family as well as looking to purchase our products especially this past year with all the challenges and Covid-related issues. Global Manager Group is thanking all of the customers, clients, and well-wishers by offering a special 20% discount on the occasion of Thanksgiving and Black Friday – 2021.
Any working professionals, college students, or any other individuals are eligible for this deal. They can get a 20 % discount on all ISO Documents, ISO awareness training ppt, ISO Auditor training kits, and Management Training Kits listed on www.Globalmanagergroup.com/Eshop till 30th November 2021.
Global Manager Group had offered discounts up to 10 – 15 % OFF, on some of its documentation kits previously on different occasions, but this time Global Manager Group came up with a flat "20% off" discount offer on all ISO Documentation Kits and ISO Training PPT Packages.
Be the first to grab the mega offer. Don't forget to avail your 20% off discount coupon! Hurry up to grab this opportunity today and save your time by using Global Manager Group's readymade ISO documents for preparing documentation for your organization.
For More Details and Sample Documents, Visit: www.Globalmanagergroup.com/Eshop
Global Manager Group (GMG) – one of the largest business management consulting and training company, which focuses primarily on offering a full range of consulting services, is celebrating its 25th year of foundation – its Silver Jubilee – on 5th March, 2020.
Founded by Mr. Devang Jhaveri on 5th March 1996 company has stood the test of time and has provided consultancy and management solutions for startups, SMEs and large organizations, including government organizations, to move forward on their journey of growth by establishing and implementing better management systems in their organizations. Today the Global Manager Group of companies has many vertical including ISO consultancy for more than 70 standards; instrument calibration; online auditor certification courses and classroom training programs.
Since its inception in 1996, as a small start-up business, GMG has achieved a number of milestones in the field of ISO and other management system consultancy, total documentation solutions, and equipment calibration
In the post-globalization era, Global Manager Group of companies is a shining example of the success of management consultancy services. It is a company that has always strived to exceed its client's expectations, by providing them high quality and time-bound customized consultancy services catering to their needs.
In its successful journey of 25 years, GMG group of companies has established itself as a leading consultancy firm in India having both off-shore and on-shore clients. Within few years of its inception, group reached the benchmark of 100 clients who achieved various kinds of ISO certification. It also started to offer all ISO series consultancy, including consultancy for documentation and certification/accreditation for International Standards like ISO/IEC 17025, ISO 22000, ISO 27001, CE Mark, BRC food safety, HACCP and ISO 50001 etc.
In the year 2004, Global Manager Group started consultancy for various management areas. Within a decade of its journey, the company started selling ready-to-use editable training presentation and documentation kits for more than 70 ISO standards and other management areas. In US market itself, GMG has sold more than 1000 training and document kits and has got many appreciations from customers. So far it has more than 2700 satisfied customers in certification solution and management areas in more than 27 countries world-wide. The company has a branded image of timely completion of work with billing rates almost 40 percent lower than the industry rate. The company has been able to deliver services in a time as short as 12 to 24 hours of receiving client's consent for services.
To cater to the needs of all types of industries, Global Manager Group of companies has set-up a permanent facility at Ahmedabad, Gujarat. for calibration of equipment. As a sister concern of GMG, National Centre for Quality Calibration(NCQC) started functioning in 1998, which is a ISO/IEC 17025 (NABL) accredited Calibration Laboratory for all type of instruments.
Global Manager Group added another feather in its cap when Punyam Academy was launched in 2018. Punyam Academy offers classroom training programs as well as online courses on various ISO and management systems. Within less than a year, this company has achieved NBQP accreditation for providing certified classroom training on "Laboratory Management System & Internal Audit as per ISO/IEC 17025:2017". Punyam Academy's online certification courses are popular worldwide among ISO consultants, ISO auditors as well as management personnel.
Over the years, GMG has continued to increase its operations and support services as well as its overall capacity. With humble beginnings with 5 employees, now the company has increased its staff strength to 70 employees. Also, it has brought specialists as associate consultants to be able to manage larger projects. Global Manager Group's services have expanded in recent years to develop business systems and solutions for start-ups who are in need of customers.
Keeping up with its track record of last 25 years, Global Manager Group looks forward to achieve many more milestones and celebrate many more anniversaries in the future as its footprint continues to grow as a leader in innovative and creative solutions for ISO certifications and various management areas.
The Global Manager Group, leading ISO documents and ISO training presentation kit Seller Company has updated its product C117, named as ISO 50001:2018 awareness & auditor training presentation kit for setting up and managing an effective Energy Management System (EnMS).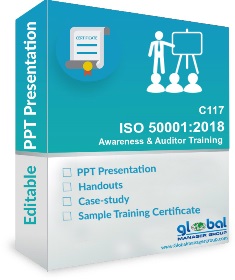 International Organization for Standardization (ISO) has published new ISO 50001:2018 standard on 21st August, 2018 and replaces the current standard ISO 50001:2011 that brings in a much stronger focus on continual improvement in energy performance with greater involvement of leadership and employees. Many new changes are added in this revised ISO 50001 auditor training presentation kit. It helps to establish a much better understanding of the ISO 50001:2018 awareness and internal auditing.
The newly revised ISO 50001 training ppt presentation kit provides more clarity and includes 6 items. ISO 50001 awareness training kit includes more than 180 editable ppt presentation slides on 7 modules including overview, objectives and energy management plan, requirements, steps, documented information, internal audit etc. It also includes handouts, workshops and case study, more than 500 audit questions, audit record templates and sample auditor training certificate as per ISO 50001:2018.
Global Manager Group provides ISO 50001:2018 auditor training presentation kit at very compatible cost of USD 450, and prepared in MS PowerPoint and Word documents and written in simple English. This ppt presentation kit is an editable document so any user can modify it as per their requirement, and use it as internal auditing for their organization.
For further details on training presentation kit and access Free Demo, visit our website: www.globalmanagergroup.com
Global Manager Group, leading name in selling ISO documents and ISO training kits worldwide proudly announces its new product C124 – HSE – 2018 Awareness & Auditor Training Kit which is a complete guide in ppt presentation and gap analysis kit to understand Health Safety Environment Management System requirements as per ISO 14001:2015 and ISO 45001:2018 standards.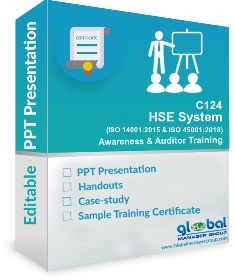 Readymade HSE Training ppt is designed by experienced team of ISO auditors and consultants with taking care of each requirement of EMS and OHS&MS. It is useful while conducting corporate training sessions to learn health safety environment management system requirements and internal auditing for HSE Certification in any organization work area. HSE training ppt presentation kit saves precious time while preparing the HSE awareness training course materials for in-house training programs. This HSE auditor training presentation slides are aim to prepare the organizations' employees for how to face HSE audits.
The HSE training – ppt presentation described in 11 main modules comprises of more than 410 editable ppt slides that includes HSE system overview, ISO 14001:2015 and ISO 45001:2018 standards requirements, installation steps, internal audit, documented information, etc. The training kit also comes with trainer's guide, case studies, workshops, sample auditor training certificate and more. The contents of the ppt presentation kit will be most beneficial for ISO consultants and Internal Auditors to understand all the requirements of integration of newly published standard ISO 45001:2018 with revised standard ISO 14001:2015 of the organizations. Using this training material they can easily guide their clients and employees of their organizations to achieve maximum outcomes of HSE system implementation and certification.
The training kit is launched to sell online at rate of just 450 USD, which is very competitive price as compare to other products of Global Manager Group. Users can download Free Demo to find out more about how it can help organization in HSE training and integrated HSE certification.