Archive for the 'OHSAS: 18001' Category
The Global Manager Group is a leading name in selling ISO documents and ISO training kits word wide. Since 1991, we have achieved 100% success rate for successful ISO certification consultancy. The management team at Global Manager Group proudly announces its new product launch i.e. D152 – BS ISO 45001:2018 Documentation Kit with editable templates, manual, procedures, audit checklists and more for Occupational, health, safety management system certification.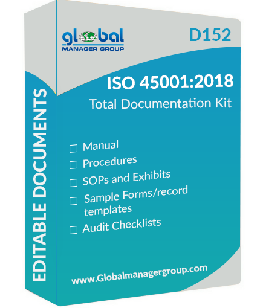 The ISO has introduced long awaited standard BS ISO 45001:2018 on 12th March 2018, which represents for Occupational, health and safety management system of the organization. The new product is designed to learn OH&S management system documenting requirements and concepts with the help of given forms and templates. The ISO 45001 documents are intended towards those corporate professionals who are interested to establish a good OHS system in their organization based on latest ISO standard.
The Team of OHS consultants of Global Manager Group has involved since releasing of first draft copy. More than 2000 hours are spent in the preparation of this documentation kit. It is developed under the guidance of experienced OH&S certification experts having rich experience of more than 20 years in the system implementation and certification.
The ISO 45001:2018 Documentation kit is categorized in 11 directories like manual, procedures, SOP, filled and blank formats, OHS policy, audit checklist, hazard and risk templates etc. comprises of more than 160 editable MS- word documents that help you to customize your own documentation. The ready-to-use ISO 45001 document kit also comes with the compliance matrix, which is Requirements-wise reference documented information. Over and above, it comprises audit questionnaire of nearly 500 audit checklists. These ISO 45001 checklists help an organization to devise their own customized internal audit checklist.
The contents of ISO 45001:2018 Documentation kit is evaluated and verified at various levels during preparation. The Document kit is launched to sell online at rate of just 499USD, which is very competitive price as compare to other products of Global Manager Group.
For further details on documentation kit and access FREE DEMO, visit our website: https://www.globalmanagergroup.com/
The popular website for readymade documentation solution, Globalmanagergroup.com has announced that the online sell of its one of the most demanded product EQHSMS Documentation – 2015 has been crossed over 50 copies in very short period of just 3 months. GMG has introduced this product in September 2015, which is based on Integrated Management System consist of ISO 9001:2015, ISO 14001:2015 and OHSAS 18001:2007 requirements.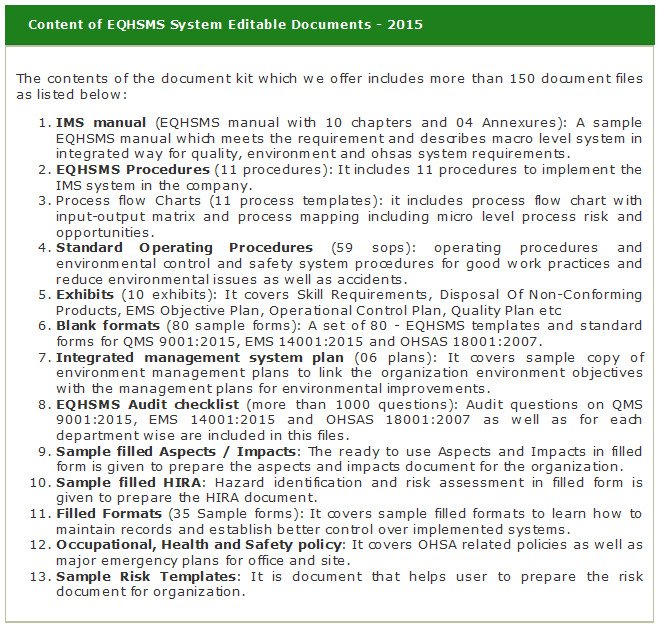 The sales team has admitted that more than 1000 users has downloaded free online DEMO of EQHSMS Documentation Package at website www.globalmanagergroup.com, which has guided them to understand the actual requirements and made them to take purchase decision faster to upgrade their existing systems as per revised ISO systems. As company was assured about sell of all new products would be increase in this quarter, they didn't surprise with that it crossed more than 50 copies of readymade EQHSMS documentation package.
Mr. Devang Jhaveri, owner of Global Manager Group, has thanked every users, who were believing in GMG's ability to provide effective ready to use documentation templates and have been purchased EQHSMS total Documentation Package – 2015. He has added that they continuously received very positive feedback on this product from all over the world, which has purchased product or downloaded free demo.
The reputed team of ISO consultants having rich experience in environment, quality and OHS management system were involved in preparing this documentation kit on integrated management system and made this document package possible to sell online to their global customers within minimum time of release of standard. The Online sell of EQHSMS Package, which covers sample copy of Quality, environment and safety IMS Manual and IMS certification procedures as well as SOPs, Exhibits, blank and filled forms, environmental policy, EMS plan, quality work instruction, and more than 1000 audit checklist etc., which are key highlight of the product.
The EQHSMS Documentation kit was placed for online sell to their wide range of global customers at very competitive rate of just 450 USD. The online purchase of the product can benefits their customers by providing them all rights of editing and reusing of documents for organization or work place as per requirements which saves a lot of their time and accelerates overall all documentation process, which made it very popular like GMG's other documentation packages.
The ISO certification consultancy company, Global Manager Group has developed Quality Management System and Occupational Health and Safety management system in Sand and Rock Crusherat Qatar, which resulted ISO 9001:2008 and OHSAS 18001:2007 certification from ISOQAR in quick time with effective implementation of quality and ohsas systems. At present the Company has an efficient organization comprising a team of dedicated professional personnel in all area of management. All products released by the Company are strictly checked as per the relevant specification during entire processing.
Global Manager Group has implemented ISO 9001:2008 and OHSAS 18001:2007 system in the Organization by training employees of all level, preparation of documentation, implementation and providing necessary help till certification of the system. During the implementation of ISO 9001:2008 and OHSAS 18001:2007, the Quality Management System and Occupational Health and Safety Management system was integrated and Integrated Management System (ISO 9001:2008 + OHSAS 18001:2007) was implemented and got recommended for the certificate of ISO 9001:2008 and OHSAS 18001:2007. GMG is associated with the organization since last 6 months and all the required support in routine maintenance of system and system up gradation is provided. During the certification consultancy of ISO 9001:2008 and OHSAS 18001:2007 followings steps were implemented;
Preparation of documents for IMS (Integrated Management System), such as Manual, Procedures, SOPs / OCPs, Register of rules and regulations, Operational control plan, Quality plan and many more as required by IMS,
Hazard identification and risk assessment (including determining controls) in consultation with the company employees along with the workers participation,
Identification of operational control points and exercising control over the same,
Training to all levels of employees with active participation,
Conducting safety meeting with the active participation of workforce and management,
Conducting mock drill on casualty handling by creating scenario,
Encouraging employees to create safe work and establishing safe work practices,
Review and identification of legal and other requirements and guiding to comply with all such legal requirements,
Conducting medical check???up camps including the check???up of OH&S Risks such as Pulmonary function test, audiometry test, blood test and urine test etc. and informing the workforce related to its impact and creating awareness for the same amongst all employees.
About Sand And Rock Crushers
Sand and Rock Crushers is one of the leading manufacturers of Aggregate, Sub base and Gabbaro, backfill, wash sand and dune sand. The Company is serving to the infrastructure development companies such as building construction, road construction etc. The product manufactured by the company is strictly as per the ASHGHAL specifications (developed by QCS) based on the British Standards or ASTM Standards. The Company has a vast experience in manufacturing of Aggregate, Sub base and Gabbaro, backfill, wash sand and dune sand. Product comes to the customer after undergoing a rigid inspection strictly as per customer requirements in his defined application. At all stages of the manufacturing proper care is taken to build quality at all stages as well as maintaining healthy environment and safe work practices in and around the site.
About Global Manager Group
Global Manager Group has grown as a proven ISO certification consultant in Qatar, Bahrain, Saudi Arabia, Oman, India, USA, Europe and South Africa from last 2 decades. Global Manager Group is known for quick time certification and effective implementation for ISO 9001, ISO 14001, ISO 17025, OHSAS 18001, BRC, BRC packaging, ISO 22000, ISO 27001, ISO 50001, ISO 17020 as well as Six Sigma, Lean 5 S, benchmarking, Kanban, Kaizen based management system. GMG has expanded their iso certification and iso documentation consultancy services in USA, UK, Europe, Qatar, Bahrain, Dubai, Saudi Arabia, India, Australia, Singapore, Malaysia, Vietnam and more. Global Manager Group is also recognized well in the world for their ready to use ISO documents and ISO Awareness as well as ISO auditor training presentation kits, which help clients to get implements best ISO system in the organization and prepare ISO documents in quick time.
OHSAS 18001 Safety Procedures
A key part of the OHSAS 18001 standards will be the preparation and implementation of SAFETY PROCEDURES for effective OHSAS control. These procedures should cover all functions, activities and processes that have, or could have (if uncontrolled), a significant direct or indirect effect on the OHSAS.
The type and scope of the safety procedures should be appropriate to the nature, complexity and OHSAS significance of the function, activity or process that they address. In all cases, however, the objectives should be to control the activity in question in accordance with specified requirements.
OHSAS 18001 Procedures need to be written down, made available to relevant employees, monitors, documented and updated. The safety procedures should not be issued in isolation; they should be an integral part of the enterprise???s OHSAS Policy and management system as a whole. Their purpose is to define clearly the organisational structure and management controls. In order for procedures to be effective, employees at all levels of the enterprise will need to be given training in their use and control.
The enterprise???s OHSAS policies, objectives and programmes need to be translated into specific safety procedures, which set out:
Actions necessary to support the OHSAS 18001 Policy and to carry out tasks without detriment to the OHSAS performance of the enterprise.
Uniformity of understanding and action.
Continuity and consistency of performance when personnel and changes occurs and
A basis for control of the OHSAS management system and its effectiveness.
Occupational Health and safety management system procedures are likely to be required for the areas given below. However this is not the exhaustive list. Depending on the requirement of the proposed OHSAS many more procedures may need to be developed.
Work instructions covering day-to day activities and arrangements, abnormal working and emergency situations.
Monitoring and control arrangements and activities.
Contractor, supplier and other procurement activities and arrangements.
Product, process and other change procedures; and
Other requirements necessary to achieve the OHSAS Policy and programme; these may relate to:
Achieving compliance with particular programme requirements.
Research compliance with particular programme requirements.
Selection and use of raw materials, purchasing, product take back, energy use, life cycle analysis; and]
Support functions such as finance, personnel and recruitment, marketing and publicity, and general administration.
Development Structure of OHSAS 18001 Safety Procedure
The OHSAS 18001 safety procedures may be developed in the format given below.
1. Purpose
Here the objectives of the procedure are clarified.
2. Scope
Define the area/dept./activities to which the procedure is applicable.
3.Responsibility
Determine the person who is responsible for execution of the purpose. Write the designation of that person.
4. Activities
Here steps of the activities should be mentioned i.e. the sequence of the actions required for achieving the purpose.
5. Verification and Monitoring
Here the answer to the following question should be given.
Who will verify that the set procedure is being followed?
How will the procedure be verified?
What will the frequency of verification?
6. Records
Every procedure may generate some document e.g. procedure Deviation Report (PDR), Action Taken Report (ATR) etc. Here all records should be compiled in a table.