Archive for the 'Management' Category
Global Manager Group, leading industry leader for online documents selling for various international system certifications announces its new product launch D153 – BRC Global Standard for Consumer Products Documentation Kit, which is written in English and will be deliver in editable format. This new documentation kit provides with a comprehensive set of pre-written BRC documents compliant with BRC Global Standard for Consumer Product Standard.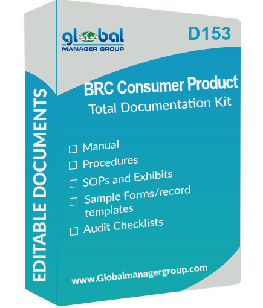 The experienced team of Food safety certification consultant of Global Manager Group has designed and developed readymade BRC Consumer Products Documentation Kit to help consumer products manufacturing and packaging company to get BRC Certification.
The BRC global standard for consumer product documentation templates covered under this kit is categorized in 9 main directories like BRC manual, procedures, blank formats, SOP, exhibits, process flow charts, HACCP docs, audit checklist, compliance matrix, etc. comprises of more than 145 editable MS- word documents that help organization to customize own documentation. The key features of using such readymade BRC documents are that it saves time and cost in process of documentation, learning requirements and hence effective certification.
The ready-to-use product BRC global standard for consumer product documentation kit is offered online by Global Manager Group at very competitive rate of just USD 499. User can download Free DEMO that helps to learn list of each document in details with its clause wise requirements.
8-Feb 2018 – NCQC – Global Manager Group is taking participate as exhibitor to world's largest Plastic Industry exhibition, PlastIndia2018. Plast India 2018, world's third largest plastic industry exhibition starts at Gandhinagar Exhibition Center – India, from 7 to 12 February 2018. Global Manager Group aims to associate with more plastic & packaging industry, which are looking for Quality certification as well as NABL accredited instrument calibration facilities.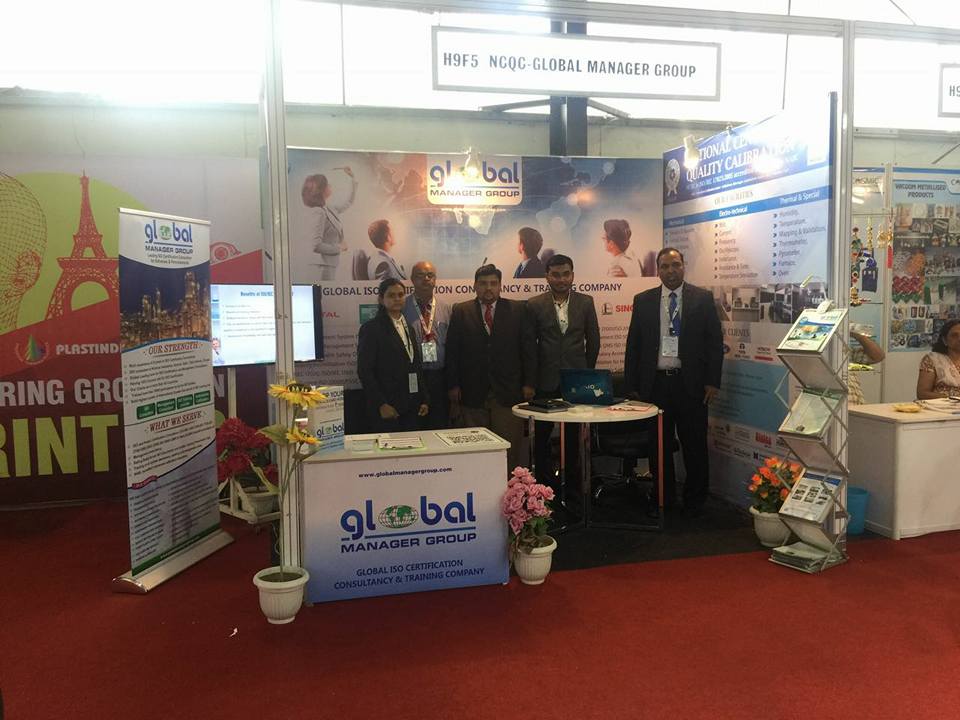 Mr. Devang Jhaveri, owner of Global Manager Group will be available at Plast India Exhibition at stall no. H9F5 on 9 & 10 February 2018. He will be there to share his experience working with industrial, R & D, Petrochemicals and Refineries as well as Laboratories as an ISO Consultant. The six-day exhibition is going to be world's third largest exhibition organized till date for Plastic industries. Global Manager Group aims to take participate in this event to offer a floor for all delegates to interact with experts in instrumentation, plastics, petrochemical, and packaging industries. GMG Also provides platform to all exhibitors from plastic manufacturers, instrument manufactures, packaging material manufacturers etc., to get in touch for their instruments calibration requirements by National Centre for Quality Calibration, leading NABL accredited calibration laboratory in India.
Global Manager Group has been providing management consultancy services and training since 1991 and has more than 2700 clients in more than 45 countries. The industry leader in ISO consultancy has over 20 years of experience, working with industrial, R & D, and Laboratories as well as management systems consultancy. The company has own Instrument calibration laboratory at Ahmedabad, as name of National Centre for Quality Calibration. The company has international reputation for ISO/IEC 17025 accreditation consultancy. So far the Company has conducted more than 100 courses on ISO internal auditor training and ISO system awareness training. Many laboratories have got ISO/IEC 17025 under his project management in GCC countries including Saudi ARAMCO, Yanbu Refinery, Gulf Laboratory, NAP Laboratory, Riyadh Refinery, Al-Hoti, Q Chem., Geotechnical lab, International Laboratory, aDoha Technical Lab, Qatar Engineering Lab, Qatar Industrial Lab, Jeddah refinery laboratory, technical laboratory etc.
More News and Updates about Global Manager Group visit blog.globalmanagergroup.com
Global Manager Group had successfully completed 5S implementation project in Roto Moulding Department of Sintex Industries. During this 3 Months consultancy, GMG has implemented 5S Japanese techniques for lean manufacturing, arranged training sessions for more than 600 employees of the company that guided them to understand each S requirements in brief, which resulted in successfully completion of 5S Lean management system within given time limits. The 5S training sessions are arranged by Sintex Industries to create vibrant culture in the roto moulding department of the organization with the help of 5S Lean training by Global Manager Group.
GMG has helped and divided total area of roto moulding in to 12 zones and each zone are divided with zone wise teams and implemented 5S Japanese techniques for lean manufacturing. Total more than 600 employees are trained, work instructions and audit checklists as well as cleaning forms and SOP are prepared and 3 months consultancy is provided by GMG.
The key implementation covered during the 5s project in Roto Moulding Dept of Sintex industries are:
Electric diagram, gas diagram as well as water diagram is prepared and proper wiring completed and diagrams displayed. Unused pipeline approx 400 meter pipes are removed.
All moulds, jigs, fixtures list is prepared and unnecessary items are removed. Now moulds are available with location list. This will provide lot of space available for other activities
All machines complete preventive maintenance schedules are prepared and started.
All processes and cleaning work instructions are prepared and, displayed
Process parameters for all the items are defined and processes are standardized
All display boards, work instructions and visual aids with photographs for do's and do not created quality culture to sustain this results
Leakage of powders from many places are taken in control, Trial successful for major leakage from housing on machine no. 9 and same will be done for all other machines
In all the areas Objectives/Key result areas are made, displayed graphically on monthly basis and started monitoring
Proper cleaning culture created which may take care for final product finish and quality issues to reduce defects. Also Cleaning checklist records are started.
Underground cable trenches cleaned and approx 500 meter of unnecessary cables are removed
Many places white sheets are put and this makes proper lighting in day time. This will save lot of energy
The key focus of the 5S training is to develop and learn Lean 5 S and 5 weeks was declared for each S of Japanese techniques and then auditing is done by team of auditors in different shifts. The participants had satisfied with the knowledge shared by Mr. Devang Jhaveri about 5S Lean work culture as well as real time examples and case studies provided for continuous learning system implementation. Throughout the 5S Lean sessions all the management, technical and associated staffs learns to implement lean management system in daily routine work at organization. Also at the end of the training session workshops and exam is taken to evaluate the participants' performance. Also prizes are declared to the best performing personnel and good suggestions given by workers by owner of Global Manager Group.
Doha Training Center W.L.L. and Global Manager Group had jointly organized the ISO/IEC 17025 Internal Auditor and Measurement Uncertainty Course ??? 2013 at Doha, Qatar on 11 and 12 March, 2013 in Hotel Holiday vila. The ISO 17025 training program event has been successfully completed by the GMG and DTL associations. Total 14 members from various organizations like Qatar University, Prompt Qatar, EDAS, International Testing Laboratory, Al Jabour, Qatar calibration, Al zazira Testing Lab and Doha technical lab have been participated in this ISO 17025 internal auditor course. DTC and Global Manager Group were jointly organized such event every qarter in Qatar to provide awareness and knowledge in the area of ISO/IEC 17025 accreditation, ??Uncertainty measurement and other Quality assurance techniques. ??Global Manager Group and Doha Training Center got overwhelmed response of many Qatar and GCC country laboratories for organizing such event in the Qatar.
The ISO/IEC 17025 training was delivered by Mr. Devang Jhaveri, owner of Global Manager Group, having wide knowledge and more than 20 years of experience in the field of ISO certification consultancy. The training was highly technical and informative for all the participants and it will be helpful and beneficial for their work and education. The 2 days training program has helped them to learn about iso 17025 system awareness, ISO 17025 internal auditing, measurement uncertainty techniques, process of iso 17025 accreditation, ISO/IEC 17025 requirements and ISO/IEC 17025 internal audit process and much more. After successfully completion of this course, all participants have been awarded with a certification for ISO/IEC 17025 auditor training.
Following were the highlights of ISO/IEC 17025 internal auditor and measurement of uncertainty course – 2013:
Introduction and overview of ISO/IEC 17025
Understanding Requirements of ISO/IEC 17025
ISO 17025 Documentation Process
ISO/IEC 17025 Internal Audit Process
Preparation of ISO 17025 audit records and auditor role play
What to includes in ISO 17025 audit checklist
Measurement of uncertainty
Inter laboratory comparison and data analysis
ISO/IEC 17025 system implementation steps
Accreditation Body requirements
2 Case Studies and 2 workshops are also included
About Doha Training Center
DTC or Doha Training Centre was established in 2004 and is registered entity in Qatar. It has commercial license to operate in the fields of Management Training, Information Technology and Consultation. DTC aims at expending the consultancy operations for both Government and Private Sector companies Qatar.
About Global Manager Group
Global Manager Group is leading Management and ISO/IEC 17025 consultant of the world. The company has over 22 years of experience, working with industrial, R & D, and Laboratories as well as management systems consultancy. So far Global Manager Group has successfully conducted more than 50 courses on ISO/IEC 17025 and many laboratories have got accreditation for ISO/IEC 17025 under GMG???s project management in GCC including Saudi ARAMCO, Yanbu Refinery, Gulf Laboratory, Buzwair, NAP Laboratory, Riyadh Refinery, Al-Hoti, Ministry of Works (Bahrain), Q Chem., Gulf Lab LLC, International Laboratory, Doha Technical Lab, Qatar Engineering Lab, Qatar Industrial Lab, Doha technical lab, Al Jazeera lab etc. ??Global Manager is a leading ISO consultancy company having clients for consultancy on ISO 9001, ISO 14001, OHSAS 18001, ISO 22000, ISO 17025, ISO 17020, ISO 17024, ISO 27001, SA 8000, RC 14001, SEI-CMMI, NABH hospital accreditation,ISO 20000, Ce mark, PED and many more certification and having reputation globally for 1800 successful clients in 35 countries.
Source: Globalmanagergroup.com