Archive for the 'Occupational Health and Safety' Category
The Global Manager Group is a leading name in selling ISO documents and ISO training kits word wide. Since 1991, we have achieved 100% success rate for successful ISO certification consultancy. The management team at Global Manager Group proudly announces its new product launch i.e. D152 – BS ISO 45001:2018 Documentation Kit with editable templates, manual, procedures, audit checklists and more for Occupational, health, safety management system certification.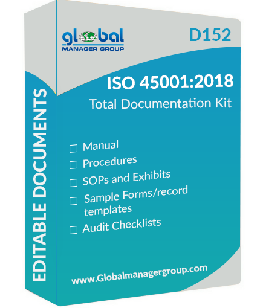 The ISO has introduced long awaited standard BS ISO 45001:2018 on 12th March 2018, which represents for Occupational, health and safety management system of the organization. The new product is designed to learn OH&S management system documenting requirements and concepts with the help of given forms and templates. The ISO 45001 documents are intended towards those corporate professionals who are interested to establish a good OHS system in their organization based on latest ISO standard.
The Team of OHS consultants of Global Manager Group has involved since releasing of first draft copy. More than 2000 hours are spent in the preparation of this documentation kit. It is developed under the guidance of experienced OH&S certification experts having rich experience of more than 20 years in the system implementation and certification.
The ISO 45001:2018 Documentation kit is categorized in 11 directories like manual, procedures, SOP, filled and blank formats, OHS policy, audit checklist, hazard and risk templates etc. comprises of more than 160 editable MS- word documents that help you to customize your own documentation. The ready-to-use ISO 45001 document kit also comes with the compliance matrix, which is Requirements-wise reference documented information. Over and above, it comprises audit questionnaire of nearly 500 audit checklists. These ISO 45001 checklists help an organization to devise their own customized internal audit checklist.
The contents of ISO 45001:2018 Documentation kit is evaluated and verified at various levels during preparation. The Document kit is launched to sell online at rate of just 499USD, which is very competitive price as compare to other products of Global Manager Group.
For further details on documentation kit and access FREE DEMO, visit our website: https://www.globalmanagergroup.com/
OHSAS 18001 Safety Procedures
A key part of the OHSAS 18001 standards will be the preparation and implementation of SAFETY PROCEDURES for effective OHSAS control. These procedures should cover all functions, activities and processes that have, or could have (if uncontrolled), a significant direct or indirect effect on the OHSAS.
The type and scope of the safety procedures should be appropriate to the nature, complexity and OHSAS significance of the function, activity or process that they address. In all cases, however, the objectives should be to control the activity in question in accordance with specified requirements.
OHSAS 18001 Procedures need to be written down, made available to relevant employees, monitors, documented and updated. The safety procedures should not be issued in isolation; they should be an integral part of the enterprise???s OHSAS Policy and management system as a whole. Their purpose is to define clearly the organisational structure and management controls. In order for procedures to be effective, employees at all levels of the enterprise will need to be given training in their use and control.
The enterprise???s OHSAS policies, objectives and programmes need to be translated into specific safety procedures, which set out:
Actions necessary to support the OHSAS 18001 Policy and to carry out tasks without detriment to the OHSAS performance of the enterprise.
Uniformity of understanding and action.
Continuity and consistency of performance when personnel and changes occurs and
A basis for control of the OHSAS management system and its effectiveness.
Occupational Health and safety management system procedures are likely to be required for the areas given below. However this is not the exhaustive list. Depending on the requirement of the proposed OHSAS many more procedures may need to be developed.
Work instructions covering day-to day activities and arrangements, abnormal working and emergency situations.
Monitoring and control arrangements and activities.
Contractor, supplier and other procurement activities and arrangements.
Product, process and other change procedures; and
Other requirements necessary to achieve the OHSAS Policy and programme; these may relate to:
Achieving compliance with particular programme requirements.
Research compliance with particular programme requirements.
Selection and use of raw materials, purchasing, product take back, energy use, life cycle analysis; and]
Support functions such as finance, personnel and recruitment, marketing and publicity, and general administration.
Development Structure of OHSAS 18001 Safety Procedure
The OHSAS 18001 safety procedures may be developed in the format given below.
1. Purpose
Here the objectives of the procedure are clarified.
2. Scope
Define the area/dept./activities to which the procedure is applicable.
3.Responsibility
Determine the person who is responsible for execution of the purpose. Write the designation of that person.
4. Activities
Here steps of the activities should be mentioned i.e. the sequence of the actions required for achieving the purpose.
5. Verification and Monitoring
Here the answer to the following question should be given.
Who will verify that the set procedure is being followed?
How will the procedure be verified?
What will the frequency of verification?
6. Records
Every procedure may generate some document e.g. procedure Deviation Report (PDR), Action Taken Report (ATR) etc. Here all records should be compiled in a table.