Archive for the 'Quality Management' Category
8-Feb 2018 – NCQC – Global Manager Group is taking participate as exhibitor to world's largest Plastic Industry exhibition, PlastIndia2018. Plast India 2018, world's third largest plastic industry exhibition starts at Gandhinagar Exhibition Center – India, from 7 to 12 February 2018. Global Manager Group aims to associate with more plastic & packaging industry, which are looking for Quality certification as well as NABL accredited instrument calibration facilities.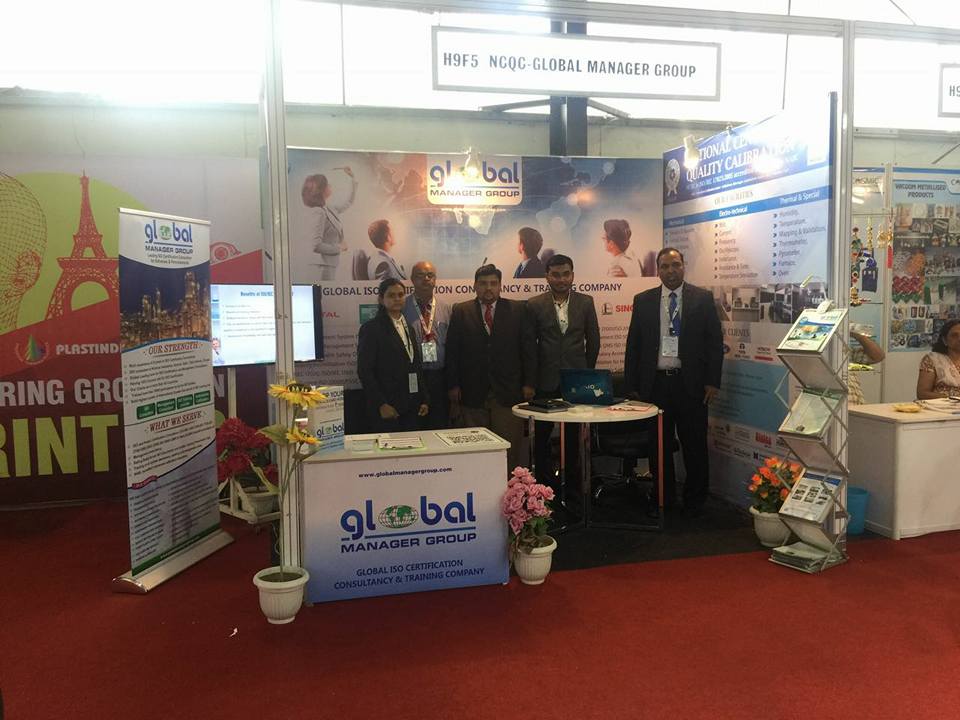 Mr. Devang Jhaveri, owner of Global Manager Group will be available at Plast India Exhibition at stall no. H9F5 on 9 & 10 February 2018. He will be there to share his experience working with industrial, R & D, Petrochemicals and Refineries as well as Laboratories as an ISO Consultant. The six-day exhibition is going to be world's third largest exhibition organized till date for Plastic industries. Global Manager Group aims to take participate in this event to offer a floor for all delegates to interact with experts in instrumentation, plastics, petrochemical, and packaging industries. GMG Also provides platform to all exhibitors from plastic manufacturers, instrument manufactures, packaging material manufacturers etc., to get in touch for their instruments calibration requirements by National Centre for Quality Calibration, leading NABL accredited calibration laboratory in India.
Global Manager Group has been providing management consultancy services and training since 1991 and has more than 2700 clients in more than 45 countries. The industry leader in ISO consultancy has over 20 years of experience, working with industrial, R & D, and Laboratories as well as management systems consultancy. The company has own Instrument calibration laboratory at Ahmedabad, as name of National Centre for Quality Calibration. The company has international reputation for ISO/IEC 17025 accreditation consultancy. So far the Company has conducted more than 100 courses on ISO internal auditor training and ISO system awareness training. Many laboratories have got ISO/IEC 17025 under his project management in GCC countries including Saudi ARAMCO, Yanbu Refinery, Gulf Laboratory, NAP Laboratory, Riyadh Refinery, Al-Hoti, Q Chem., Geotechnical lab, International Laboratory, aDoha Technical Lab, Qatar Engineering Lab, Qatar Industrial Lab, Jeddah refinery laboratory, technical laboratory etc.
More News and Updates about Global Manager Group visit blog.globalmanagergroup.com
Meta Build Industries, the leading metal alloy manufacturing company for aerospace industries has implemented AS9100 system in their organization with the help of Global Manager Group and achieved AS9100 rev C certificate from NVT accreditation body. The AS9100 Rev C is as standard for quality management system and requirements for aviation, space and defense organizations.
The company has successfully implemented quality management system, documentation preparation and training for awareness of the implemented system with the help of Global Manager Group's consultancy services, which results in awarded compliance to AS9100C certification standard for Aviation, Space and Defence organizations. The certifications are granted by NVT, widely recognized and prestigious accreditation body after successfully audited the implemented quality management system with hard work of more than 5 months of system establishment and 2 stage audits by authorized certifying body. This is the big achievement for the company to get certificated for international standard AS9100 from globally reputed accredited body like NVT.
Global Manager Group has completed system implementation for AS9100C certification consultancy projects within time limits by implementing effective system. AS 9100 rev C helps organization to achieve quality requirements in all departments, which results in continuous improvements. It helps organization to achieve scope of design and manufacturing of metal alloy component by metal injection moulding for aerospace industries under this certification. It manages the quality requirements of an organization to control all the process in each department.
Global Manager Group has given system awareness training and auditor training to all the employees of the organization as well as prepares documentation like AS9100 manual, procedures, SOPs, exhibits, audit checklists etc., which results in achieve AS9100 certification in first attempt. During this highly technical consultancy project, Global Manager Group has helped Meta Build Industries to understand requirements of AS9100 system awareness, gap analysis, work management, internal audit as well as final assessment audit, done by NVT accredited certifying body auditors.

About Meta Build Industries
Meta Build Industries is a leading manufacturer and supplier company for designing and manufacturing of metal alloy component, which are used in aerospace industries. It is known as efficient organization comprising a team of dedicated professionals in all area of metal manufacturing process. All products released by the company are strictly checked as per the customer defined requirements and in-house specified requirements. The company is committed to implement quality management system, which structured to comply with the conditions set forth in international standard AS 9100 Rev C.
Global Manager Group, leading ISO Certification Consultancy Company has released AS9100 rev D documentation kit for Aviation, Space and Defense Organizations to prepare quick documentation and hence certification process. In the AS9100 document kit GMG provides quality manual, mandatory procedures, SOPs – standard operating procedures, quality policy and work instructions, sample forms as well as ready to use templates in .doc formats.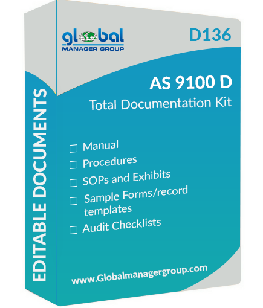 The AS9100 standard was revised in 2016 as AS9100 rev D, with this document launching, Global Manager Group becomes the first organization that has published and provides ready-to-use documents online. This product will help aerospace industry in preparing documents for AS9100D certification in quick time. With releasing AS9100 D documents, GMG has committed to share knowledge and experience in the field of implementing Quality management systems and certification worldwide. Also, take care of key objective that using GMG's readymade documents any organization can quickly completes documentation process for their organizations.
Mr. Devang Jhaveri, Director of Global Manager Group says – "This AS9100 rev D document kit is introduced by GMG, prepared by team of expert Quality consultants to help Aviation, Space and Defense Organizations for achieving AS9100 accreditation as per revision D. As all ISO and other documents are popular in ISO lead auditors as well as leading organizations around the world, we are very sure that they will use, get benefits and recommend AS9100 document to their clients."
The key feature of this product is its user friendly templates in documentation kit for AS9100. Global Manager Group has taken initiative and prepared the complete set of AS9100D documents, which includes AS9100 manual, AS9100 procedures, process approach as well as policy, formats, audit checklists etc. to help Aviation, Space and Defense Organizations to update and accredit their system in quick time. The AS9100 total documents are written in plain English and it covers all the requirements of clauses and sub clauses defined in AS 9100 revision D standard.
The readymade documentation product helps user to save time in searching documentation that minimize revision, reducing cost and time that results quick certification.
FOR FURTHER INFORMATION
Global Manager Group
World's leading Certification Consultancy & Documentation Seller
+91 (079) 2979 5322
sales@globalmanagergroup.com
Stay Connected with Global Manager Group
https://www.facebook.com/Globalmanagergroup
https://twitter.com/ISO_9001_14001
http://www.linkedin.com/in/globalmanagergroup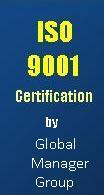 Global Manager Group has successfully completed ISO 9001:2008 Re-Certification from leading certifying body, ISOQAR. Team of ISO 9001 consultants from Global Manager Group has visited and verifies Quality management system implemented in the organization. They have helped to prepare ISO 9001 documentation including iso quality manual, procedures, quality policy, SOPs, formats and 9001 audit checklist for all departments of the organization like account, marketing, development, release, testing, QC etc. GMG has also provided QMS awareness training for iso 9001 system to all technical and management staff of Priya Softweb solution during this ISO 9001 certification consultancy.
Management Head from Priya Softweb said about the achievements that ???ISO 9001 training given by the professional internal iso 9001 auditors of GMG to all staff has helped us to clear the external audit for ISO 9001:2008 certification in first trial.???
Global Manger Group has been provided all necessary helps to Priya Softweb Pvt. Ltd. for implementing Quality Management System, providing ISO 9001 training as well as achieving the ISO 9001:2008 certification in given time limits.
About Priya Softweb Solution
Priya Softweb Solutions is a fast growing company for software developments and web development. Priya Softweb Solutions is an ISO 9001:2008 certified and Microsoft Gold Certified fastest growing software development providing comprehensive solutions to its clients. The company specializes in offering Web Application, Internet, and Mobile Application
About Global Manger Group
Global Manager Group offers a wide range of consulting services like ISO 9001, ISO 14001, ISO 17025, CE mark, ISO/TS 16949, ISO 27001, OHSAS 18001, SA 8000, HACCP document, BRC, ISO:22000, 5S, six sigma, Kaizen, Goal setting, KRA, Total Productive Maintenance (TPM), Benchmarking, Just in time, Kanban, employee motivation & HACCP. Also provides best implementation of environment management system, food safety system, information security system, OHSAS system.