Global Manager Group, leading industry leader for online documents selling for various international system certifications announces its new product launch D153 – BRC Global Standard for Consumer Products Documentation Kit, which is written in English and will be deliver in editable format. This new documentation kit provides with a comprehensive set of pre-written BRC documents compliant with BRC Global Standard for Consumer Product Standard.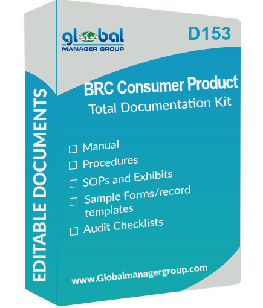 The experienced team of Food safety certification consultant of Global Manager Group has designed and developed readymade BRC Consumer Products Documentation Kit to help consumer products manufacturing and packaging company to get BRC Certification.
The BRC global standard for consumer product documentation templates covered under this kit is categorized in 9 main directories like BRC manual, procedures, blank formats, SOP, exhibits, process flow charts, HACCP docs, audit checklist, compliance matrix, etc. comprises of more than 145 editable MS- word documents that help organization to customize own documentation. The key features of using such readymade BRC documents are that it saves time and cost in process of documentation, learning requirements and hence effective certification.
The ready-to-use product BRC global standard for consumer product documentation kit is offered online by Global Manager Group at very competitive rate of just USD 499. User can download Free DEMO that helps to learn list of each document in details with its clause wise requirements.