Posts Tagged 'AS9100 certification documents'
Global Manager Group, leading ISO Certification Consultancy Company has released AS9100 rev D documentation kit for Aviation, Space and Defense Organizations to prepare quick documentation and hence certification process. In the AS9100 document kit GMG provides quality manual, mandatory procedures, SOPs – standard operating procedures, quality policy and work instructions, sample forms as well as ready to use templates in .doc formats.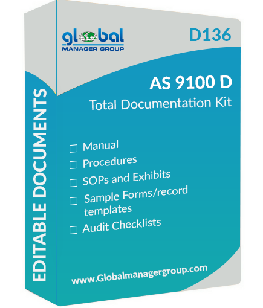 The AS9100 standard was revised in 2016 as AS9100 rev D, with this document launching, Global Manager Group becomes the first organization that has published and provides ready-to-use documents online. This product will help aerospace industry in preparing documents for AS9100D certification in quick time. With releasing AS9100 D documents, GMG has committed to share knowledge and experience in the field of implementing Quality management systems and certification worldwide. Also, take care of key objective that using GMG's readymade documents any organization can quickly completes documentation process for their organizations.
Mr. Devang Jhaveri, Director of Global Manager Group says – "This AS9100 rev D document kit is introduced by GMG, prepared by team of expert Quality consultants to help Aviation, Space and Defense Organizations for achieving AS9100 accreditation as per revision D. As all ISO and other documents are popular in ISO lead auditors as well as leading organizations around the world, we are very sure that they will use, get benefits and recommend AS9100 document to their clients."
The key feature of this product is its user friendly templates in documentation kit for AS9100. Global Manager Group has taken initiative and prepared the complete set of AS9100D documents, which includes AS9100 manual, AS9100 procedures, process approach as well as policy, formats, audit checklists etc. to help Aviation, Space and Defense Organizations to update and accredit their system in quick time. The AS9100 total documents are written in plain English and it covers all the requirements of clauses and sub clauses defined in AS 9100 revision D standard.
The readymade documentation product helps user to save time in searching documentation that minimize revision, reducing cost and time that results quick certification.
FOR FURTHER INFORMATION
Global Manager Group
World's leading Certification Consultancy & Documentation Seller
+91 (079) 2979 5322
sales@globalmanagergroup.com
Stay Connected with Global Manager Group
https://www.facebook.com/Globalmanagergroup
https://twitter.com/ISO_9001_14001
http://www.linkedin.com/in/globalmanagergroup