Posts Tagged 'eye care organisation accreditation'
Global Manager Group, leading ISO documents and ISO awareness as well as ISO auditor training presentation selling company is delighted to announce the launch of its new product D151- NABH Documentation Kit for Eye Care Organisation Accreditation.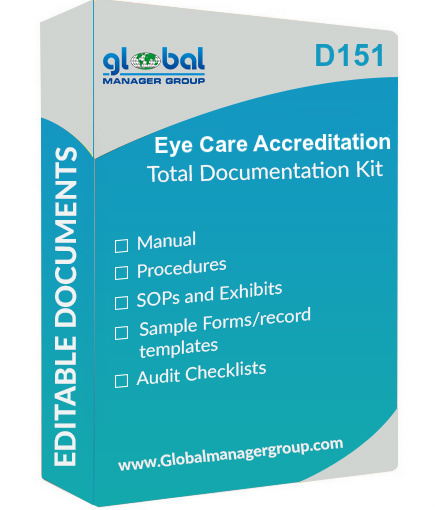 New to Global Manager Group's Eshop, NABH Documentation Kit is designed to help Eye Care Organisation in NABH accreditation. It provides a complete set of mandatory and supporting pre-written documentation templates to reduce the time spent developing documentation. This NABH Documents prepared by highly technical team of NABH consultant and ISO auditors from Global Manager Group, and taken care of each requirements of the NABH standard. It contains documentation such as NABH Manual, System Procedures, SOPs, Forms and Templates, Audit Checklist, etc.
The complete set of NABH Documents designed to minimise the time and cost involved in eye care organisations accreditation. It assists user to understand quality systems in hospitals and how to achieve fast and effective NABH accreditation certification.
The ready to use eye care organization accreditation documents priced at USD 599. The ready to use sample templates are written in simple English and easily editable format.  The entire documentation kit can be edited so that you can draft your NABH documentation quite easily as well as prepare the entire documentation fast which saves your valuable time. Users can download Free Demo of the product can be download that help to learn list of documents covered in this product in details