Posts Tagged 'Global Manager Group'
Global Manager Group (GMG) – one of the largest business management consulting and training company, which focuses primarily on offering a full range of consulting services, is celebrating its 25th year of foundation – its Silver Jubilee – on 5th March, 2020.
Founded by Mr. Devang Jhaveri on 5th March 1996 company has stood the test of time and has provided consultancy and management solutions for startups, SMEs and large organizations, including government organizations, to move forward on their journey of growth by establishing and implementing better management systems in their organizations. Today the Global Manager Group of companies has many vertical including ISO consultancy for more than 70 standards; instrument calibration; online auditor certification courses and classroom training programs.
Since its inception in 1996, as a small start-up business, GMG has achieved a number of milestones in the field of ISO and other management system consultancy, total documentation solutions, and equipment calibration
In the post-globalization era, Global Manager Group of companies is a shining example of the success of management consultancy services. It is a company that has always strived to exceed its client's expectations, by providing them high quality and time-bound customized consultancy services catering to their needs.
In its successful journey of 25 years, GMG group of companies has established itself as a leading consultancy firm in India having both off-shore and on-shore clients. Within few years of its inception, group reached the benchmark of 100 clients who achieved various kinds of ISO certification. It also started to offer all ISO series consultancy, including consultancy for documentation and certification/accreditation for International Standards like ISO/IEC 17025, ISO 22000, ISO 27001, CE Mark, BRC food safety, HACCP and ISO 50001 etc.
In the year 2004, Global Manager Group started consultancy for various management areas. Within a decade of its journey, the company started selling ready-to-use editable training presentation and documentation kits for more than 70 ISO standards and other management areas. In US market itself, GMG has sold more than 1000 training and document kits and has got many appreciations from customers. So far it has more than 2700 satisfied customers in certification solution and management areas in more than 27 countries world-wide. The company has a branded image of timely completion of work with billing rates almost 40 percent lower than the industry rate. The company has been able to deliver services in a time as short as 12 to 24 hours of receiving client's consent for services.
To cater to the needs of all types of industries, Global Manager Group of companies has set-up a permanent facility at Ahmedabad, Gujarat. for calibration of equipment. As a sister concern of GMG, National Centre for Quality Calibration(NCQC) started functioning in 1998, which is a ISO/IEC 17025 (NABL) accredited Calibration Laboratory for all type of instruments.
Global Manager Group added another feather in its cap when Punyam Academy was launched in 2018. Punyam Academy offers classroom training programs as well as online courses on various ISO and management systems. Within less than a year, this company has achieved NBQP accreditation for providing certified classroom training on "Laboratory Management System & Internal Audit as per ISO/IEC 17025:2017". Punyam Academy's online certification courses are popular worldwide among ISO consultants, ISO auditors as well as management personnel.
Over the years, GMG has continued to increase its operations and support services as well as its overall capacity. With humble beginnings with 5 employees, now the company has increased its staff strength to 70 employees. Also, it has brought specialists as associate consultants to be able to manage larger projects. Global Manager Group's services have expanded in recent years to develop business systems and solutions for start-ups who are in need of customers.
Keeping up with its track record of last 25 years, Global Manager Group looks forward to achieve many more milestones and celebrate many more anniversaries in the future as its footprint continues to grow as a leader in innovative and creative solutions for ISO certifications and various management areas.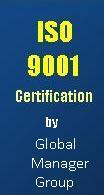 Global Manager Group has successfully completed ISO 9001:2008 Re-Certification from leading certifying body, ISOQAR. Team of ISO 9001 consultants from Global Manager Group has visited and verifies Quality management system implemented in the organization. They have helped to prepare ISO 9001 documentation including iso quality manual, procedures, quality policy, SOPs, formats and 9001 audit checklist for all departments of the organization like account, marketing, development, release, testing, QC etc. GMG has also provided QMS awareness training for iso 9001 system to all technical and management staff of Priya Softweb solution during this ISO 9001 certification consultancy.
Management Head from Priya Softweb said about the achievements that ???ISO 9001 training given by the professional internal iso 9001 auditors of GMG to all staff has helped us to clear the external audit for ISO 9001:2008 certification in first trial.???
Global Manger Group has been provided all necessary helps to Priya Softweb Pvt. Ltd. for implementing Quality Management System, providing ISO 9001 training as well as achieving the ISO 9001:2008 certification in given time limits.
About Priya Softweb Solution
Priya Softweb Solutions is a fast growing company for software developments and web development. Priya Softweb Solutions is an ISO 9001:2008 certified and Microsoft Gold Certified fastest growing software development providing comprehensive solutions to its clients. The company specializes in offering Web Application, Internet, and Mobile Application
About Global Manger Group
Global Manager Group offers a wide range of consulting services like ISO 9001, ISO 14001, ISO 17025, CE mark, ISO/TS 16949, ISO 27001, OHSAS 18001, SA 8000, HACCP document, BRC, ISO:22000, 5S, six sigma, Kaizen, Goal setting, KRA, Total Productive Maintenance (TPM), Benchmarking, Just in time, Kanban, employee motivation & HACCP. Also provides best implementation of environment management system, food safety system, information security system, OHSAS system.
23 Feb 2012, Qatar ??? Doha Training Center W.L.L. and Global Manager Group are jointly announcing the ISO/IEC 17025 Internal Auditor and Measurement of Uncertainty Course ??? 2013 at Doha, Qatar on 11 and 12 March, 2013. The ISO 17025 training program will be helpful and beneficial for more than 25 accredited ISO/IEC 17025 laboratories and other 100 laboratories in Qatar. DTC and Global Manager Group are jointly organizing this training to provide key knowledge in the area of ISO/IEC 17025 accreditation awareness, internal auditor training, measurement of Uncertainty and other Quality assurance techniques.
The ISO/IEC 17025 internal auditor training course is organized on date 11 and 12th March 2013, will be delivered by Mr. Devang Jhaveri, owner of Global Manager Group, having wide knowledge and more than 20 years of experience in the field of ISO certification consultancy. The training course will help participants to prepare in house ISO 17025 auditors for getting benefits of the accreditation system. The course is designed for organizations and laboratories of Qatar, which wants to train their new laboratory employees or refreshing knowledge of existing staff. This 2 days training program is the best opportunity for such laboratories. After completion of this course, all participants will receive a certification for ISO/IEC 17025 auditor training. Last year also similar course was organized by Devang and had got overwhelmed response of many Qatar and GCC country laboratories.
The ISO/IEC 17025 internal auditor and measurement of uncertainty course – 2013 will cover following topics:
Introduction and overview of ISO/IEC 17025
The Requirements of ISO/IEC 17025
ISO 17025 Documentation
ISO/IEC 17025 Internal Audit Process
ISO 17025 audit records and auditor role play
ISO 17025 audit checklist
Measurement of uncertainty
Inter laboratory comparison and data analysis
ISO/IEC 17025 Implementation steps
Accreditation Body requirements
ISO/IEC 17025-FAQ-Frequently Asked Questions
2 Case Studies and 2 workshops are also included
Along with this training, Mr. Devang Jhaveri will share some practical examples as well as case studies to provide more knowledge on the subjects and also answers all the questions and quires of the participants at the end of each session.
Trainer Profile: Mr. Devang Jhaveri
Mr. Devang Jhaveri is owner of Global Manager Group, a leading name in International system certification. Devang has been providing management consultancy services and training since 1991 and has more than 1200 clients in more than 35 countries. He has trained more than 10000 participants so far for ISO awareness and more than 500 participants for ISO 17025 certified internal auditor.
The trainer is a B.E, Gold Medalist in 1987 with an MBA. He is a reputed ISO/IEC 17025 consultant as well as a six sigma green belt. He has over 22 years of experience, working with industrial, R & D, and Laboratories as well as management systems consultancy. So far he has conducted more than 50 courses on ISO/IEC 17025 and many laboratories have got accreditation for ISO/IEC 17025 under his project management in GCC including Saudi ARAMCO, Yanbu Refinery, Gulf Laboratory, Buzwair, NAP Laboratory, Riyadh Refinery, Al-Hoti, Ministry of Works (Bahrain), Q Chem., Gulf Lab LLC, International Laboratory, Doha Technical Lab, Qatar Engineering Lab, Qatar Industrial Lab, Doha technical lab, Al Jazeera lab etc.
??
VENUE: TBA ??? Doha Qatar.
DELEGATE FEE: 2400 QR per Participant (Single Individual)
Registration
Doha Training Center
P.O. Box: 37919, Doha, Qatar
Phone: 44362551/ 66051016
Email: info.doha.training@gmail.com
Global Manager Group
+91-79-26565405, +91-9825031523
Email: sales@globalmanagergroup.com
Website: http://www.globalmanagergroup.com/
Building Energy Performance Laboratory (Centre for Environmental Planning and Technology, CEPT University, Ahmedabad, Gujarat, India) has got ISO/IEC 17025:2005 accreditation with the help of Global Manager Group (a leading consultant in ISO/IEC 17025:2005 implementation). The accreditation parameters such as Thermal conductivity of insulating materials, volume air leakage rate of fene stration, Transmittance, Reflectance, Absorbance and Emissivity of transparent and translucent materials are first time in India. The lab has got such accreditation through NABL (Dept. of Science of Technology) Govt. of India. The laboratory is engaged testing of building materials like, transparent and translucent materials, Doors / Windows / Skylight and Insulation materials. Global Manager Group has made effective effort to complete such challenging task and which GMG has proved.
Our team members were involved as a consultant since 2011 with CEPT university and provided training, documentation support, implementation follow up, internal audit etc and this is the 1st laboratory in India to get such certificate for ISO/IEC 17025 laboratory management system accreditation.
Global Manager group is a leading consultant having team of 50 professionals and engineers and having globally leading name in the field of ISO 9001, ISO 14001, OHSAS 18001, ISO 50001, ISO 22000, ISO 27001, BRC food safety etc and we had provided such consultancy to more than 1200 clients in 45 countries. We also provide on line training and documentation on ISo subjects.