Posts Tagged 'ISO 17021 audit checklist'
ISO 17021 is a series of standards that set out requirements for organizations who provide certificates of conformity to all types of management systems. These organizations are commonly referenced to as certification bodies or registrars. The ISO 17021 standards are used by accreditation bodies to assess the processes that certification bodies have in place to ensure that they are impartial and the results of their assessments are consistent.
Global Manager Group is involved in documentation selling since 1995; ISO/IEC 17021:2015 Documentation kit is one of the most selling document products of the company. ISO 17021:2015 accreditation documents requirements for bodies providing audit and certification of conformity assessments systems, is intended to increase trust in management system certificates issued. Global Manager Group's aim and purpose of providing ISO 17021:2015 documents is to increase the value of conformity assessments systems certification.
What ISO/IEC 17021:2015 Documentation Kit Includes?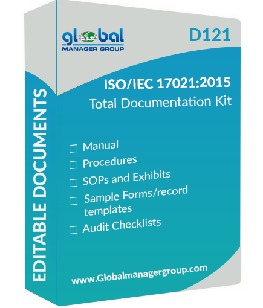 ISO 17021 manual: It describe profile, amendment sheet, index, clause wise details as per ISO/IEC 17021:2015 for implementation, sample quality policy and organization chart. This documents standard requirements of ISO/IEC 17021 accreditation system implementation as well as quick certification.

ISO 17021 Policy: This document cover topic of mandatory policies covering all the details as per ISO/IEC 17021:2015 requirements for Certifying Body.

Mandatory Procedures: This document for conformity assessment covering mandatory procedures details like purpose, scope, responsibility, how procedure is followed as well as list of exhibits, reference documents and formats.

Work Instructions: This document is guideline for establishing controls on significant aspects, work instructions for operators as well as standard operating procedures. This documents very useful for testing process control and establishes effective laboratory management system with good laboratory practices culture.

ISO 17021 Audit Checklist: This document is tool for the internal to make audit questionnaire while auditing and make effectiveness in auditing. ISO 17021:2015 Checklists document requirements for ISO 17021:2015 standard and implementation of accreditation system.
The ISO 17021-1:2015 contains principles and requirements for the competence, consistency and impartiality of bodies providing audit and certification of all types of management systems. It is revised in June 2015 and applying to certifying bodies that covering quality, environment and other management systems accreditation.
Global Manager Group, the leading Ready to use System Documentation and Training kits selling company has re-launched product D121: Certifying Body Documentation Kit for ISO 17021-2015, which covers manual, procedures, sample formats, SOPs, risk templates & audit checklist etc, key requirements of Conformity Assessment of certifying bodies as per ISO/IEC 17021-2015 standard. GMG's consulting team has reported that they have designed total ISO 17021:2015 documents for conformity assessment of certifying body which are globally used by various clients.
Mr. Devang Jhaveri, Managing Director of company stated, "The set of documents provided by GMG for ISO 17021-1:2015 certification, that helps any certifying body who want to update their existing 2011 system to ISO 17021-2015 or implement ISO 17021 system certification first time for new clients. The vision and aim of the company is to provide accurate solution for documentation that makes overall accreditation process quick and effective for certifying bodies."
The Total Documents for ISO 17021-1:2015 accreditation for certifying body includes following quality contents:
Manual with 10 chapters and 8 Annexure that defines implemented system,
Policies as per ISO 17021-1:2015 requirements,
Mandatory procedures,
Standard operating procedures to follow,
Sample forms, blank templates to maintain records,
Department wise and requirement wise audit checklist,
Sample Risk Templates to define risk area for the organization.
The details of each section can be view in free DEMO of the product which can download at website www.globalmanagergroup.com and users can purchase full documentation kit at very compatible cost of just USD 720. It is completely user compatible as documents are in word format, so user can easily edit any template as per their requirements within no time.
Email: sales@globalmanagergroup.com
Stay Connected with Global Manager Group
https://www.facebook.com/Globalmanagergroup
https://twitter.com/ISO_9001_14001