Posts Tagged 'ISO 45001 manual'
With the new release of ISO 45001, the internationally recognized standard that replaces OHSAS 18001, we now have a greater assurance of what the requirements for documented information will be. Many people consider documentation to be the hardest step in the process of implementing occupational health & safety management system according to ISO 45001:2018. It isn't the hardest part, because it can be done in a fairly straightforward way by using a structured approach.
ISO 45001 Documentation Structure
One of the main reasons why the documentation doesn't work to the company's advantage is that the documentation authors don't have a clear picture of the purpose of each type of document, and where it belongs in the documentation structure. There are several types of ISO 45001 documents used to establish an OH&SMS: ISO 45001 manual, procedures, policy, objectives, work instructions or SOPs, and records and forms. Each of them has its place and role in the OH&SMS. The documentation for an Occupational Health & Safety Management System should be structured as follows:
1. ISO 45001 Manual: A ISO 45001 manual presents information communicated by top management to provide the basis of the OH&S Management System. Since it is a very common document, it is usually the first document that a certification body wants to see to get familiar with the system.
2. Procedures: OH&S procedures can have different formats and structures. Procedures documents will include what actions are to be taken to eliminate or mitigate the risks and leverage the opportunities. It should include title, purpose, scope, responsibilities and authorities, description of activities, and reference to relevant work instructions, SOPs, and records.
3. Work Instruction or SOPs: The most common reason for creating a work instruction is to avoid nonconformities. Work instructions can be part of a procedure, or they can be referenced in a procedure. Generally, work instructions have a similar structure to the procedures and cover the same elements; however, the work instructions include details of activities that need to be realized, focusing on the sequencing of the steps, tools, and methods to be used and required accuracy.
4. Records and Forms: This documentation consists of the records generated as outputs of the planned actions discussed above. Most of these result from the various performance evaluation processes that are undertaken to monitor the system's performance, such as monitoring and measurement of operational controls, compliance with legal and other requirements, achievement of OH&S objectives, and internal audits, as well as records of incidents, nonconformities, and actions taken.
The Global Manager Group is a leading name in selling ISO documents and ISO training kits word wide. Since 1991, we have achieved 100% success rate for successful ISO certification consultancy. The management team at Global Manager Group proudly announces its new product launch i.e. D152 – BS ISO 45001:2018 Documentation Kit with editable templates, manual, procedures, audit checklists and more for Occupational, health, safety management system certification.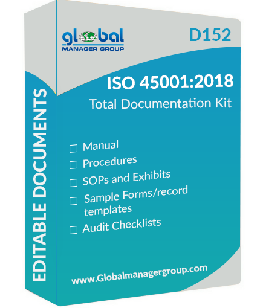 The ISO has introduced long awaited standard BS ISO 45001:2018 on 12th March 2018, which represents for Occupational, health and safety management system of the organization. The new product is designed to learn OH&S management system documenting requirements and concepts with the help of given forms and templates. The ISO 45001 documents are intended towards those corporate professionals who are interested to establish a good OHS system in their organization based on latest ISO standard.
The Team of OHS consultants of Global Manager Group has involved since releasing of first draft copy. More than 2000 hours are spent in the preparation of this documentation kit. It is developed under the guidance of experienced OH&S certification experts having rich experience of more than 20 years in the system implementation and certification.
The ISO 45001:2018 Documentation kit is categorized in 11 directories like manual, procedures, SOP, filled and blank formats, OHS policy, audit checklist, hazard and risk templates etc. comprises of more than 160 editable MS- word documents that help you to customize your own documentation. The ready-to-use ISO 45001 document kit also comes with the compliance matrix, which is Requirements-wise reference documented information. Over and above, it comprises audit questionnaire of nearly 500 audit checklists. These ISO 45001 checklists help an organization to devise their own customized internal audit checklist.
The contents of ISO 45001:2018 Documentation kit is evaluated and verified at various levels during preparation. The Document kit is launched to sell online at rate of just 499USD, which is very competitive price as compare to other products of Global Manager Group.
For further details on documentation kit and access FREE DEMO, visit our website: https://www.globalmanagergroup.com/