Posts Tagged 'ISO 45001 training'
Global Manager Group, leading name in selling ISO documents and ISO training kits worldwide proudly announces its new product C124 – HSE – 2018 Awareness & Auditor Training Kit which is a complete guide in ppt presentation and gap analysis kit to understand Health Safety Environment Management System requirements as per ISO 14001:2015 and ISO 45001:2018 standards.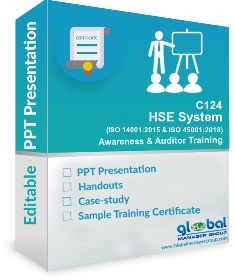 Readymade HSE Training ppt is designed by experienced team of ISO auditors and consultants with taking care of each requirement of EMS and OHS&MS. It is useful while conducting corporate training sessions to learn health safety environment management system requirements and internal auditing for HSE Certification in any organization work area. HSE training ppt presentation kit saves precious time while preparing the HSE awareness training course materials for in-house training programs. This HSE auditor training presentation slides are aim to prepare the organizations' employees for how to face HSE audits.
The HSE training – ppt presentation described in 11 main modules comprises of more than 410 editable ppt slides that includes HSE system overview, ISO 14001:2015 and ISO 45001:2018 standards requirements, installation steps, internal audit, documented information, etc. The training kit also comes with trainer's guide, case studies, workshops, sample auditor training certificate and more. The contents of the ppt presentation kit will be most beneficial for ISO consultants and Internal Auditors to understand all the requirements of integration of newly published standard ISO 45001:2018 with revised standard ISO 14001:2015 of the organizations. Using this training material they can easily guide their clients and employees of their organizations to achieve maximum outcomes of HSE system implementation and certification.
The training kit is launched to sell online at rate of just 450 USD, which is very competitive price as compare to other products of Global Manager Group. Users can download Free Demo to find out more about how it can help organization in HSE training and integrated HSE certification.