Posts Tagged 'ISO 50001 auditor training'
The Global Manager Group, leading ISO documents and ISO training presentation kit Seller Company has updated its product C117, named as ISO 50001:2018 awareness & auditor training presentation kit for setting up and managing an effective Energy Management System (EnMS).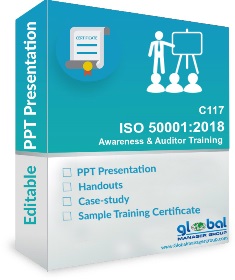 International Organization for Standardization (ISO) has published new ISO 50001:2018 standard on 21st August, 2018 and replaces the current standard ISO 50001:2011 that brings in a much stronger focus on continual improvement in energy performance with greater involvement of leadership and employees. Many new changes are added in this revised ISO 50001 auditor training presentation kit. It helps to establish a much better understanding of the ISO 50001:2018 awareness and internal auditing.
The newly revised ISO 50001 training ppt presentation kit provides more clarity and includes 6 items. ISO 50001 awareness training kit includes more than 180 editable ppt presentation slides on 7 modules including overview, objectives and energy management plan, requirements, steps, documented information, internal audit etc. It also includes handouts, workshops and case study, more than 500 audit questions, audit record templates and sample auditor training certificate as per ISO 50001:2018.
Global Manager Group provides ISO 50001:2018 auditor training presentation kit at very compatible cost of USD 450, and prepared in MS PowerPoint and Word documents and written in simple English. This ppt presentation kit is an editable document so any user can modify it as per their requirement, and use it as internal auditing for their organization.
For further details on training presentation kit and access Free Demo, visit our website: www.globalmanagergroup.com